Rates
Treasury Yields Rise From The Belly Out With Higher Inflation Breakevens And Higher Real Yields
The most meaningful impact of the December FOMC has been to move forward the Fed Funds rate liftoff: Fed Funds futures now price in 100% probability of a rate hike by the end of May 2022, with a 68% chance the committee pulls the trigger at the March meeting
Published ET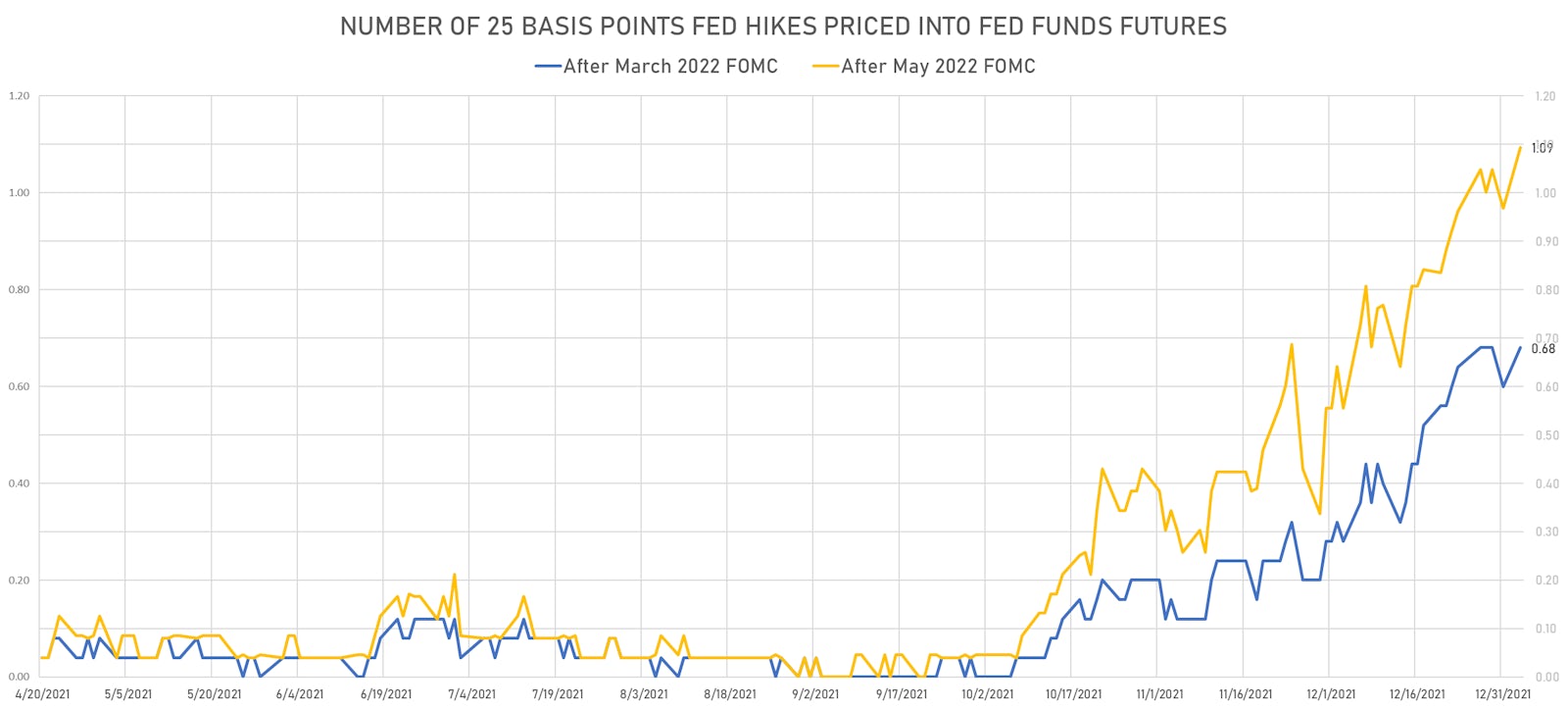 Fed Hikes Priced Into Fed Funds Futures | Sources: ϕpost, Refinitiv data
---
---
QUICK US SUMMARY
3-Month USD LIBOR -0.82bp today, now at 0.2009%; 3-Month OIS +0.4bp at 0.1210%
The treasury yield curve steepened, with the 1s10s spread widening 12.0 bp, now at 112.8 bp (YTD change: .0bp)
1Y: 0.3840% (up 0.5 bp)
2Y: 0.7341% (up 4.2 bp)
5Y: 1.2630% (up 9.8 bp)
7Y: 1.4363% (up 12.0 bp)
10Y: 1.5118% (up 12.5 bp)
30Y: 1.9053% (up 12.6 bp)
US treasury curve spreads: 2s5s at 58.5bp (up 5.7bp today), 5s10s at 27.5bp (up 2.8bp today), 10s30s at 39.5bp (up 0.4bp today)
Treasuries butterfly spreads: 1s5s10s at -70.7bp (down -5.9bp), 5s10s30s at 11.9bp (down -1.9bp)
US 5-Year TIPS Real Yield: +1.4 bp at -1.6320%; 10-Year TIPS Real Yield: +7.2 bp at -1.0220%; 30-Year TIPS Real Yield: +9.4 bp at -0.3650%
US MACRO RELEASES
Construction Spending, Change P/P for Nov 2021 (U.S. Census Bureau) at 0.40 % (vs 0.20 % prior), below consensus estimate of 0.60 %
PMI, Manufacturing Sector, Total, Final for Dec 2021 (Markit Economics) at 57.70 (vs 57.80 prior)
UPDATED 2022 MARKET OUTLOOK
The front end of the curve has risen significantly since mid-December, unusually coupled with a higher terminal rate
The Eurodollar and OIS curves are no longer inverted after 3 years, and longer-term real GDP growth expectations have strengthened, with the US TIPS 5s30s spread up 20bp over the last 3 weeks
The market still doesn't believe the Fed's path for interest rates: Fed Funds futures price in 3 hikes in 2022, but Eurodollar futures see 2.75 hikes in 2023 and less than 1 hike in 2024 (whereas the Fed's dot plot showed a median of 3 hikes for 2022, 3 hikes for 2023, 2 hikes for 2024)
In other words, the market-implied terminal rate is still much lower than the Fed's target of 2.50% (Goldman Sachs strategists differ and see current pricing as an opportunity to sell FFZ4 futures).
Sell-side forecasts for Fed Funds rate liftoff: GS see a first rate hike in March 2022 (immediately after the conclusion of the QE taper), and two more rate hikes in 2022. They also expect the Fed to start the runoff of their balance sheet holdings in 4Q 2022 (QT = 1 hike in their views), and now see 3 hikes in 2023 and 2024. JP Morgan and Deutsche Bank both expect liftoff at the June FOMC, with quarterly hikes thereafter until the Fed's terminal rate target is reached or the real Fed Funds rate is positive
We would be surprised to see this happen in March and currently expect liftoff in May 2022, dependent on inflation data (and political pressure) over the next couple of months.
US FORWARD RATES
The 3-month USD OIS forward curve prices in 79.3 bp of rate hikes over the next 15 months (equivalent to 3.17 rate hikes) and 137.9 bp over the next 3 years (equivalent to 5.52 rate hikes)
The 3-month Eurodollar zero curve prices in 96.0 bp of rate hikes over the next 15 months (equivalent to 3.84 rate hikes) and 163.6 bp over the next 3 years (equivalent to 6.54 rate hikes)
1-month USD LIBOR FRAs imply 79.2 bp hike by the end of 2022, meaning that the FRA market expects 3.2 full hikes by then
1-year US Treasury rate 5 years forward up 17.0 bp, now at 1.9799%, meaning that the 1-year Treasury rate is now expected to increase by 156.1 bp over the next 5 years (equivalent to 6.2 rate hikes)
US INFLATION & REAL RATES
TIPS 1Y breakeven inflation at 4.72% (up 6.8bp); 2Y at 3.58% (up 7.9bp); 5Y at 2.99% (up 8.8bp); 10Y at 2.63% (up 5.0bp); 30Y at 2.41% (up 3.3bp)
6-month spot US CPI swap up 3.8 bp to 4.546%, with a steepening of the forward curve
US Real Rates: 5Y at -1.6320%, +1.4 bp today; 10Y at -1.0220%, +7.2 bp today; 30Y at -0.3650%, +9.4 bp today
RATES VOLATILITY & LIQUIDITY
USD swap rate implied volatility (USD 1 Month by 1 Year ATM Swaption) up 5.0% at 62.8%
3-Month LIBOR-OIS spread at 7.99 bp (12-months range: 2.6-16.2 bp)
KEY INTERNATIONAL RATES
Germany 5Y: -0.411% (up 3.9 bp); the German 1Y-10Y curve is 6.5 bp steeper at 50.0bp
Japan 5Y: -0.076% (up 1.0 bp); the Japanese 1Y-10Y curve is 0.7 bp steeper at 15.9bp
China 5Y: 2.588% (down -0.9 bp); the Chinese 1Y-10Y curve is 7.8 bp steeper at 58.8bp (YTD change: +7.8 bp)
Switzerland 5Y: -0.382% (up 1.4 bp); the Swiss 1Y-10Y curve is 13.2 bp steeper at 69.7bp (YTD change: +13.2 bp)
---