Rates
Forward Breakevens Move Higher, Real Yield Curve Steepens As Fed Pivots Towards Broader View Of The Economy
It's important to note that pivoting away from a sole focus on inflation is likely not as dovish as current market pricing: with sticky inflationary pressures still rising, most notably in the employment cost index, the Fed will have to keep rates higher for longer (i.e. forward rates look too low at this point)
Published ET

3-Month USD SOFR OIS Forward Rates Curve | Sources: ϕpost, Refinitiv data
---
---
US OUTLOOK
Although 2Q real GDP growth was negative again, all but one of the data series followed by the NBER (to determine recessions) are still growing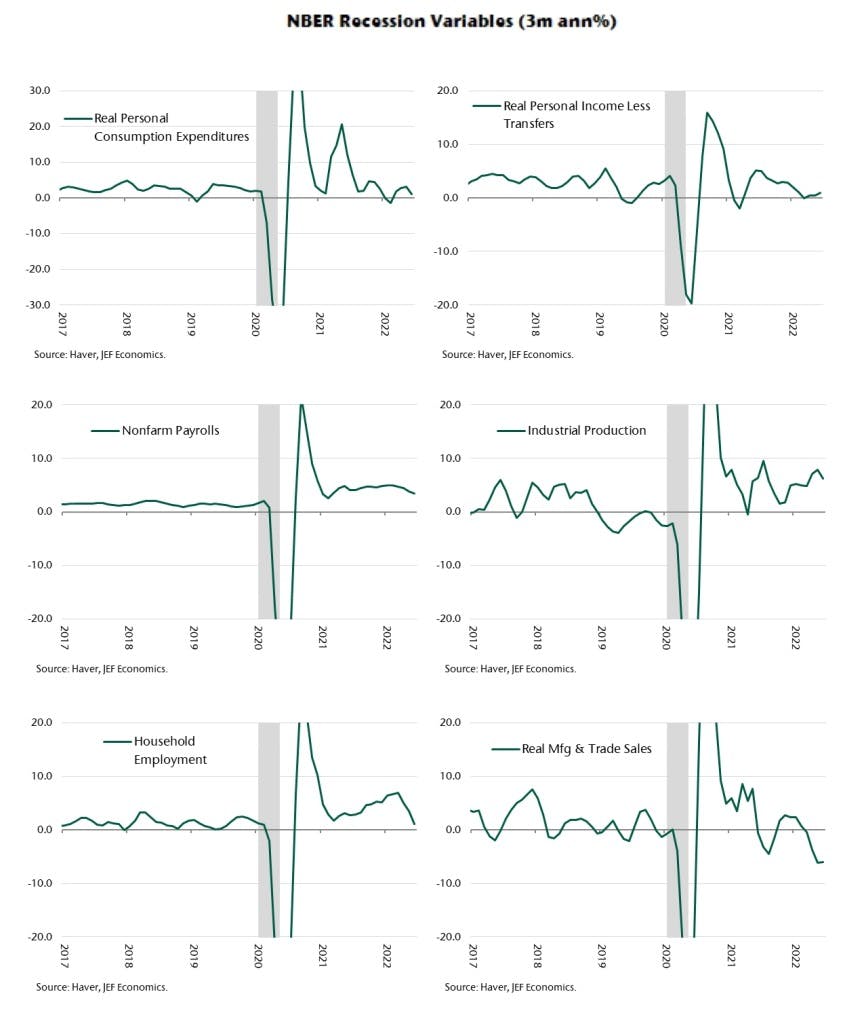 The Fed recognizes that a weakening in the economy is necessary to prevent inflation from becoming anchored; in particular, its sense of urgency to contain wage inflation is not diminished
Credit Suisse: "The Employment Cost Index rose 1.3% QoQ in 2Q. Wages and salaries (about 70% of total compensation) accelerated to 1.4% from 1.2% QoQ. This was the largest quarterly wage gain in the ECI since 1982. "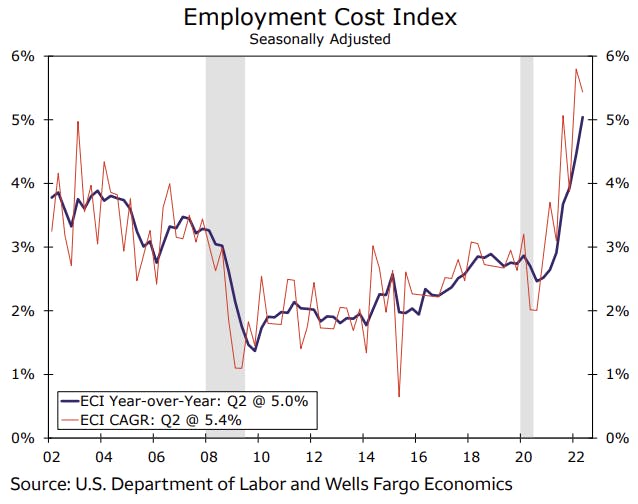 What that means is that the market might have misunderstood the Fed pivot: pricing in 3 rate cuts in 2023, when core inflation is forecast to average over 4%, is not reasonable. The notion that the Fed will tolerate that kind of inflation to prevent a recession sounds like a very risky base case: in our opinion, forward rates will reprice higher.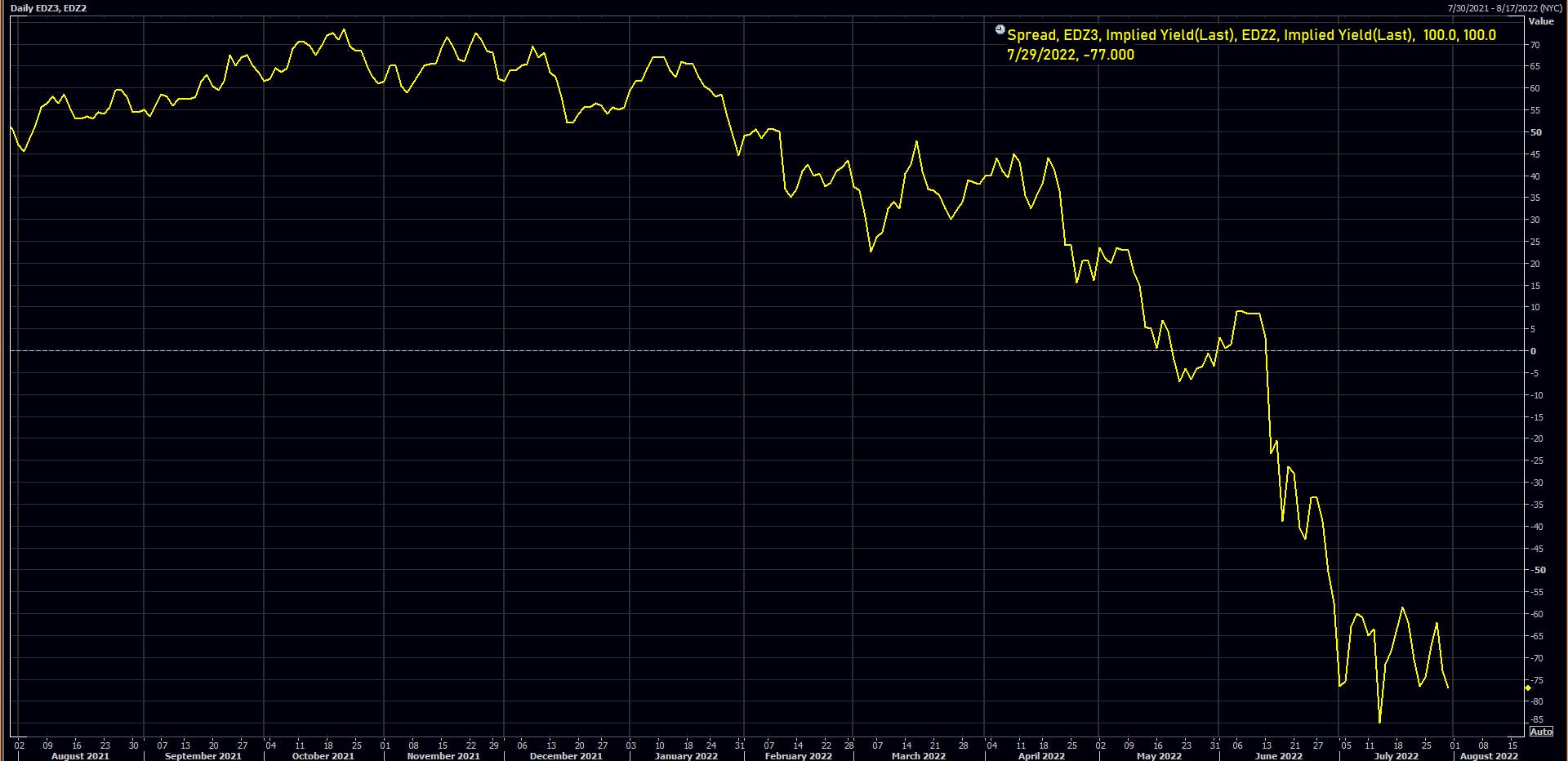 Wells Fargo economists: "The Fed is far from containing inflation. Because wage inflation is highly persistent, and impacts the economy broadly, this means in order to get overall inflation back down to 2% the Fed must tighten monetary policy much more than what consensus is looking for in order to increase the unemployment rate materially from the current sticky 3.6% cycle low level."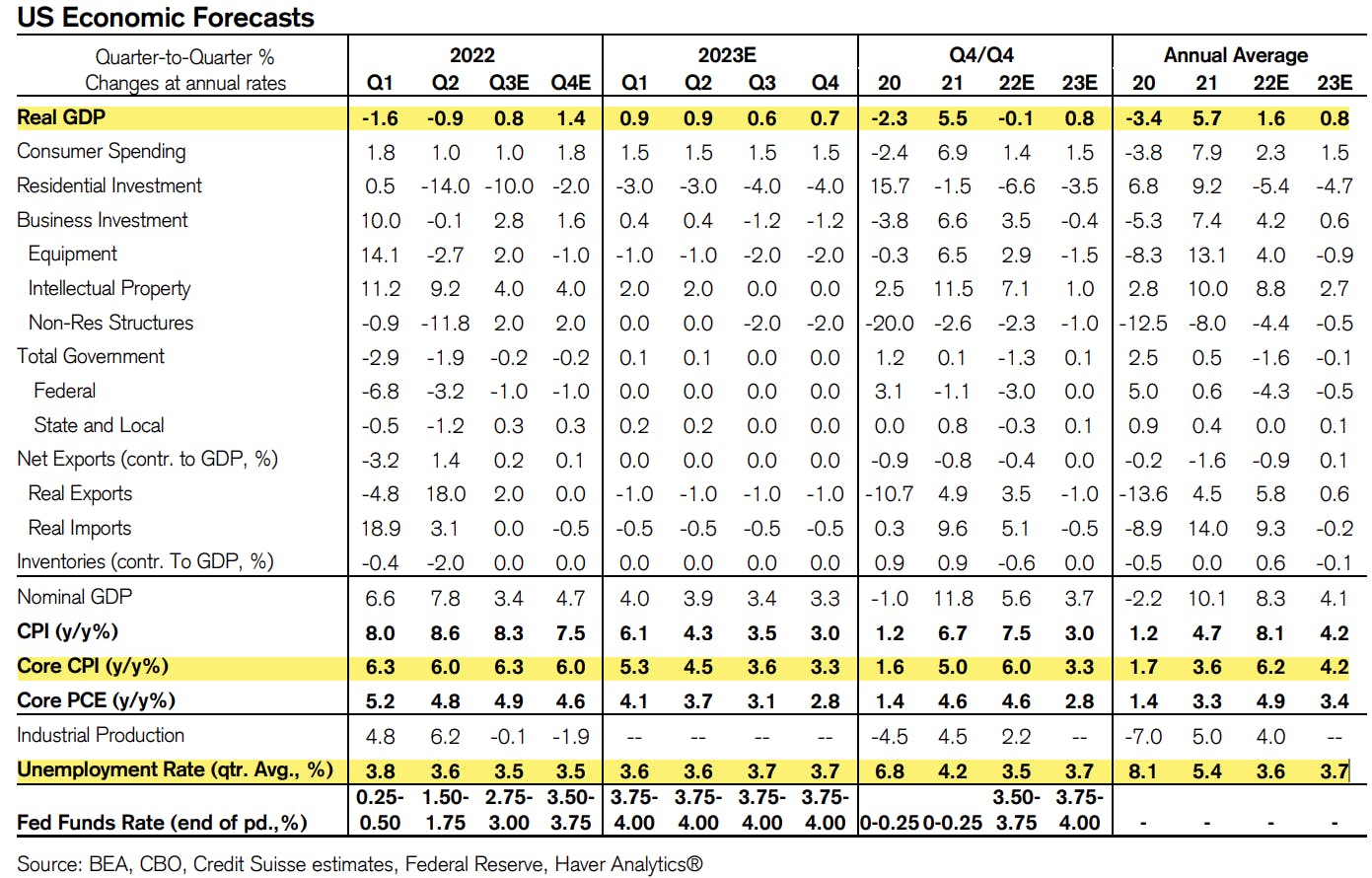 WEEKLY US RATES SUMMARY
The treasury yield curve flattened, with the 1s10s spread tightening -4.9 bp, now at -29.1 bp (YTD change: -142.3bp)
1Y: 2.9478% (down 4.6 bp)
2Y: 2.8885% (down 8.2 bp)
5Y: 2.6803% (down 16.6 bp)
7Y: 2.6879% (down 14.7 bp)
10Y: 2.6568% (down 9.5 bp)
30Y: 3.0110% (up 3.7 bp)
US treasury curve spreads: 3m2Y at 52.4bp (down -1.9bp this week), 2s5s at -20.8bp (down -8.4bp), 5s10s at -2.4bp (up 7.3bp), 10s30s at 35.4bp (up 13.4bp)
US TIPS 1Y breakeven inflation at 3.78% (up 28.6bp); 2Y at 3.32% (up 27.9bp); 5Y at 2.86% (up 24.4bp); 10Y at 2.55% (up 22.6bp); 30Y at 2.31% (up 7.2bp)
US 5-Year TIPS Real Yield: -38.0 bp at -0.0900%; 10-Year TIPS Real Yield: -30.2 bp at 0.1140%; 30-Year TIPS Real Yield: -9.3 bp at 0.7310%
US ECON RELEASES IN THE PAST WEEK

WEEKLY CFTC NET DURATION POSITIONING DATA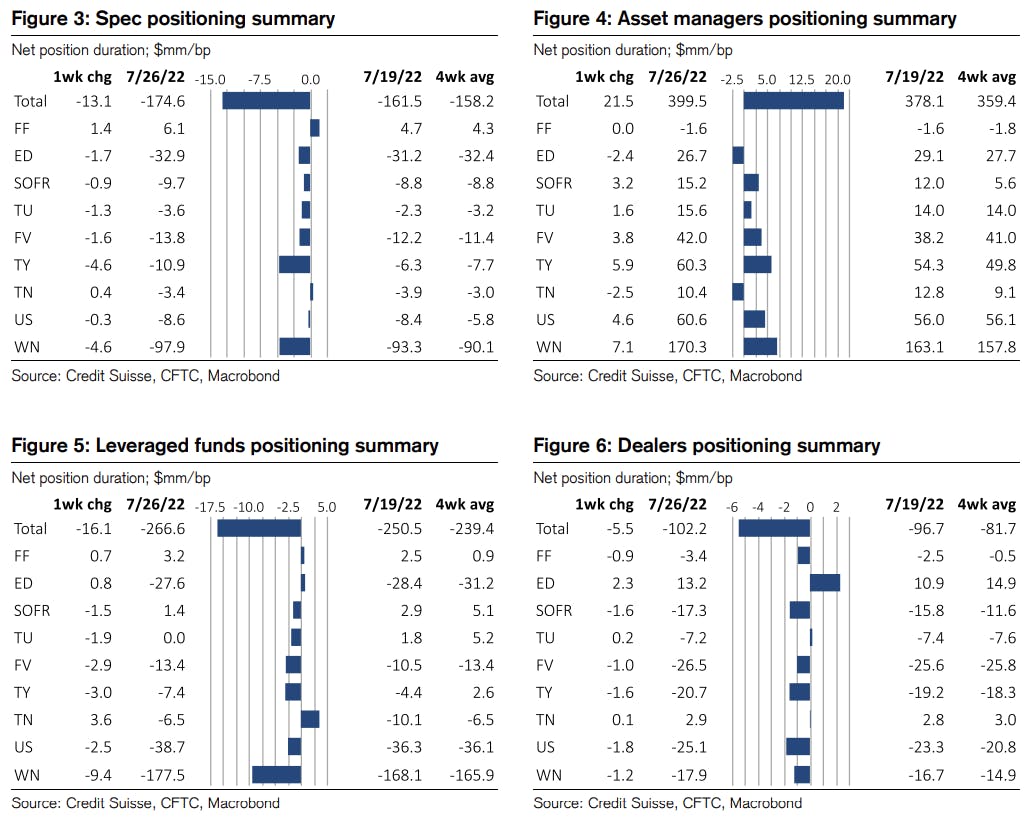 US ECON RELEASES IN THE WEEK AHEAD
The Employment Report and ISM manufacturing will be the most important data points next week

FED SPEAKERS IN THE WEEK AHEAD
Tuesday 10:00AM: Chicago Fed President Evans
Tuesday 1:00PM: Cleveland Fed President Mester
Tuesday 6:45PM: St. Louis Fed President Bullard
Thursday 12:00PM: Cleveland Fed President Mester
US FORWARD RATES
Fed Funds futures now price in 57.5bp of Fed hikes by the end of September 2022, 86.4bp (3.5 x 25bp hikes) by the end of November 2022, and 3.9 hikes by the end of December 2022
3-month Eurodollar futures (EDZ) spreads price in -77.0 bp of hikes in 2023 (equivalent to -3.1 x 25 bp hikes), down -4.0 bp today, and -43.5 bp of hikes in 2024 (equivalent to -1.7 x 25 bp hikes)
US INFLATION & REAL RATES
TIPS 1Y breakeven inflation at 3.78% (up 6.6bp); 2Y at 3.32% (up 4.7bp); 5Y at 2.86% (up 8.0bp); 10Y at 2.55% (up 5.4bp); 30Y at 2.31% (up 2.7bp)
6-month spot US CPI swap down -6.7 bp to 5.372%, with a flattening of the forward curve
US Real Rates: 5Y at -0.0900%, -8.2 bp today; 10Y at 0.1140%, -6.6 bp today; 30Y at 0.7310%, -3.0 bp today
RATES VOLATILITY & LIQUIDITY
USD swap rate implied volatility (USD 1 Month by 1 Year ATM Swaption) down -3.3 vols at 143.5 normals
3-Month LIBOR-OIS spread down -0.1 bp at 19.5 bp (18-months range: -6.0 to 39.3 bp)
KEY INTERNATIONAL RATES
Germany 5Y: 0.542% (up 2.1 bp); the German 1Y-10Y curve is 2.3 bp steeper at 45.1bp (YTD change: -43.2 bp)
Japan 5Y: -0.016% (down -1.6 bp); the Japanese 1Y-10Y curve is 2.1 bp flatter at 32.4bp (YTD change: -15.9 bp)
China 5Y: 2.506% (down -3.8 bp); the Chinese 1Y-10Y curve is 0.9 bp flatter at 105.4bp (YTD change: -49.9 bp)
Switzerland 5Y: 0.124% (up 4.5 bp); the Swiss 1Y-10Y curve is 3.3 bp steeper at -4.0bp (YTD change: -56.6 bp)
---