Rates
US Yield Curve Flattens, Real Yields Fall Since Fed Hint At Policy Downshift From December
Though we understand the concerns caused by the UK LDI scare and the recent deterioration in bond market liquidity, slowing down the pace of hikes before inflation is firmly under control looks premature
Published ET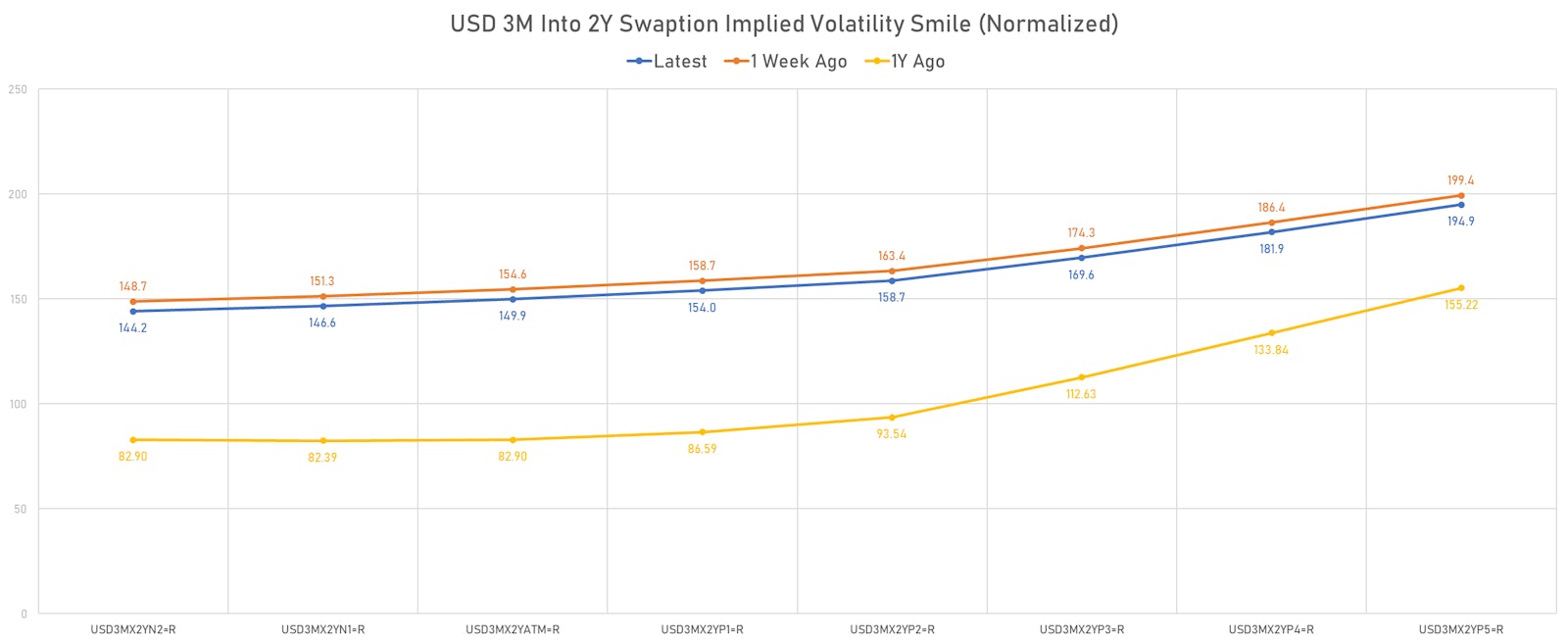 3M Into 2Y USD Swaptions Implied Volatilities Still Skewed To The Upside | Sources: ϕpost, Refinitiv data
---
---
US RATES OUTLOOK: NOVEMBER FOMC PREVIEW
With little doubt about the outcome of the November FOMC (a 75bp hike), the discussion since the latest leak to the WSJ has been around the Fed possibly announcing a policy downshift starting in December. There are 2 schools of thought here:
the first one takes the news at face value, with the Fed aiming to slow down the pace of hikes to 50bp in December 22. The problem with that is there is currently little hard data indicating real progress in the fight against inflation, particularly labor-driven services inflation.
the second view is that the leak was a trial balloon meant to gauge the potential impact of such a decision. If that's the case, the response was loud and clear, as the dollar fell and risk markets roared back up (despite mediocre earnings), leading to looser financial conditions over the past week.
We hope it's the latter, as the Fed must realize the risk of easing financial conditions before showing serious progress on the inflation front. Let's remember that the latest CPI print for September was 8.2% Y/Y (6.6% for core inflation), translating into a real effective Fed Funds rate of -5.1% (=3.08-8.2). The Fed will have plenty of time to talk about slowing down / pausing once the real Fed Funds rate is positive but would damage its efforts and credibility by starting the discussion prematurely.
We understand that waiting for hard data increases the risk of the Fed unintentionally causing a recession, but that is much easier to manage than unanchored inflation expectations.
Current market pricing of hikes: 40% probability of a 75bp priced in December, 134bp through year end, and 50bp in 1H23
WEEKLY US RATES SUMMARY
The treasury yield curve flattened, with the 1s10s spread tightening -20.4 bp, now at -53.6 bp (YTD change: -166.9bp)
1Y: 4.5456% (down 0.4 bp)
2Y: 4.4122% (down 6.9 bp)
5Y: 4.1801% (down 16.6 bp)
7Y: 4.0997% (down 19.2 bp)
10Y: 4.0092% (down 20.9 bp)
30Y: 4.1330% (down 20.3 bp)
US treasury curve spreads: 3m2Y at 32.3bp (down -12.0bp this week), 2s5s at -23.2bp (down -9.7bp), 5s10s at -17.1bp (down -4.1bp), 10s30s at 12.4bp (up 0.5bp)
The past week has seen steepening of TIPS breakevens and a bull flattening of the real yield curve
TIPS 1Y breakeven inflation at 3.20% (up 4.1bp); 2Y at 2.84% (down -5.0bp); 5Y at 2.63% (down -7.1bp); 10Y at 2.51% (down -4.1bp); 30Y at 2.52% (down -0.8bp)
US 5-Year TIPS Real Yield: -9.0 bp at 1.5710%; 10-Year TIPS Real Yield: -16.6 bp at 1.5200%; 30-Year TIPS Real Yield: -19.1 bp at 1.6620%
US MACRO RELEASES IN THE PAST WEEK
The ECI was the most important indicator, and wage growth slowed modestly, a positive development for the Fed, though it remains uncomfortably high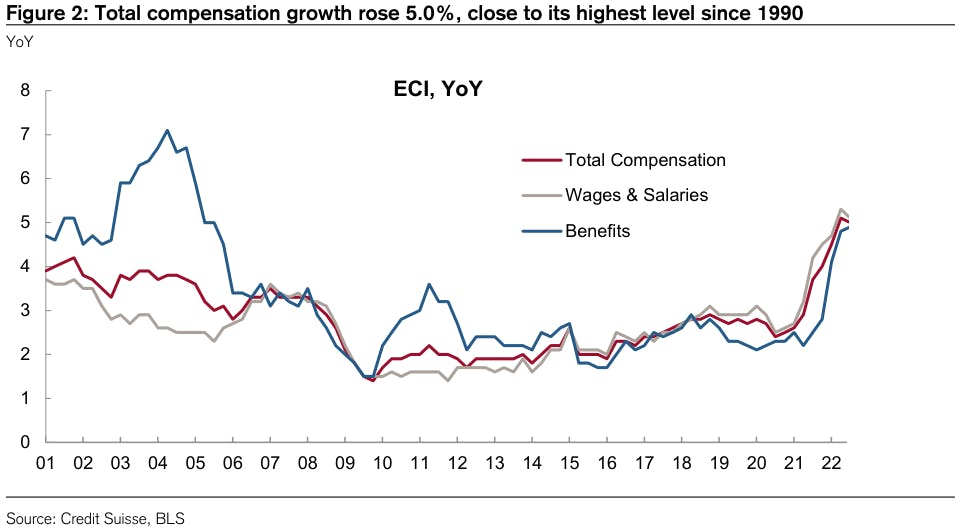 WEEKLY CFTC NET DURATION POSITIONING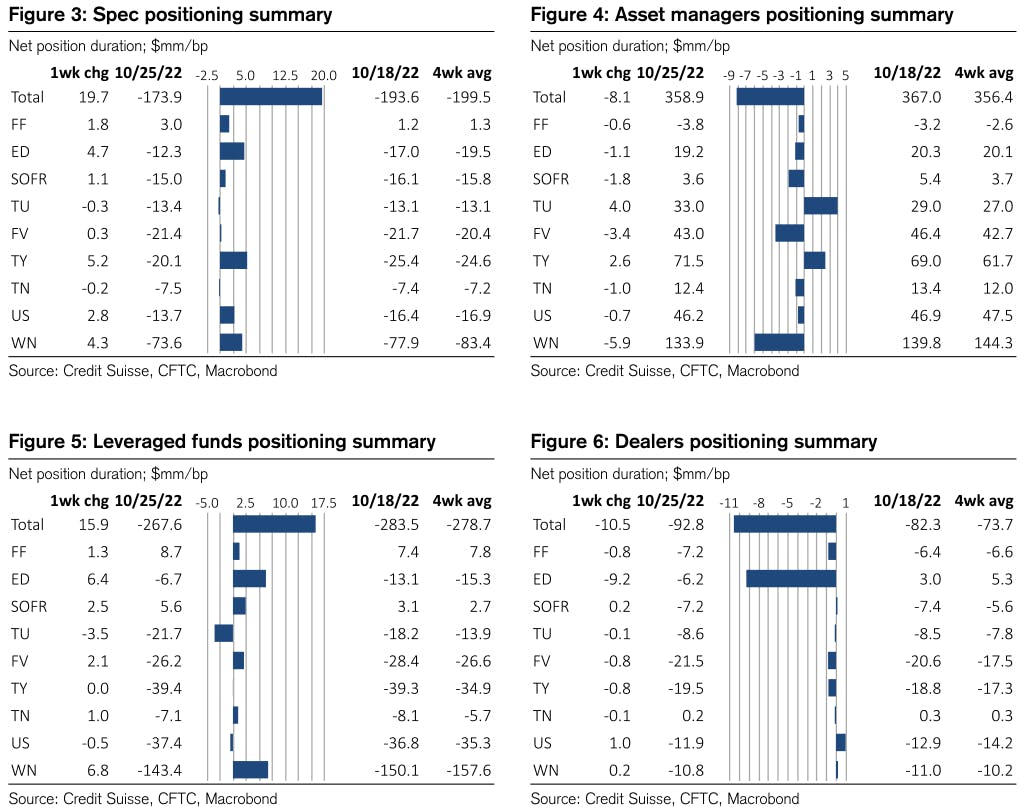 US ECONOMIC DATA IN THE WEEK AHEAD
Aside from the November FOMC meeting, the focus will be on the October employment report and ISM manufacturing

US FORWARD RATES
Fed Funds futures now price in 74.6bp of Fed hikes by the end of November 2022, 134.1bp (5.4 x 25bp hikes) by the end of December 2022, and 6.8 hikes by the end of February 2023
3-month Eurodollar futures (EDZ) spreads price in 34.5 bp of cuts in 2023 (equivalent to 1.4 x 25 bp cut), down 14.5 bp today, and 69.5 bp of cuts in 2024
US INFLATION & REAL RATES TODAY
TIPS 1Y breakeven inflation at 3.20% (down -4.0bp); 2Y at 2.84% (up 2.1bp); 5Y at 2.63% (up 4.1bp); 10Y at 2.51% (up 5.1bp); 30Y at 2.52% (up 6.5bp)
6-month spot US CPI swap down -36.0 bp to 2.787%, with a flattening of the forward curve
US Real Rates: 5Y at 1.5710%, +7.7 bp today; 10Y at 1.5200%, +3.1 bp today; 30Y at 1.6620%, -2.1 bp today
RATES VOLATILITY & LIQUIDITY TODAY
USD swap rate implied volatility (USD 1 Month by 1 Year ATM Swaption) up 3.6 vols at 126.2 normals
3-Month LIBOR-OIS spread up 0.9 bp at 30.2 bp (18-months range: -11.3 to 39.3 bp)
KEY INTERNATIONAL RATES TODAY
Germany 5Y: 1.995% (up 14.5 bp); the German 1Y-10Y curve is 8.1 bp steeper at 6.8bp (YTD change: -43.5 bp)
Japan 5Y: 0.074% (up 1.2 bp); the Japanese 1Y-10Y curve is 1.6 bp flatter at 34.2bp (YTD change: -15.9 bp)
China 5Y: 2.440% (down -2.3 bp); the Chinese 1Y-10Y curve is 1.6 bp flatter at 94.0bp (YTD change: -50.1 bp)
Switzerland 5Y: 0.810% (up 7.8 bp); the Swiss 1Y-10Y curve is 6.6 bp flatter at 17.7bp (YTD change: -56.4 bp)
---