Rates
Mixed US Data And Powell's Speech Brought Lower Real Yields, Higher Inflation Breakevens This Week
The Fed Chair's speech was widely interpreted as dovish, and money markets hurried to price in a lower peak rate as well as two full rate cuts in 2023, both of which seem contrary to the stated Fed policy of reaching a higher terminal rate and holding there for a while
Published ET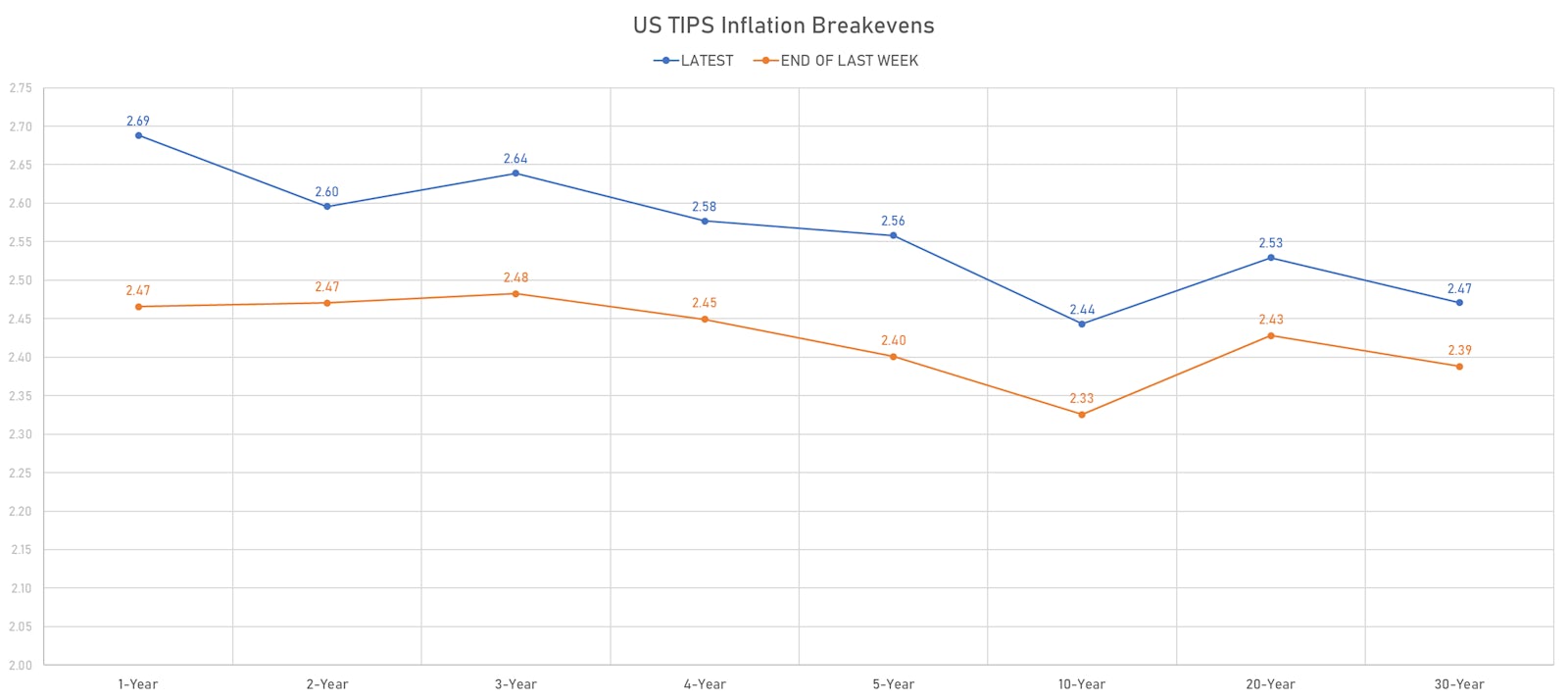 US TIPS Inflation Breakevens | Sources: ϕpost, Refinitiv data
---
---
US RATES OUTLOOK
The mixed US economic data releases this week were overshadowed by Powell's speech at the Brookings Institute on Wednesday, which brought on a significantly positive market reaction
There was nothing radically surprising about the content of the speech: it confirmed that the Fed will slow down the pace of rate hikes to 50bp in December, with a "somewhat" higher terminal rate in the updated economic projections (probably 5.00-5.25% range, which is 50bp higher than the September SEP)
The most dovish element was when Powell emphasized for the first time that the FOMC is concerned about overtightening (which went against his previous bias towards overtightening from a risk management standpoint)
When Powell didn't use the Q&A session to push back against the recent loosening in financial conditions, FCIs obviously eased further, which is not helpful if the Fed wants below-trend growth to cool sustained inflationary pressures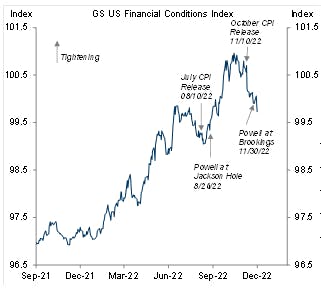 Having said that, it's clear that the current Fed pivot towards reaching a peak and holding there for a while is not dovish. We continue to think that rate cuts in 2023 are mispriced by the market (still close to 50bp at pixel time)

We won't hear from Fed members until the December 14 FOMC but the latest wage growth data (released today) will give them additional cover to move the 2023 dots higher
Jason Furman (Harvard professor) on Twitter: "The jobs report is encouraging for workers getting jobs & the economy not slipping into recession: 263K jobs added and unemployment remains 3.7%. But discouraging for the Fed's hopes that slowing wages will make its job easier. Average hourly earnings up at a 6.8% annual rate… You probably want to revise your views on inflation and it's overall dynamic more based on today's jobs report than any other data report this entire year… And not in a favorable direction."
Aneta Markowska (Jefferies' Chief Economist): "We still have a long way to go before wage growth decelerates to the point where it is consistent with 2% inflation. If wage inflation remains stable around 5%, and even if productivity growth returns to it's medium-term trend of 1.0-1.5%, that will still leave employers with roughly 3.5 to 4% of wage gains that have to be passed through to consumers. This is why we expect the labor market to set a floor under inflation at 4%. (..) We expect the Fed to keep hiking through Q1'23 until they push the funds rate to 5-5.25%, and we expect no cuts until early 2024. If anything, it looks like there are still upside risks to our rate outlook"
Credit Suisse's Jeremy Schwartz: "The jump in wage growth will be even more concerning for the Fed as it increases its focus on the labor market as a gauge of inflation pressure. We continue to expect the FOMC can step down its pace of hikes at the December meeting to 50bps, but today's report will increase the pressure to deliver a hawkish dot plot and emphasize upside risk for terminal rates. (..) Today's report raises concerns about persistent overheating. Job gains are faster than the Fed would like, and even if the wage data look unusual, the FOMC does not have the luxury of looking past inflationary signals. We continue to expect a step-down in the pace of hiking to 50bps in December, but this employment data will solidify the case for a hawkish dot plot and ongoing rhetoric stressing a higher and more persistent terminal rate."
WEEKLY US RATES SUMMARY
The treasury yield curve bull flattened, with the 1s10s spread tightening -12.2 bp, now at -117.6 bp (YTD change: -230.8bp)
1Y: 4.6655% (down 7.7 bp)
2Y: 4.2821% (down 18.4 bp)
5Y: 3.6571% (down 21.2 bp)
7Y: 3.5908% (down 19.8 bp)
10Y: 3.4898% (down 20.0 bp)
30Y: 3.5466% (down 20.1 bp)
US treasury curve spreads: 3m2Y at -4.2bp (down -20.3bp this week), 2s5s at -62.5bp (down -1.9bp), 5s10s at -16.7bp (up 1.8bp), 10s30s at 5.7bp (up 0.8bp)
TIPS 1Y breakeven inflation at 2.69% (up 22.3bp); 2Y at 2.60% (up 12.6bp); 5Y at 2.56% (up 15.7bp); 10Y at 2.44% (up 11.8bp); 30Y at 2.47% (up 8.3bp)
US 5-Year TIPS Real Yield: -37.2 bp at 1.1540%; 10-Year TIPS Real Yield: -31.2 bp at 1.0630%; 30-Year TIPS Real Yield: -29.8 bp at 1.1380%
US MACRO RELEASES OVER THE PAST WEEK

WEEKLY CFTC INTEREST RATES POSITIONING DATA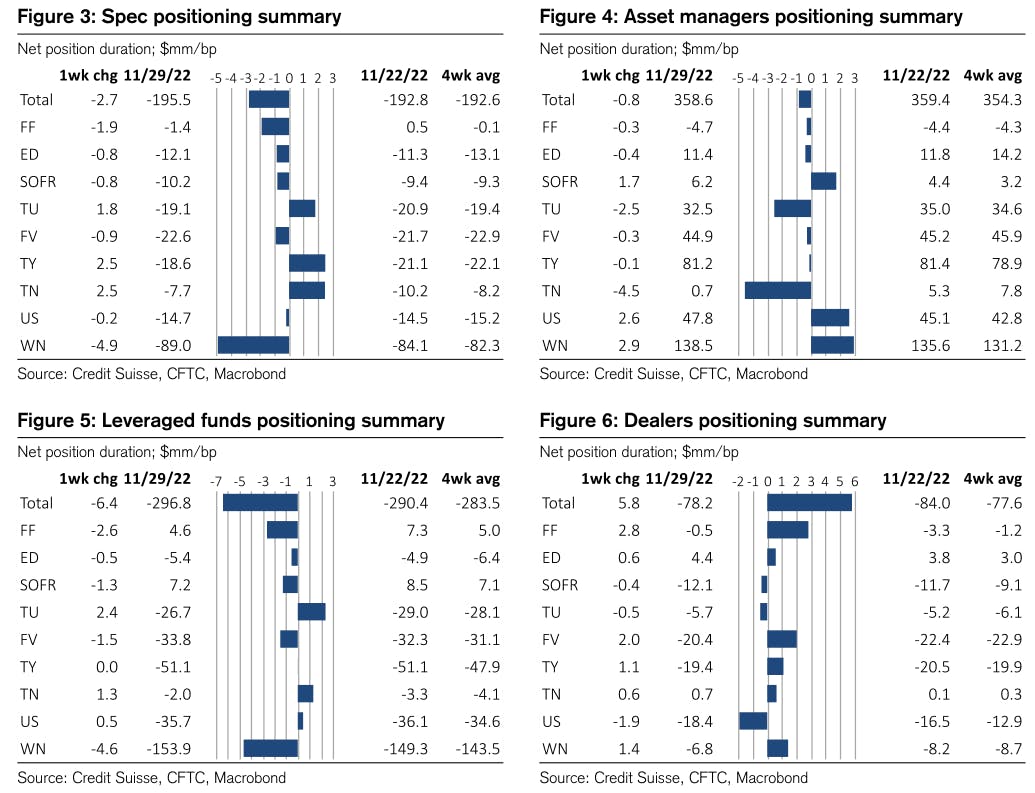 US MACRO RELEASES NEXT WEEK
Next week will be pretty light in macro data, and the focus next will be on the UMich sentiment survey and PPI

FED SPEAKERS NEXT WEEK
No speeches until 14 December, as the FOMC is now in its pre-meeting blackout period
US FORWARD RATES
Fed Funds futures now price in 52.3bp of Fed hikes by the end of December 2022, 87.8bp (3.5 x 25bp hikes) by the end of February 2023, and 4.1 hikes by the end of March 2023
3-month Eurodollar futures (EDZ) spreads price in -22.5 bp of cuts in 2023 (equivalent to -0.9 x 25 bp cuts), up 7.0 bp today, and -138.5 bp of cuts in 2024 (equivalent to -5.5 x 25 bp cuts)
1-year US Treasury rate 5 years forward down 2.2 bp, now at 3.3058%, meaning that the 1-year Treasury rate is now expected to increase by -143.6 bp over the next 5 years
US INFLATION & REAL RATES TODAY
TIPS 1Y breakeven inflation at 2.69% (up 2.9bp); 2Y at 2.60% (up 7.5bp); 5Y at 2.56% (up 5.4bp); 10Y at 2.44% (up 6.0bp); 30Y at 2.47% (up 6.1bp)
6-month spot US CPI swap up 1.9 bp to 2.572%, with a steepening of the forward curve
US Real Rates: 5Y at 1.1540%, -6.0 bp today; 10Y at 1.0630%, -8.1 bp today; 30Y at 1.1380%, -12.0 bp today
RATES VOLATILITY & LIQUIDITY TODAY
USD swap rate implied volatility (USD 1 Month by 1 Year ATM Swaption) down -1.3 vols at 112.2 normals
3-Month LIBOR-OIS spread down -4.2 bp at 28.2 bp (18-months range: -11.3 to 39.3 bp)
KEY INTERNATIONAL RATES TODAY
Germany 5Y: 1.825% (up 5.6 bp); the German 1Y-10Y curve is 7.1 bp steeper at -29.2bp (YTD change: -43.9 bp)
Japan 5Y: 0.107% (up 0.3 bp); the Japanese 1Y-10Y curve is 0.1 bp flatter at 33.7bp (YTD change: -15.9 bp)
China 5Y: 2.678% (up 0.1 bp); the Chinese 1Y-10Y curve is 5.7 bp flatter at 68.3bp (YTD change: -50.3 bp)
Switzerland 5Y: 0.920% (up 1.5 bp); the Swiss 1Y-10Y curve is 0.6 bp flatter at -5.4bp (YTD change: -56.6 bp)
---