Rates
US Rates Complex Feeling Hopeful That Inflation Is Normalizing, With A Soft Landing As The New Base Case
Even if headline inflation seems to be coming down rapidly markets are too sanguine about inflation pricing : 1Y TIPS breakeven around 1.80% and 1Y CPI swap at 2% look too low
Published ET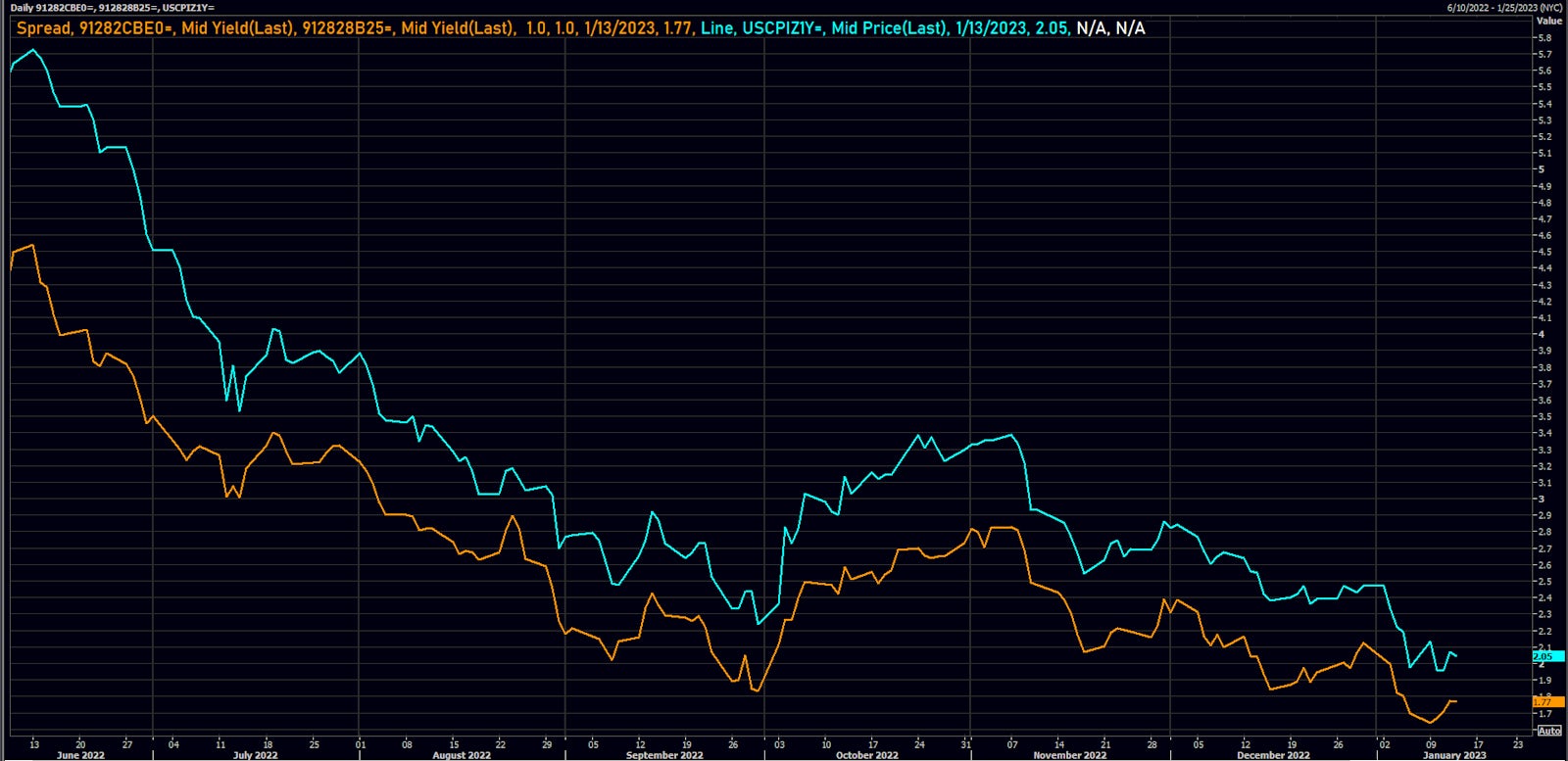 1Y Inflation Pricing Looks Too Low | Source: Refinitiv
---
---
US RATES OUTLOOK
Money markets currently price in 92% probability of a 25bp hike in February and it's getting late for the Fed to change that: unless we get a big surprise from Fed speakers this week, a step down to 25bp is almost certain now
Although the immediate path of policy is getting clearer, there is considerable uncertainty around two main questions:
Will the Fed go 25+25+25+pause or just 25+25+pause? The market has recently priced out a lot of the right tail in terms of rate hikes, but will that prove to be correct?

Will the pause be followed by a rate cut (as the market expects) or by a resumption of hikes? If core inflation slows down but settles around 3.5%, the Fed will have to hike again to get to a 2 handle.. unless a deep recession emerges, in which case they will likely blink and choose growth / jobs over inflation.
Larry Summers recently outlined 2 plausible scenarios for the longer term Fed Funds rate:
We return to long-term stagnation with low inflation, driven mainly by demographics, which requires a long term neutral real rate around 0.5% (2.5% Fed funds)
Deglobalization / onshoring leads to persistent inflationary pressures driven by wage growth + supply chain inefficiencies, requiring a higher long term real neutral rate around 1.5% (4% Fed funds)
Forward Fed Funds rates are currently around 2.80% from late 2025 onward, implying a probability of 80% on the first scenario. But Summers doesn't believe that, and sees a need for the unemployment rate to reach or 6-7% to counter the stickiness of wage growth.
If you think the base case is a soft landing / no recession, then the current market pricing (peak rate < 5% followed by >200bp in cuts) doesn't entirely make sense: the inversion of the US curve is overdone, especially the two cuts already priced in for 2H 2023

With all this uncertainty, the market will have to wait for things to play out over the course of 1H23: as data slowly rolls in, these issues will become more settled.
WEEKLY US RATES SUMMARY
The treasury yield curve flattened, with the 1s10s spread tightening -4.5 bp, now at -118.4 bp (YTD change: -35.1bp)
1Y: 4.6806% (down 1.7 bp)
2Y: 4.2216% (down 3.4 bp)
5Y: 3.5961% (down 10.7 bp)
7Y: 3.5464% (down 8.9 bp)
10Y: 3.4962% (down 6.2 bp)
30Y: 3.6086% (down 7.4 bp)
US treasury curve spreads: 3m2Y at -38.5bp (down -1.2bp this week), 2s5s at -62.6bp (down -6.5bp), 5s10s at -10.0bp (up 3.4bp), 10s30s at 11.2bp (down -2.3bp)
TIPS 1Y breakeven inflation at 2.07% (up 38.4bp); 2Y at 2.13% (up 1.3bp); 5Y at 2.24% (up 1.5bp); 10Y at 2.18% (down -2.3bp); 30Y at 2.21% (down -6.3bp)
US 5-Year TIPS Real Yield: -12.7 bp at 1.4010%; 10-Year TIPS Real Yield: -4.3 bp at 1.3090%; 30-Year TIPS Real Yield: -1.9 bp at 1.4450%
US ECONOMIC DATA RELEASED OVER THE PAST WEEK

CFTC NET RATES POSITIONING DATA
US ECONOMIC DATA TO BE RELEASED NEXT WEEK

FED SPEAKERS THIS WEEK
Tuesday 3:00PM: New York Fed President Williams
Wednesday 9:00AM: Atlanta Fed President Bostic
Wednesday 2:00PM: Philadelphia Fed President Harker
Wednesday 5:00Pm: Dallas Fed President Logan
Thursday 9:00AM: Boston Fed President Collins
Thursday 1:15PM: Fed Vice Chair Brainard
Thursday 6:35PM: New York Fed President Williams
Friday 9:00AM: Philadelphia Fed President Harker
Friday 1:00PM: Fed Governor Waller
US TREASURY COUPON-BEARING AUCTIONS
Wednesday 1PM: $12bn in reopened 20Y bonds
Thursday 1PM: $17bn in reopened 10Y TIPS
US FORWARD RATES
Fed Funds futures now price in 27.1bp of Fed hikes by the end of February 2023, 47.1bp (1.9 x 25bp hikes) by the end of March 2023, and 2.3 hikes by the end of May 2023
Implied yields on 3-month SOFR futures top out at 4.95% for the July 2023 expiry and price in 217bp of rate cuts over the following easing cycle
US INFLATION & REAL RATES TODAY
TIPS 1Y breakeven inflation at 2.07% (up 7.7bp); 2Y at 2.13% (up 0.8bp); 5Y at 2.24% (down -0.5bp); 10Y at 2.18% (down -2.0bp); 30Y at 2.21% (down -5.1bp)
6-month spot US CPI swap down -20.0 bp to 1.915%, with a steepening of the forward curve
US Real Rates: 5Y at 1.4010%, +6.9 bp today; 10Y at 1.3090%, +7.1 bp today; 30Y at 1.4450%, +8.2 bp today
RATES VOLATILITY & LIQUIDITY TODAY
USD swap rate implied volatility (USD 1 Month by 1 Year ATM Swaption) down -6.3 vols at 96.4 normals
3-Month LIBOR-OIS spread down -4.6 bp at 15.1 bp (18-months range: -11.3 to 39.3 bp)
KEY INTERNATIONAL RATES TODAY
Germany 5Y: 2.210% (down -0.2 bp); the German 1Y-10Y curve is 0.1 bp steeper at -50.0bp (YTD change: +1.8 bp)
Japan 5Y: 0.281% (unchanged 0.0 bp); the Japanese 1Y-10Y curve is 0.4 bp steeper at 50.5bp (YTD change: -40.6 bp)
China 5Y: 2.708% (up 2.3 bp); the Chinese 1Y-10Y curve is 1.6 bp steeper at 79.8bp (YTD change: -72.8 bp)
Switzerland 5Y: 0.976% (down -1.0 bp); the Swiss 1Y-10Y curve is 0.3 bp flatter at -33.5bp (YTD change: -6.6 bp)
GLOBAL 5-YEAR NOMINAL INTEREST RATES DIFFERENTIALS TODAY
US-GERMANY: -0.5 bp at 162.5 bp (Weekly change: -9.4 bp; YTD change: -11.1 bp)
US-JAPAN: +7.6 bp at 418.6 bp (YTD change: -20.7 bp)
US-CHINA: +7.8 bp at 191.9 bp (Weekly change: -6.2 bp; YTD change: -26.4 bp)
GLOBAL 10-YEAR REAL INTEREST RATES DIFFERENTIALS TODAY
US-GERMANY: +2.0 bp at 124.3 bp (Weekly change: -3.3bp; YTD change: -4.5bp)
US-JAPAN: -1.9 bp at 138.0 bp (Weekly change: -40.2bp; YTD change: -65.9bp)
GERMANY-JAPAN: -3.9 bp at 13.7 bp (Weekly change: -29.6bp; YTD change: -61.4bp)
---