Rates
Sharp Rise In Front-End Rates, Inflation Breakevens And Volatility Ahead Of Upcoming January CPI Report
The rise in implied volatilities reflects diminished comfort about the distribution of inflation / rates outcomes, and we've seen slightly more hedging of the left tail (i.e. lower rates) with the recent reduction in the curve inversion
Published ET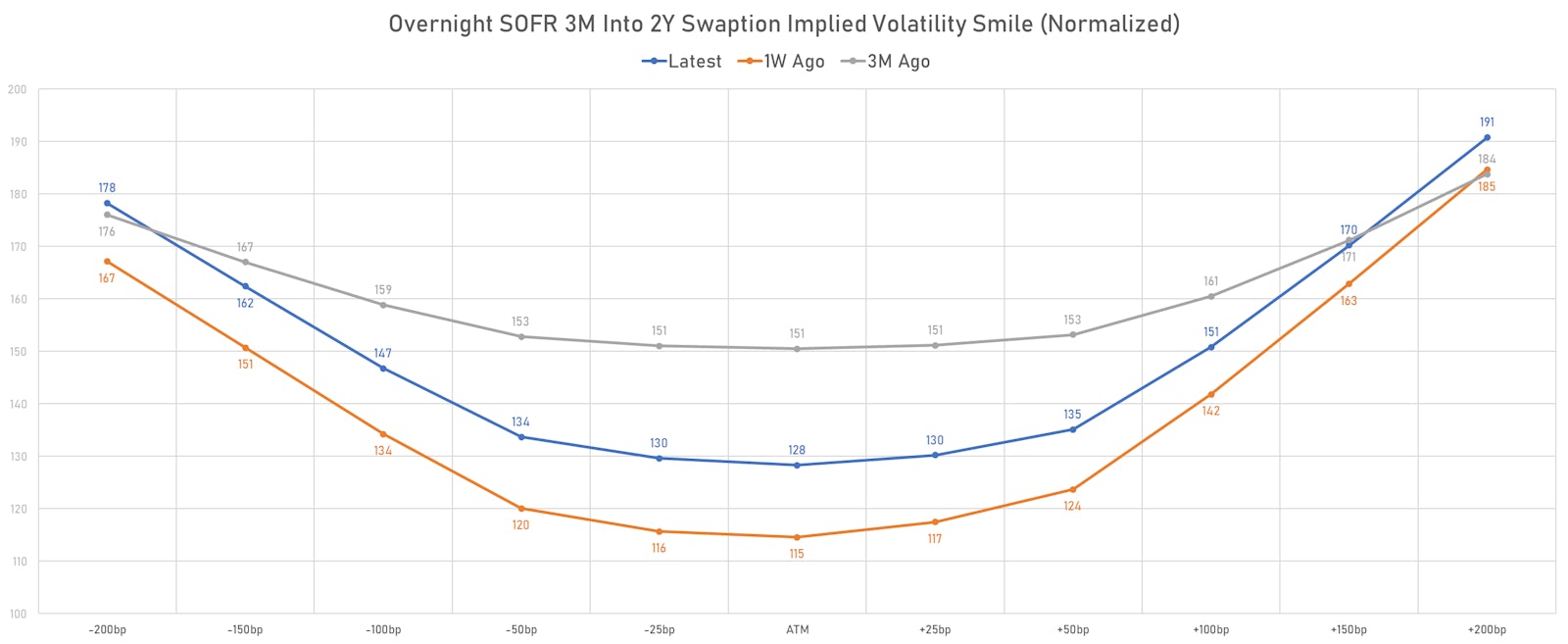 Overnight SOFR 3M Into 2Y Swaption Implied Volatilities | Sources: phipost.com, Refinitiv data
---
---
US RATES OUTLOOK
Over the last 10 days, the peak Fed Funds rate has risen about 35bp with a slight reduction in the forward inversion (+20bp in SRM25-SRM3= meaning fewer rate cuts priced in)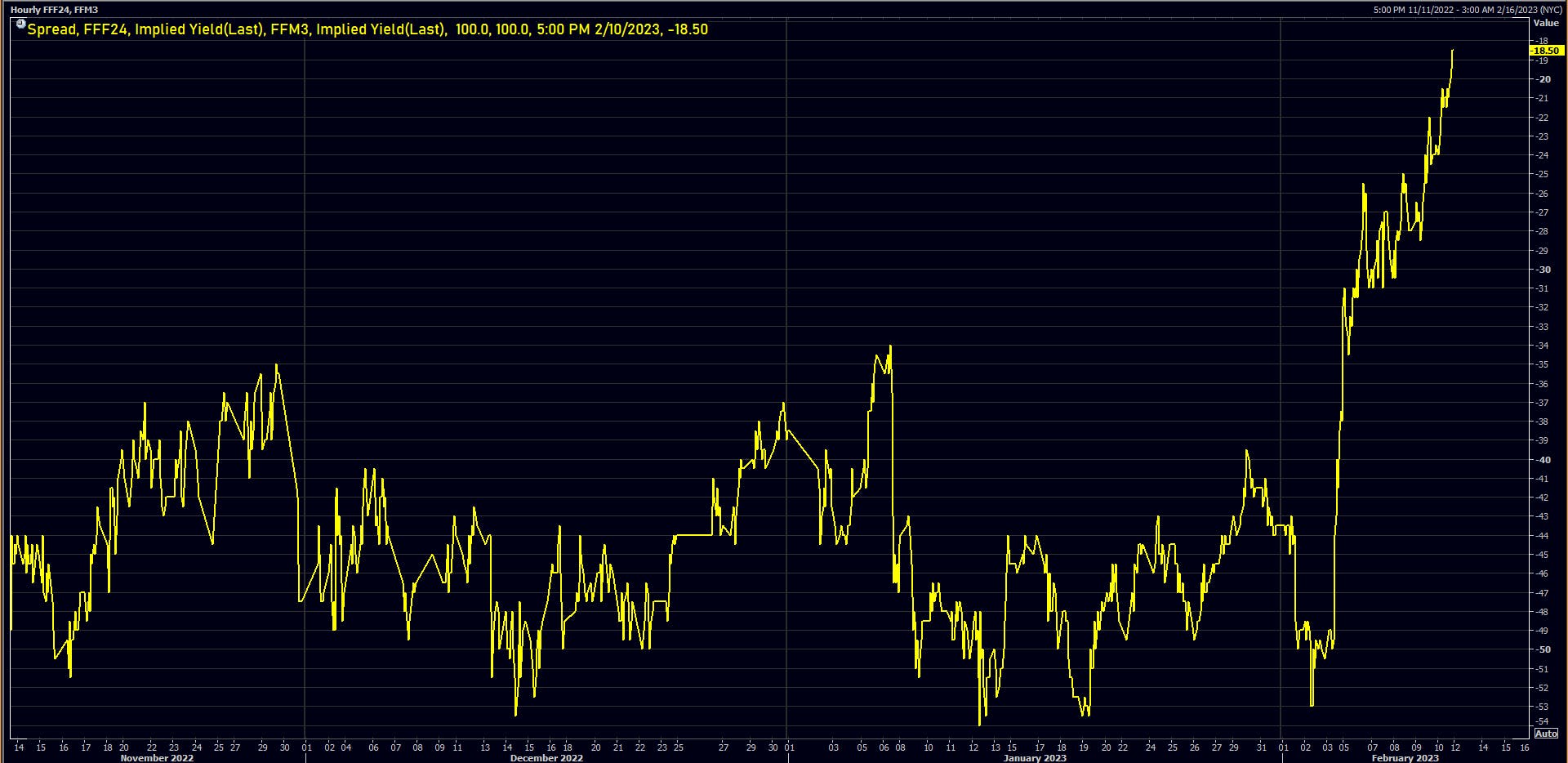 Implied volatility is also up a lot since the last employment report, as investors are very uncertain about the forward path: less inverted curve (55bp of 2023 rate cuts turned into just 18bp), but with aggressive hedging in case that turns out to be wrong

All eyes will be on the CPI this week, and the Cleveland Fed Nowcast core CPI for January currently stands at 0.46% MoM (headline CPI at 0.65% MoM); those indicators have slightly overestimated inflation recently, but point to potential upside risk to estimates.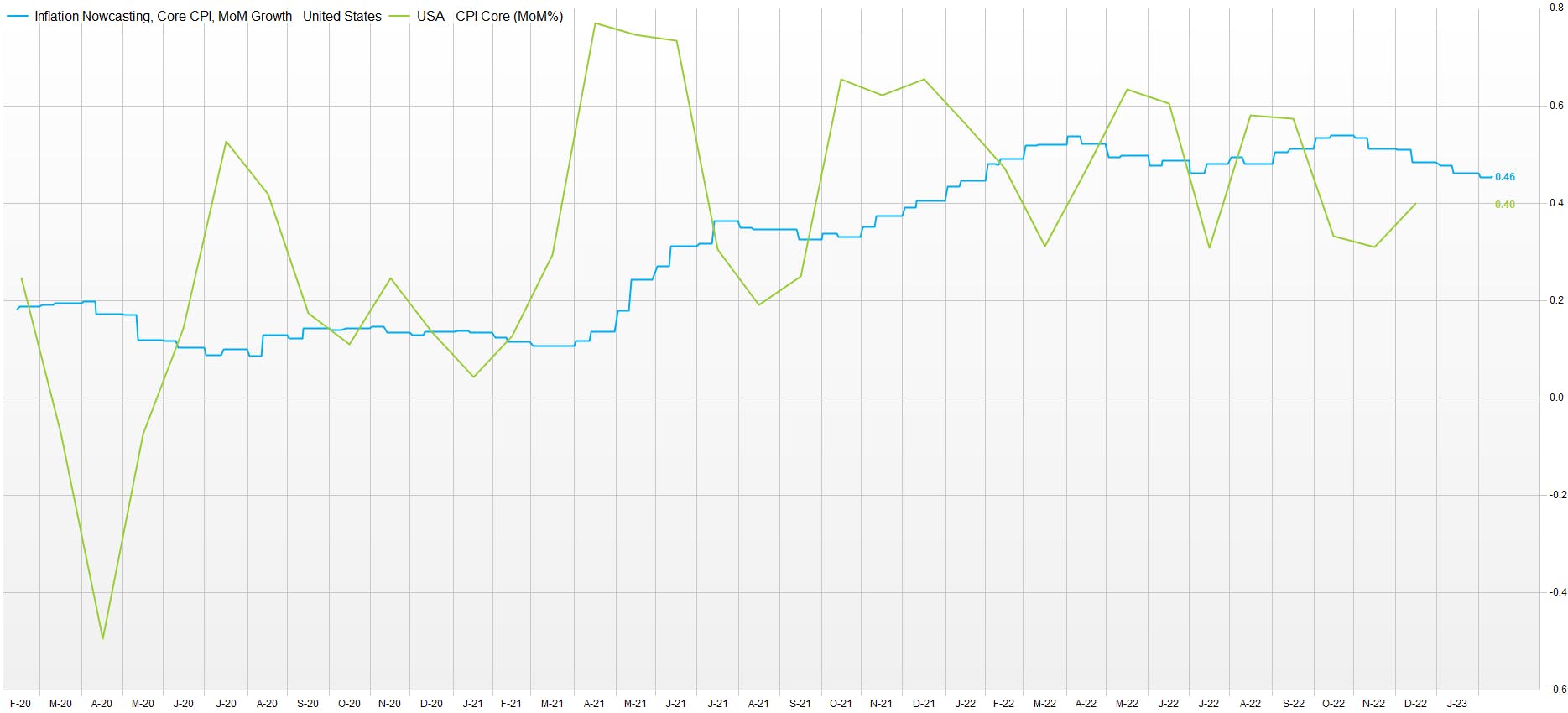 It's worth noting that the real Fed Funds rate is now positive 32.5 basis points (=4.625- 4.30% using the Cleveland Fed's Nowcasting core PCE YoY), but still not yet at a restrictive level if you think r* is somewhere north of 50bp.
In our opinion, the level of inversion in the curve is less about recession fears, and more about investors' views of the neutral real rate r*. As we said a few weeks ago, there are 2 schools of thought: 1) a longer-term return to a period of stagnation with low inflation, slow growth, r* around 0.5% (Fed Funds rate around 2.5%); 2) inflation proves more persistent for structural reasons (deglobalization / onshoring) leading to r* around 1.5% (Fed Funds rate around 4%).
The market currently sees 3M USD OIS stabilizing around 3.10% from 2025 onward (up from 2.90% last week), thereby pricing in a higher likelihood of the first scenario playing out. But if the second point of view (Larry Summers') prevails, there could be a significant rise in forward rates.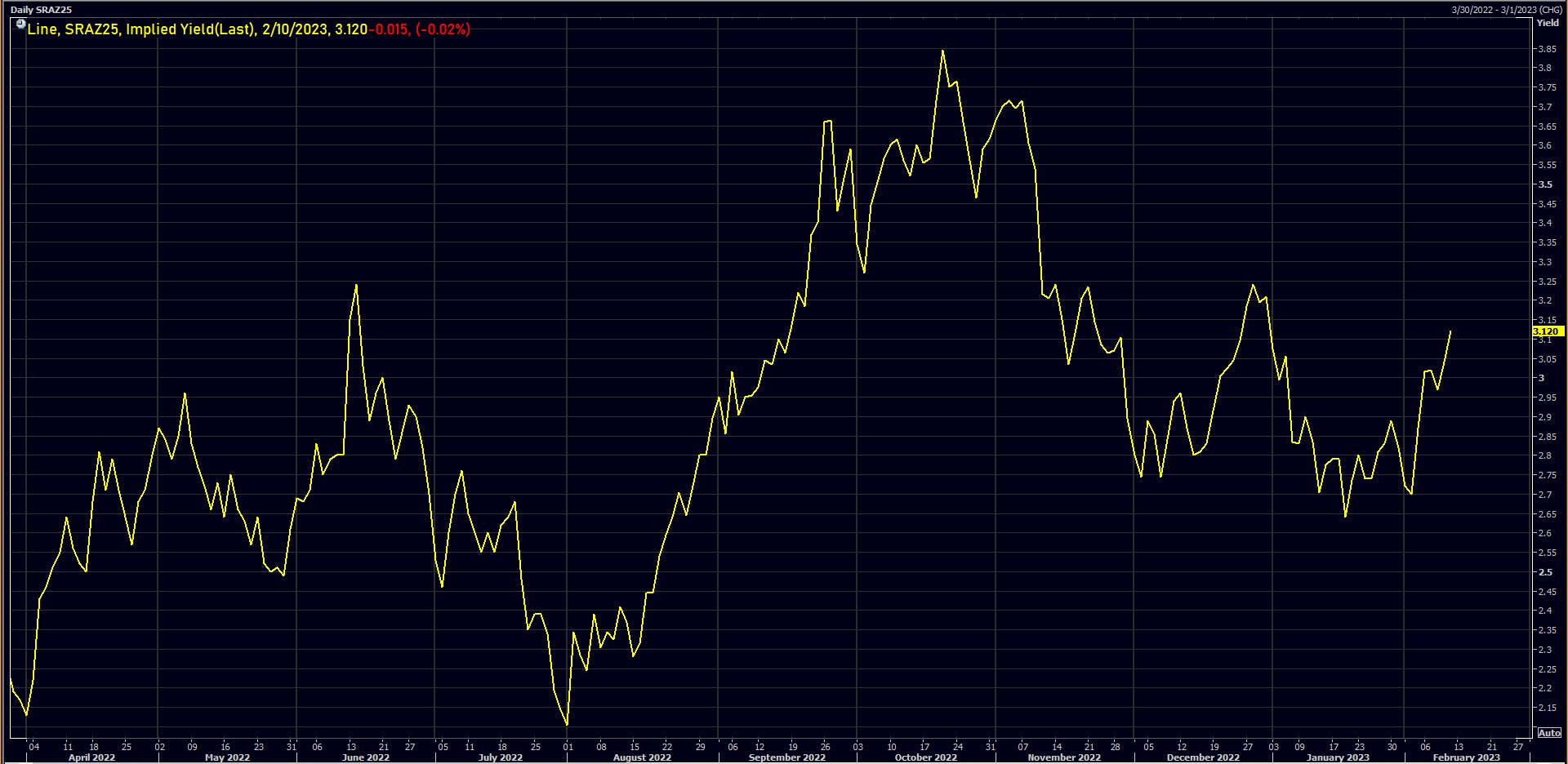 With the positive macro data over the past weeks, we're seeing more and more people running discreet victory laps (Powell in particular), and it feels a bit early for that. If you're trying to land a plane in a storm, you don't worry so much about a hard landing or soft landing, and you don't get overly excited because you seem nicely aligned with the runway. We understand why Powell is reluctant to push back against looser financial conditions: things are looking better and better, and he thinks the US economy is on course to hit the narrow "soft landing" path. Understandably, he doesn't want to hike too much and get a recession / hard landing instead. From a risk management perspective however, considering the amount of uncertainty on the forward path of inflation, he should just focus on putting the plane on the ground, and he'll have plenty of time to show us his celebration dance moves later.
WEEKLY US RATES SUMMARY
The treasury yield curve steepened, with the 1s10s spread up 11.9 bp, now at -113.9 bp (YTD change: -30.6bp)
1Y: 4.8817% (up 10.5 bp)
2Y: 4.5245% (up 23.9 bp)
5Y: 3.9279% (up 27.7 bp)
7Y: 3.8545% (up 26.7 bp)
10Y: 3.7426% (up 22.4 bp)
30Y: 3.8266% (up 21.2 bp)
US treasury curve spreads: 3m2Y at -24.9bp (up 12.1bp this week), 2s5s at -59.7bp (up 3.4bp), 5s10s at -18.5bp (down -5.0bp), 10s30s at 8.4bp (down -1.1bp)
TIPS 1Y breakeven inflation at 2.62% (up 41.8bp); 2Y at 2.53% (up 31.4bp); 5Y at 2.41% (up 11.1bp); 10Y at 2.35% (up 3.3bp); 30Y at 2.30% (down -0.6bp)
US 5-Year TIPS Real Yield: +9.6 bp at 1.4810%; 10-Year TIPS Real Yield: +12.0 bp at 1.4130%; 30-Year TIPS Real Yield: +7.9 bp at 1.5450%
US MACRO DATA OVER THE PAST WEEK

US DATA RELEASES IN THE WEEK AHEAD
The most important release this week by far will be the January CPI. After the recent run-up at the front end of the curve, markets would likely react more to lighter-than-expected data. Here's Wells Fargo's estimates of where the peak Fed Funds rate would land in different scenarios: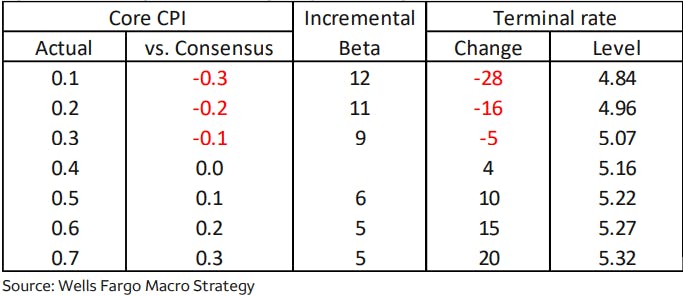 Beside the CPI, the focus next week will be on industrial production, retail sales, and housing starts

SCHEDULED FED SPEAKERS IN THE COMING WEEK
Monday 8:00AM: Fed Governor Bowman
Tuesday 11:00AM: Dallas Fed President Logan
Tuesday 11:30AM: Philadelphia Fed President Harker
Tuesday 2:05PM: New York Fed President Williams
Thursday 8:45AM: Cleveland Fed President Mester
Thursday 1:30PM: St. Louis Fed President Bullard
Thursday 4:00PM: Fed Governor Cook
Thursday 6:16PM: Cleveland Fed President Mester
Friday 8:30AM: Richmond Fed President Barkin
Friday 8:45AM: Fed Governor Bowman
US TREASURY AUCTIONS IN THE WEEK AHEAD
Wednesday at 1:00PM: $15bn in 20Y bonds
Thursday at 1:00PM: $9bn in 30Y TIPS
US FORWARD RATES
Fed Funds futures now price in 26.1bp of Fed hikes by the end of March 2023, 45.4bp (1.8 x 25bp hikes) by the end of May 2023, and 2.2 hikes by the end of June 2023
Implied yields on 3-month SOFR futures top out at 5.18% for the September 2023 expiry and price in 207bp of rate cuts over the following easing cycle
US INFLATION & REAL RATES TODAY
TIPS 1Y breakeven inflation at 2.62% (up 12.7bp); 2Y at 2.53% (up 6.0bp); 5Y at 2.41% (up 1.5bp); 10Y at 2.35% (up 0.1bp); 30Y at 2.30% (up 0.5bp)
6-month spot US CPI swap up 6.7 bp to 2.088%, with a steepening of the forward curve
US Real Rates: 5Y at 1.4810%, +5.4 bp today; 10Y at 1.4130%, +7.6 bp today; 30Y at 1.5450%, +7.2 bp today
RATES VOLATILITY & LIQUIDITY TODAY
USD swap rate implied volatility (USD 1 Month by 1 Year ATM Swaption) up 10.5 vols at 92.3 normals
3-Month LIBOR-OIS spread down -0.4 bp at 8.3 bp (18-months range: -11.3 to 39.3 bp)
KEY INTERNATIONAL RATES TODAY (10 Feb.'23)
Germany 5Y: 2.399% (up 6.4 bp); the German 1Y-10Y curve is 2.3 bp flatter at -55.7bp (YTD change: +1.7 bp)
Japan 5Y: 0.212% (down -0.5 bp); the Japanese 1Y-10Y curve is 1.5 bp steeper at 59.0bp (YTD change: -40.5 bp)
China 5Y: 2.708% (down -1.0 bp); the Chinese 1Y-10Y curve is 0.4 bp steeper at 71.4bp (YTD change: -72.9 bp)
Switzerland 5Y: 1.236% (up 7.5 bp); the Swiss 1Y-10Y curve is 4.1 bp steeper at -11.2bp (YTD change: -6.4 bp)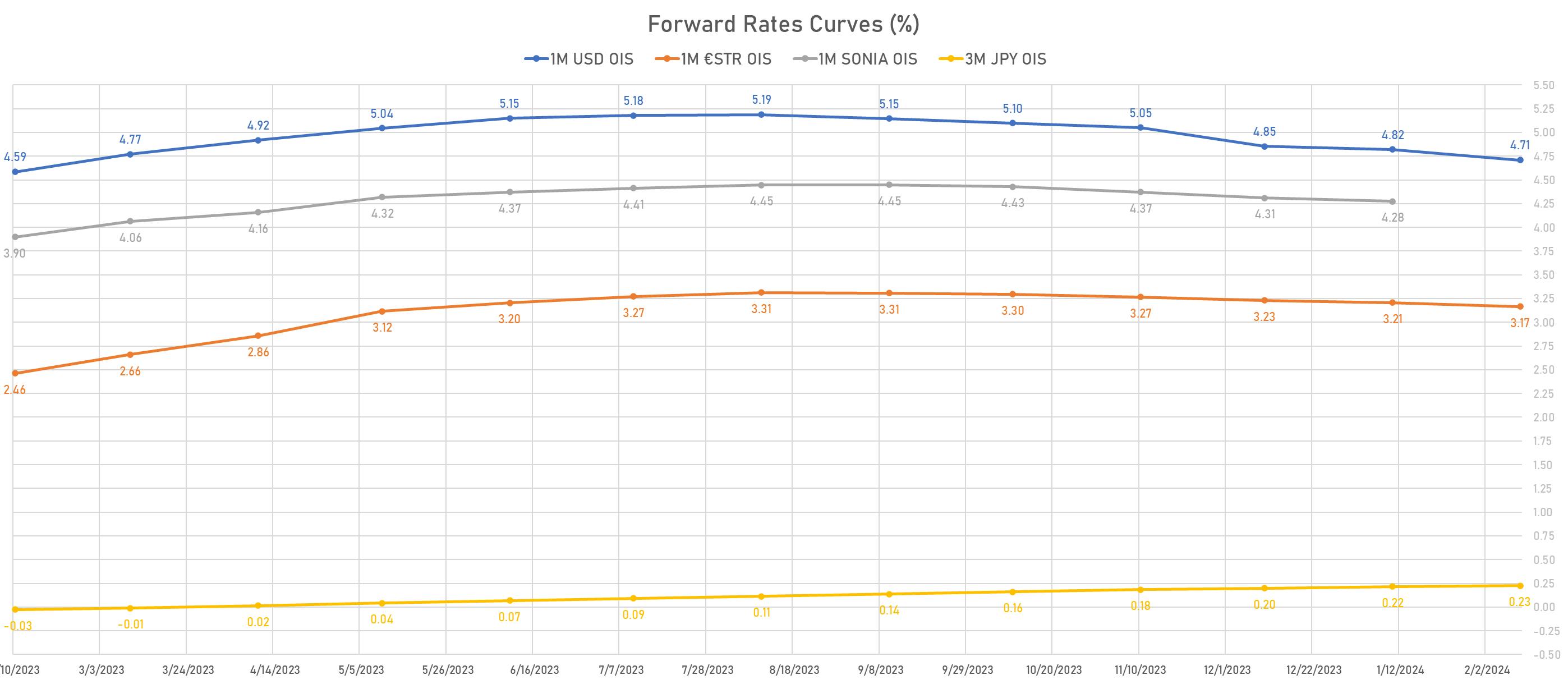 GLOBAL 5-YEAR NOMINAL INTEREST RATES DIFFERENTIALS TODAY
US-GERMANY: -3.2 bp at 174.1 bp (Weekly change: +1.9 bp; YTD change: +0.5 bp)
US-JAPAN: +2.5 bp at 455.1 bp (Weekly change: +23.9 bp; YTD change: +15.8 bp)
US-CHINA: +3.9 bp at 212.6 bp (Weekly change: +9.4 bp; YTD change: -5.7 bp)
GLOBAL 10-YEAR REAL INTEREST RATES DIFFERENTIALS TODAY
US-GERMANY: +5.6 bp at 134.2 bp (Weekly change: +1.1bp; YTD change: +5.4bp)
US-JAPAN: +7.6 bp at 160.8 bp (Weekly change: +11.5bp; YTD change: -43.1bp)
GERMANY-JAPAN: +2.0 bp at 26.6 bp (Weekly change: +10.4bp; YTD change: -48.5bp)
---