Rates
Bear Flattening After Busy Week Of US Data, Fed On Course To Raise By 25bp In Two Weeks
The most active debate in rates is the June FOMC, where market pricing has shifted to a small hike (from a hold last week), with the latest CPI print showing further indications of sticky inflation in core services
Published ET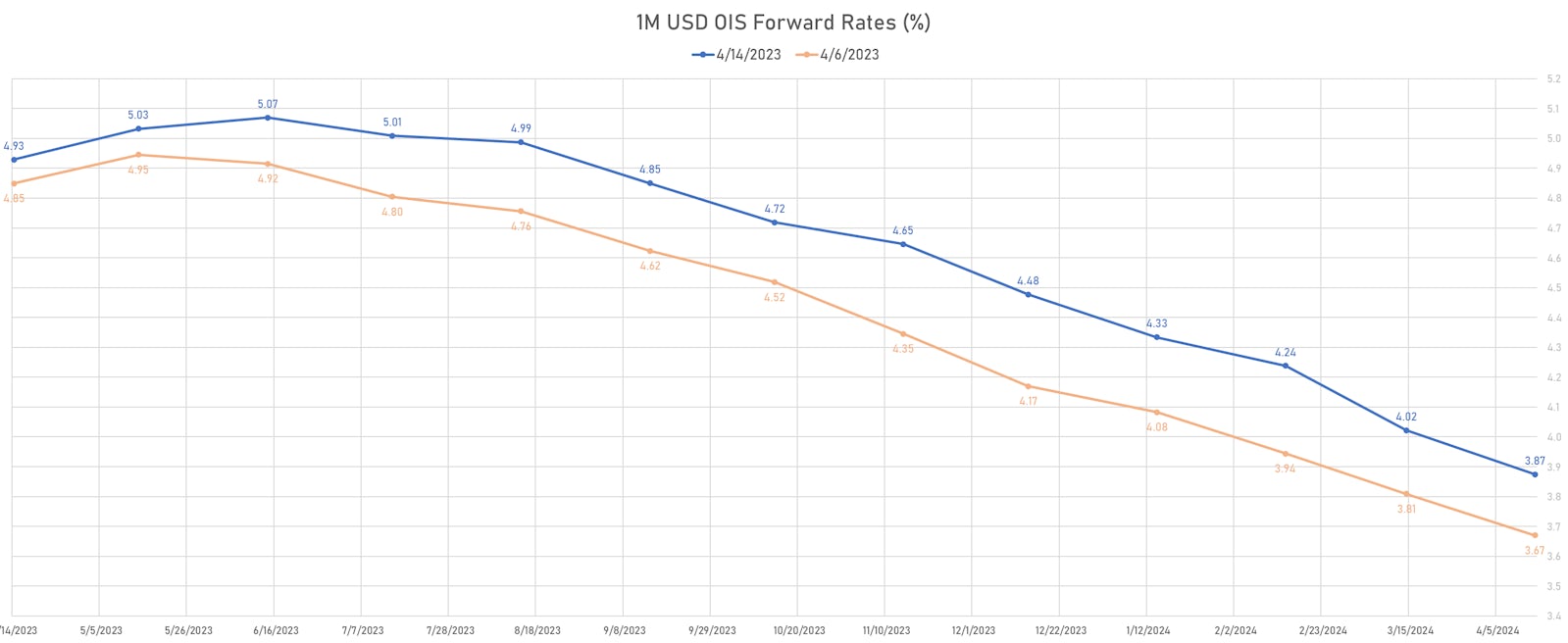 US Overnight Fed Funds 1M OIS Forward Curve | Sources: phipost.com, Refinitiv data
---
---
US RATES OUTLOOK
Money markets now price in over 80% probability of a 25bp hike in May, with another 4bp priced for the June FOMC. The forward curve shows 60bp of cuts through the end of the year (from the June peak).
Although some members might vote to hold at the May FOMC, there is now little doubt the Fed will raise by 25bp in a couple of weeks
The debate in the market is really around the June FOMC: another hike or a hold? Obviously nobody knows considering the level of economic uncertainty, and that will likely keep the Fed in maximal flexibility mode (data dependent + very little if any forward guidance)
To be clear, the US economy should be fine either way. The GS US financial conditions index is not showing any tightness at the moment (close to the 30-year average), and another 25bp in June is unlikely to break the camel's back.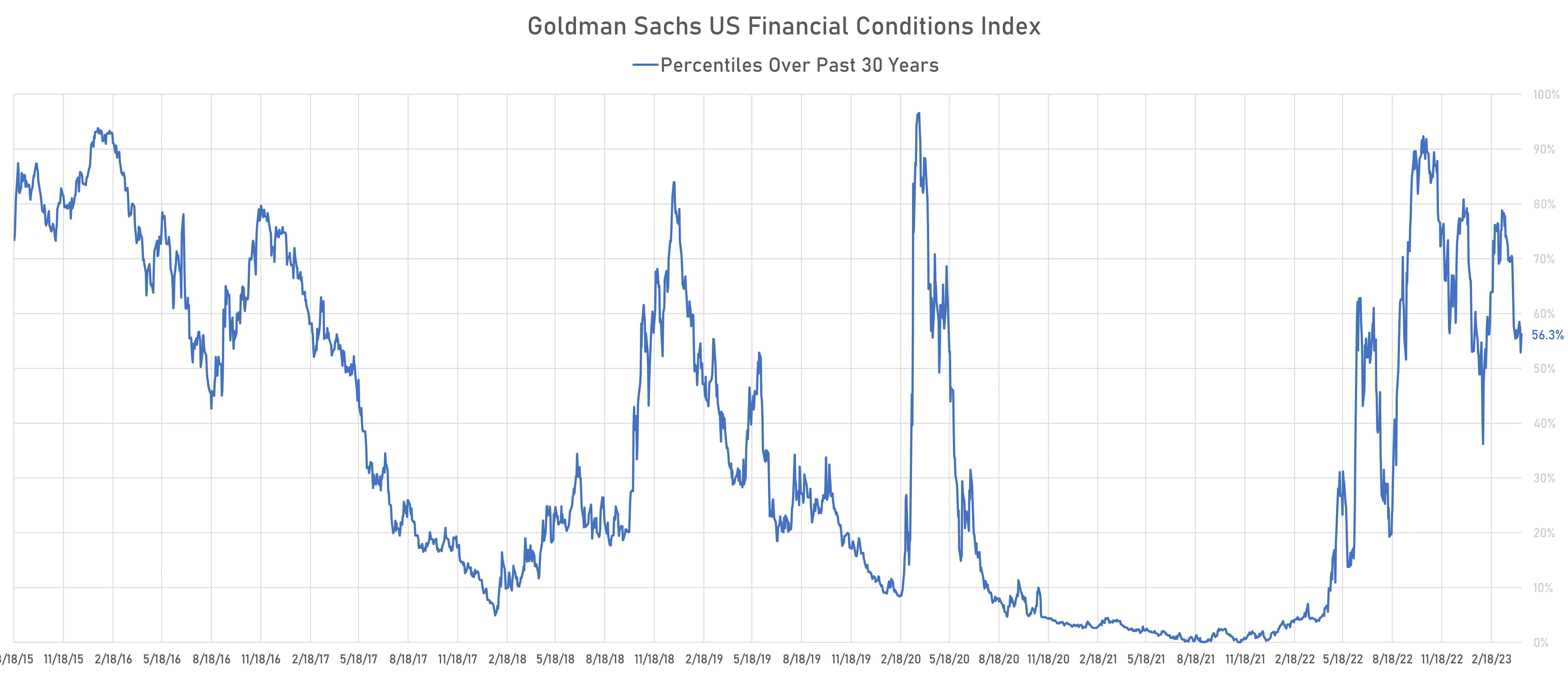 Having said that, the market is also starting to price higher long-term inflation breakevens, which is a hedge for a case where the Fed temporarily gives up on its inflation mandate and cuts rates to fight a recession
After the latest CPI report showed continued strength in core services inflation, here's Jefferies' US chief economist explaining why he expects unit labor costs (ULCs) to stay high: "Q1 GDP is tracking at +2.5% after this week's retail sales data. Assuming a 1% increase in manhours, this would put Productivity at 1.5%. AHE has slowed somewhat in Q1, so productivity at 1.5% probably puts ULCs at around 4%. That's a significant slowdown from the end of last year (6.3% YoY), but it's still a long way from 2%, and it is not yet clear that we will see further declines in coming quarters or if ULCs will instead plateau. (..) The bottom line is that even if growth slows, competition in this labor-intensive sector is going to sustain an elevated level of wage pressure, and unit labor costs as a result. The Fed's policy actions to-date have been effective in driving inflation down to 5% from 8%, but driving out the last 3 percentage points of sticky inflation is going to be difficult and it is going to take time. With these trends entrenched, the Fed's recent focus on data dependence in setting policy makes it difficult to see how they might pause in June. If they are going to make the May hike the final one for the cycle, they will have to shift the focus of their communication from incoming data to expectations of the lagged effects of policy."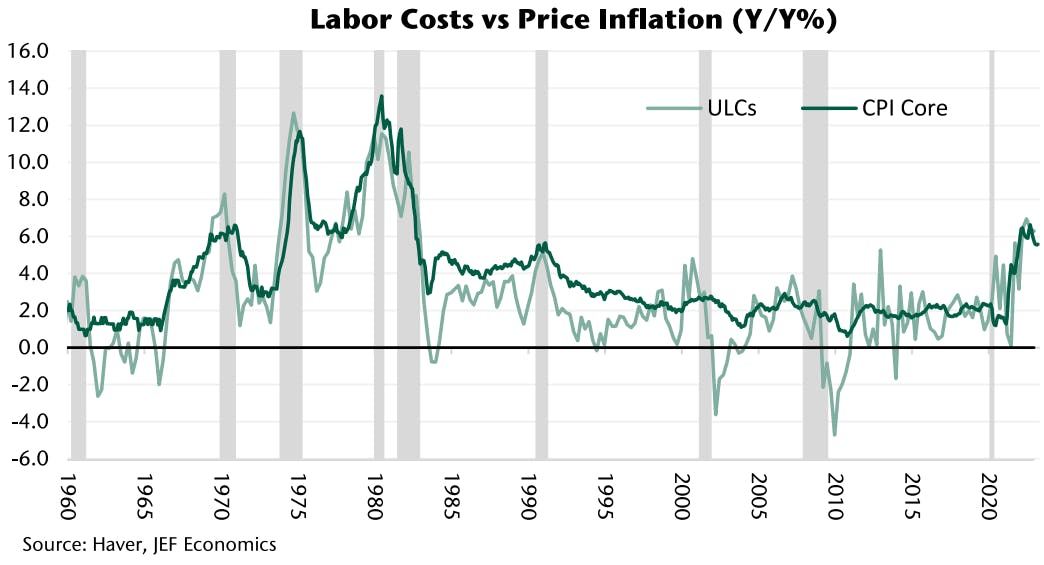 WEEKLY US RATES SUMMARY
The treasury yield curve flattened, with the 1s10s spread inverting another 5.3 bp, now at -126.7 bp (YTD change: -43.3bp)
1Y: 4.7803% (up 15.4 bp)
2Y: 4.0968% (up 10.8 bp)
5Y: 3.6030% (up 8.8 bp)
7Y: 3.5571% (up 9.2 bp)
10Y: 3.5138% (up 10.2 bp)
30Y: 3.7361% (up 11.5 bp)
US treasury curve spreads: 3m2Y at -99.1bp (up 5.5bp this week), 2s5s at -49.4bp (down -3.7bp), 5s10s at -8.9bp (down -2.4bp), 10s30s at 22.2bp (down -2.3bp)
US 5Y TIPS inflation breakeven unchanged at 2.39%; 10Y breakeven at 2.31%, up 6.6bp; 30Y breakeven at 2.29%, up 6.4bp
US 5-Year TIPS Real Yield: +12.5 bp at 1.2970%; 10-Year TIPS Real Yield: +4.5 bp at 1.2170%; 30-Year TIPS Real Yield: +5.5 bp at 1.4570%
US ECONOMIC DATA OVER THE PAST WEEK

US MACRO RELEASES IN THE WEEK AHEAD
Very light data schedule next week, with the focus on March housing starts and existing home sales data

US TREASURY COUPON-BEARING AUCTIONS IN THE WEEK AHEAD
Wednesday 1:00PM: $12bn in 20Y bonds
Thursday 1:00PM: $21bn in 5Y TIPS
FED SPEAKERS IN THE WEEK AHEAD
Tuesday 1:00PM: Fed Governor Bowman
Wednesday 5:30PM: Chicago Fed President Goolsbee
Wednesday 7:00PM: New York Fed President Williams
Thursday 12:00PM: Fed Governor Waller
Thursday 12:20PM: Cleveland Fed President Mester
Thursday 3:00PM: Fed Governor Bowman
Thursday 5:00PM: Atlanta Fed President Bostic
Friday 4:35PM: Fed Governor Cook
US FORWARD RATES
Fed Funds futures now price in 20.3bp of Fed hikes by the end of May 2023, 24.5bp (1.0 x 25bp hikes) by the end of June 2023, and cuts from July
Implied yields on 3-month SOFR futures top out at 5.05% for the August 2023 expiry and price in 210bp of rate cuts over the following easing cycle
US INFLATION & REAL RATES TODAY
TIPS 1Y breakeven inflation at 2.74% (up 6.0bp); 2Y at 2.42% (up 5.7bp); 5Y at 2.30% (up 3.8bp); 10Y at 2.31% (up 1.6bp); 30Y at 2.29% (down -0.8bp)
6-month spot US CPI swap down -11.3 bp to 1.695%, with a flattening of the forward curve
US Real Rates: 5Y at 1.2970%, +7.1 bp today; 10Y at 1.2170%, +5.4 bp today; 30Y at 1.4570%, +5.9 bp today
RATES VOLATILITY & LIQUIDITY TODAY
USD swap rate implied volatility (USD 1 Month by 1 Year ATM Swaption) down -5.8 vols at 158.5 normals
3-Month LIBOR-OIS spread down -1.7 bp at 24.0 bp (18-months range: -11.3 to 39.3 bp)
KEY INTERNATIONAL RATES TODAY
Germany 5Y: 2.459% (up 7.2 bp); the German 1Y-10Y curve is 3.9 bp steeper at -75.6bp (YTD change: -73.4 bp)
Japan 5Y: 0.165% (down -0.4 bp); the Japanese 1Y-10Y curve is unchanged at 57.6bp (YTD change: +16.3 bp)
China 5Y: 2.674% (up 1.2 bp); the Chinese 1Y-10Y curve is 1.1 bp steeper at 65.4bp (YTD change: -8.2 bp)
Switzerland 5Y: 1.167% (up 18.9 bp); the Swiss 1Y-10Y curve is 9.0 bp steeper at -35.7bp (YTD change: -62.6 bp)
GLOBAL 5-YEAR NOMINAL INTEREST RATES DIFFERENTIALS TODAY
US-GERMANY: +6.3 bp at 125.6 bp (Weekly change: +4.1 bp; YTD change: -48.0 bp)
US-JAPAN: +16.3 bp at 416.8 bp (Weekly change: +33.0 bp; YTD change: -22.5 bp)
US-CHINA: +12.8 bp at 175.3 bp (Weekly change: +12.5 bp; YTD change: -43.0 bp)
GLOBAL 10-YEAR REAL INTEREST RATES DIFFERENTIALS TODAY
US-GERMANY: -1.8 bp at 118.5 bp (Weekly change: -6.8bp; YTD change: -10.3bp)
US-JAPAN: +7.3 bp at 144.3 bp (Weekly change: +2.4bp; YTD change: -59.6bp)
GERMANY-JAPAN: +9.1 bp at 25.8 bp (Weekly change: +17.2bp; YTD change: -49.3bp)
---