Rates
The Fed Did A Good Job Of Reanchoring The Front End Higher, With The 3m/2Y Treasury Spread Rising Nearly 40bp Since The FOMC
Crazy week in macro markets: the BOJ intervening to help the Yen for the first time since 1998, signaling that yield curve control is likely coming to an end soon, and Cable getting shattered by a weak BoE hike and Truss' inflationary new economic plan (with rumors now flying of a possible 100bp BoE hike before markets reopen on Sunday)
Published ET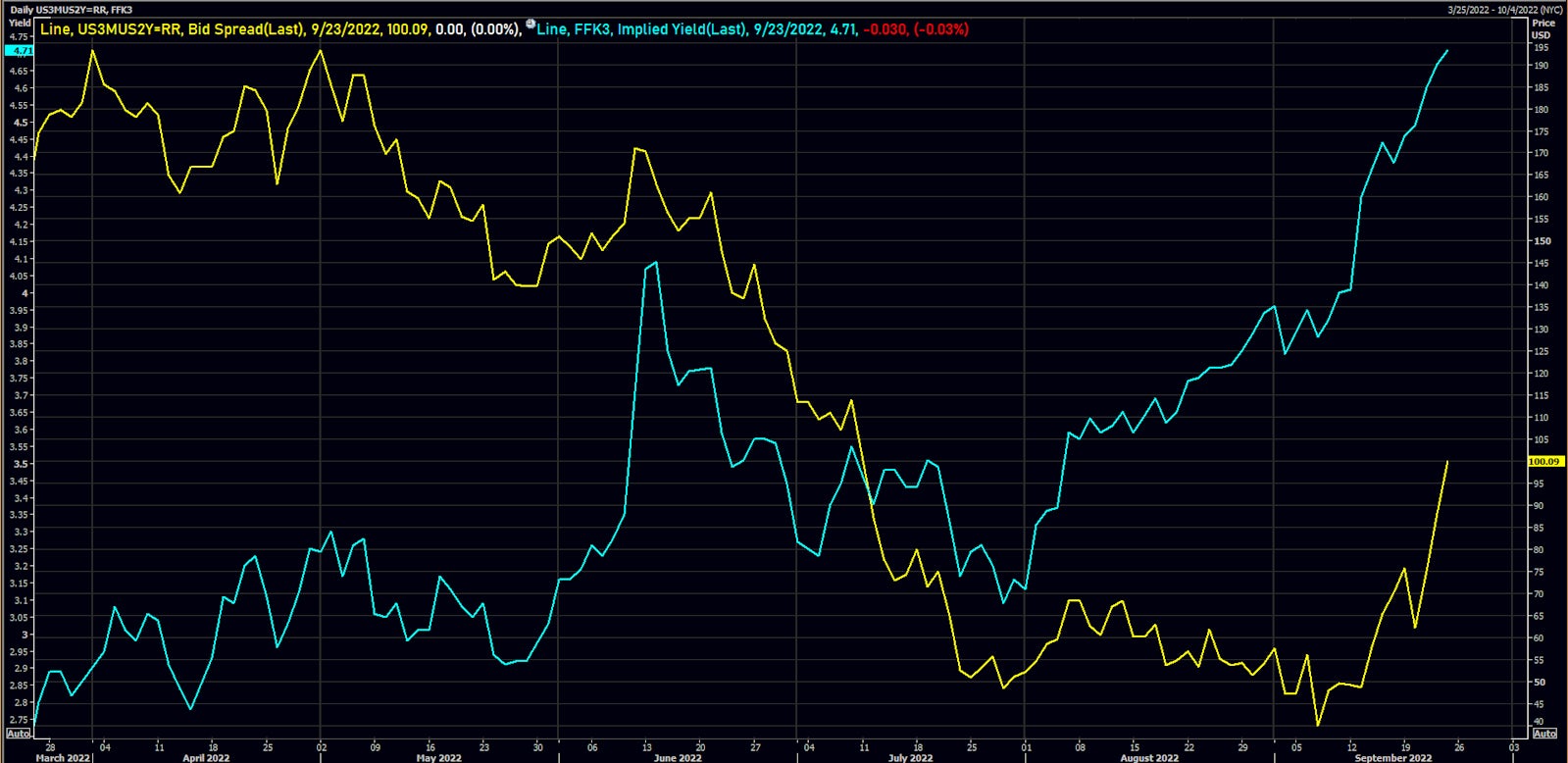 May 2023 Fed Funds Future Implied Yield & 3M2Y Treasury Spread | Source: Refinitiv
---
---
US RATES OUTLOOK
Nice clear messaging from the Fed this week, which led to a hawkish repricing: a higher terminal rate, and a smaller inversion of the curve at the back end of 2023
Financial conditions tightened broadly, which was a positive change from the accidental loosening seen during the summer
The market now looks close to fully priced for 2022: 70bp at the November FOMC, 48bp in December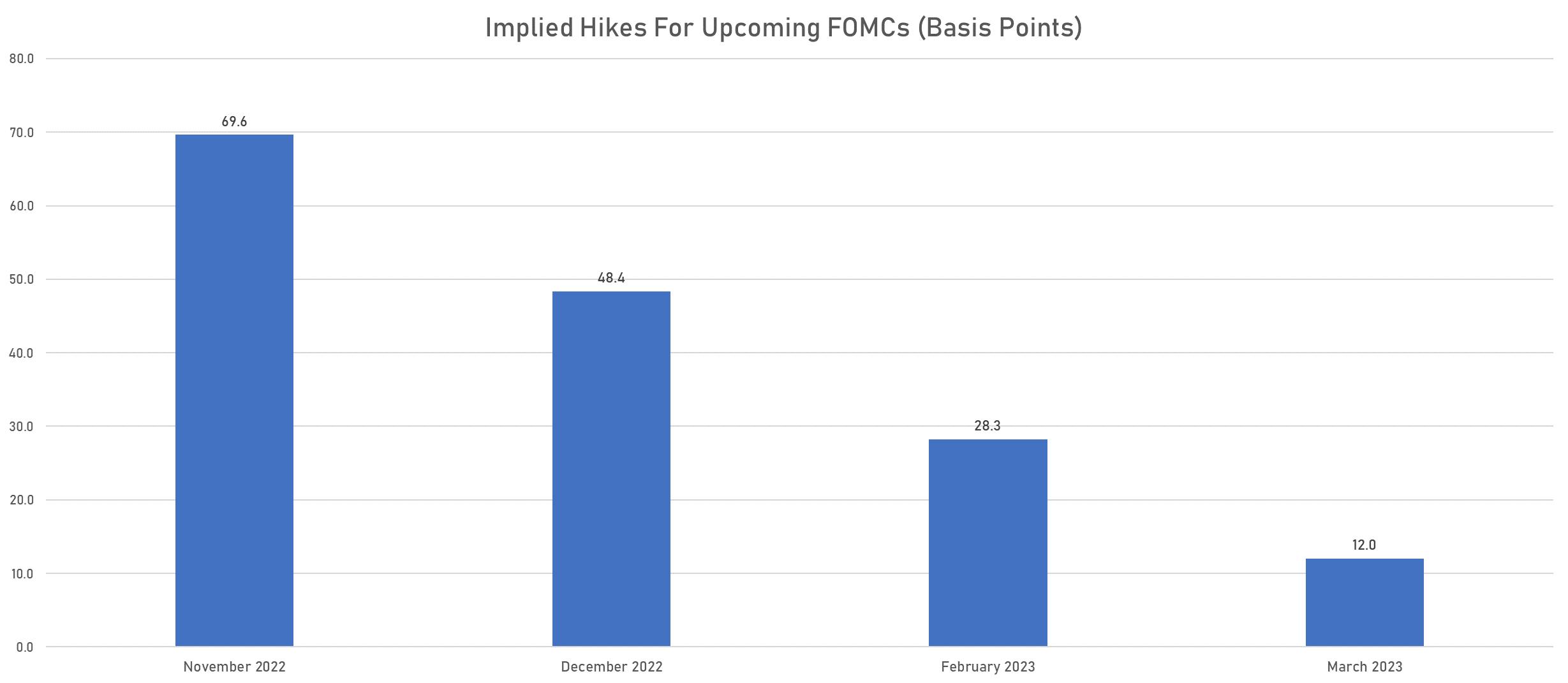 With 28bp priced for the February FOMC, market pricing for 2023 still looks undercooked (from our perspective) for 2 reasons: 1) the market currently expects a peak of 4.73% for Fed Funds rate in May 2023, which could be insufficient to reach the 1% real rate that Powell is now targeting; 2) there is still about 30bp of rates cuts priced between May and December 2023, an exceedingly unlikely development
Of course, we are getting closer to the Fed's end game, but that is a far cry from expecting an immediate shift into reverse: after reaching the terminal rate, the Fed should be in waiting mode for the remainder of 2023. Having said that, the forward rates inversion from 2024 onward makes sense, with a recession widely expected to start in 2H23
The recent collapse in the TIPS curve shows how much economic weakness is already priced in, with the TIPS 5s30s spread now inverted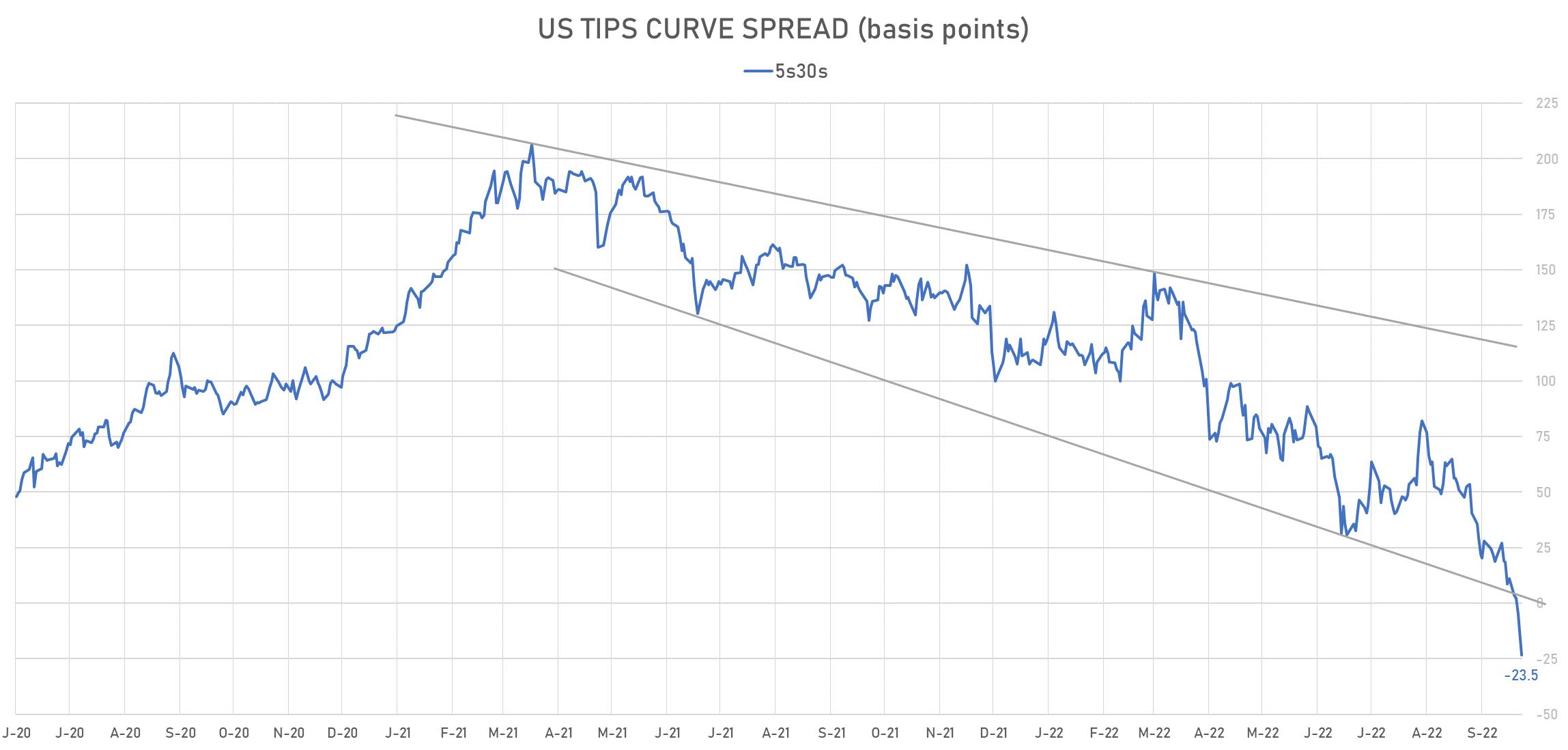 Goldman Sachs economists (Mericle + Hatzius) updated their rates path and now have a baseline of 75bp in November, 50bp in December, 25bp in February for a 4.625% terminal rate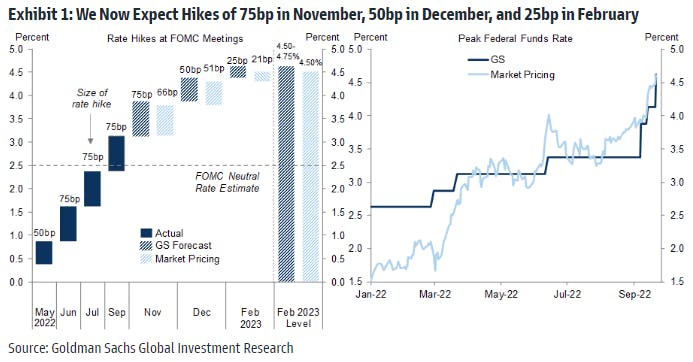 Aneta Markowska (Jefferies) is more hawkish: "We are lifting our terminal rate forecast to 5.1%. We still expect to reach it by February, with two 75bp hikes in Nov and Dec, and a 50bp in Feb. Needless to say, pinpointing the precise peak in rates is extremely difficult and our confidence in the 5.1% level isn't high. But we believe strongly that despite the sharp repricing of rate expectations this week, risks for rates continue to be skewed to the upside. Below, we list 5 reasons why"
1. We see upside risk to the Fed's near term growth forecast
2. We see upside to the Fed's inflation forecast for next year
3. We see upside risk to the Fed's NAIRU assumption
4. Powell wants to push the real funds rate to about 1%, which assumes a sharp drop in inflation expectations
5. A 1% real funds rate may not be restrictive enough"
WEEKLY US RATES SUMMARY
The treasury yield curve steepened, with the 1s10s spread widening 8.1 bp, now at -41.4 bp (YTD change: -154.7bp)
1Y: 4.0999% (up 15.1 bp)
2Y: 4.2022% (up 33.2 bp)
5Y: 3.9762% (up 34.1 bp)
7Y: 3.8641% (up 29.6 bp)
10Y: 3.6856% (up 23.1 bp)
30Y: 3.6088% (up 9.0 bp)
US treasury curve spreads: 3m2Y at 100.1bp (up 29.9bp this week), 2s5s at -22.6bp (up 0.9bp), 5s10s at -29.1bp (down -11.0bp), 10s30s at -7.7bp (down -14.1bp)
TIPS 1Y breakeven inflation at 1.96% (down -31.1bp); 2Y at 2.47% (down -16.5bp); 5Y at 2.45% (down -9.4bp); 10Y at 2.39% (down 0.0bp); 30Y at 2.27% (down -2.9bp)
US 5-Year TIPS Real Yield: +45.8 bp at 1.6230%; 10-Year TIPS Real Yield: +23.9 bp at 1.3240%; 30-Year TIPS Real Yield: +11.2 bp at 1.3880%
US MACRO RELEASES OVER THE PAST WEEK

CFTC WEEKLY NET DURATION POSITIONING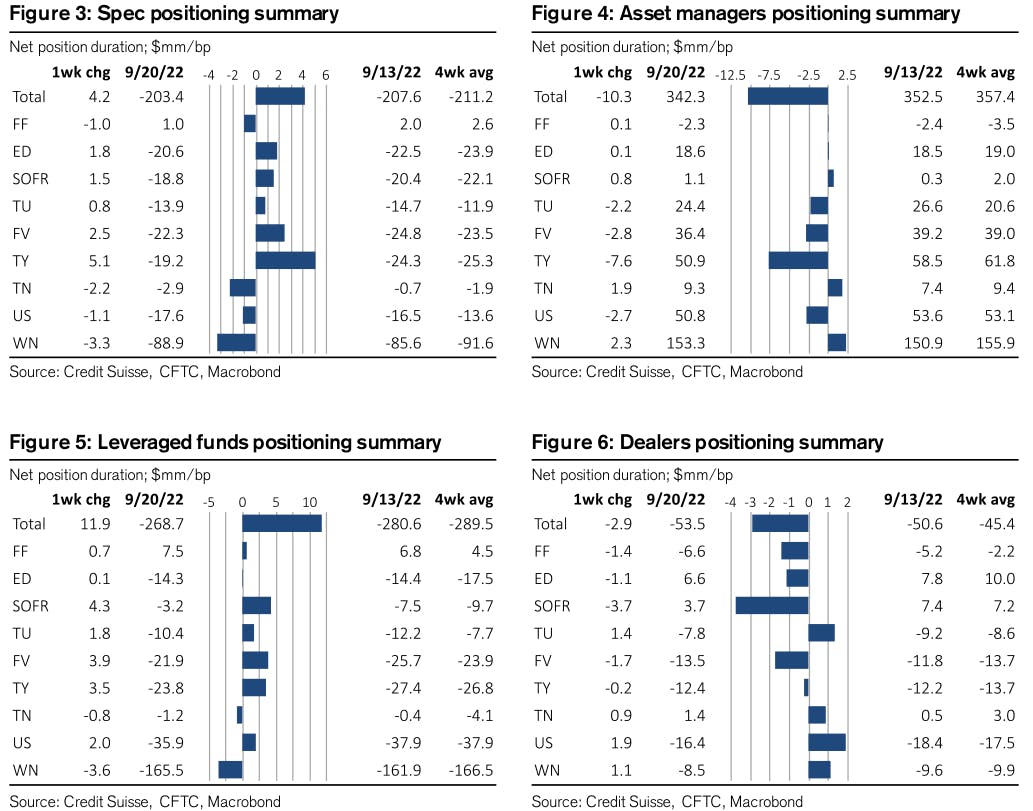 US MACRO RELEASES IN THE WEEK AHEAD
Focus next week will be on consumer confidence, new home sales, and the PCE report, with core inflation likely to have reaccelerated in August
US TREASURY COUPON-BEARING AUCTIONS IN THE WEEK AHEAD
Monday 1:00PM: $43 bn 2Y notes
Tuesday 1:00PM: $44bn 5Y notes
Wednesday 1:00PM: $36bn 7Y notes
FED SPEAKERS IN THE WEEK AHEAD
It is an extremely busy week for Fed communication
Monday 10:00AM: Boston Fed President Collins at the Boston Chamber of Commerce
Monday 12:00PM: Atlanta Fed President Bostic at a Washington Post event
Monday 4:00PM: Cleveland Fed President Mester at MIT
Tuesday 3:30AM: Chicago Fed President Evans on CNBC Europe
Tuesday 6:15AM: Chicago Fed President Evans speaking at an event in London
Tuesday 7:30AM: Fed Chair Powell at a conference on digital currencies hosted by the Bank of France
Tuesday 9:55AM: St. Louis Fed President Bullard in London
Tuesday 1:00PM: Minneapolis Fed President Kashkari at a WSJ event
Tuesday 8:35PM: San Francisco Fed President Daly in Singapore
Wednesday 8:35AM: Atlanta Fed President Bostic
Wednesday 10:10AM: St. Louis Fed President Bullard
Wednesday 10:15AM: Fed Chair Powell
Wednesday 11:00AM: Fed Governor Bowman
Wednesday 2:00PM: Chicago Fed President Evans at LSE
Thursday 9:30AM: St. Louis Fed President Bullard
Thursday 1:00PM: Cleveland Fed President Mester and ECB Executive Board Member Philip Lane
Thursday 4:45PM: San Francisco Fed President Daly at Boise State University
Friday 9:00AM: Fed Governor Brainard
Friday 11:00AM: Fed Governor Bowman
Friday 12:30PM: Richmond Fed President Barkin at George Mason University
Friday 4:15PM: New York Fed President Williams
US FORWARD RATES
Fed Funds futures now price in 69.6bp of Fed hikes by the end of November 2022, 118.0bp (4.7 x 25bp hikes) by the end of December 2022, and 5.9 hikes by the end of February 2023
3-month Eurodollar futures (EDZ) spreads price in 70.0 bp of rate cuts in 2024 (equivalent to 2.8 x 25 bp cuts)
US INFLATION & REAL RATES TODAY
TIPS 1Y breakeven inflation at 1.96% (down -15.2bp); 2Y at 2.47% (down -9.6bp); 5Y at 2.45% (down -6.1bp); 10Y at 2.39% (down -3.4bp); 30Y at 2.27% (down -3.4bp)
6-month spot US CPI swap down -19.2 bp to 2.342%, with a flattening of the forward curve
US Real Rates: 5Y at 1.6230%, +11.4 bp today; 10Y at 1.3240%, +1.3 bp today; 30Y at 1.3880%, +0.5 bp today
RATES VOLATILITY & LIQUIDITY TODAY
USD swap rate implied volatility (USD 1 Month by 1 Year ATM Swaption) up 6.5 vols at 135.1 normals
3-Month LIBOR-OIS spread up 0.3 bp at 6.9 bp (18-months range: -11.3 to 39.3 bp)
KEY INTERNATIONAL RATES TODAY
Germany 5Y: 2.040% (up 7.2 bp); the German 1Y-10Y curve is 6.5 bp steeper at 24.5bp (YTD change: -43.4 bp)
Japan 5Y: 0.039% (down -1.6 bp); the Japanese 1Y-10Y curve is 1.1 bp flatter at 35.3bp (YTD change: -15.8 bp)
China 5Y: 2.453% (up 1.8 bp); the Chinese 1Y-10Y curve is 1.2 bp steeper at 90.0bp (YTD change: -50.1 bp)
Switzerland 5Y: 1.195% (down -3.6 bp); the Swiss 1Y-10Y curve is 0.4 bp steeper at 0.1bp (YTD change: -56.5 bp)
---