Rates
Another Crazy Week Across The Rates Complex, With Volatility Reaching Worrying Levels In Sterling
Although US rates have risen significantly over the past weeks, the positive economic momentum in services could drive the peak Fed Funds rate higher than current expectations
Published ET

1-Month USD OIS Forward Rates | Sources: ϕpost, Refinitiv data
---
---
RATES OUTLOOK
The 1-Month USD OIS forward curve (above) is now pricing a peak fed funds rate of 4.50% (about 70bp higher than at the start of September), followed by months of Fed pause before a 25bp rate cut in 4Q23
That still feels like a softish landing to us, and so risks still look skewed towards a higher peak rate and a deeper recession.
More specifically, the 93bp of rate cuts priced in the March 2023 / December 2025 Eurodollar spread look too modest: we would expect to see rate cuts of at least 200bp in a recession, especially if the peak rate turns out to be closer to 6%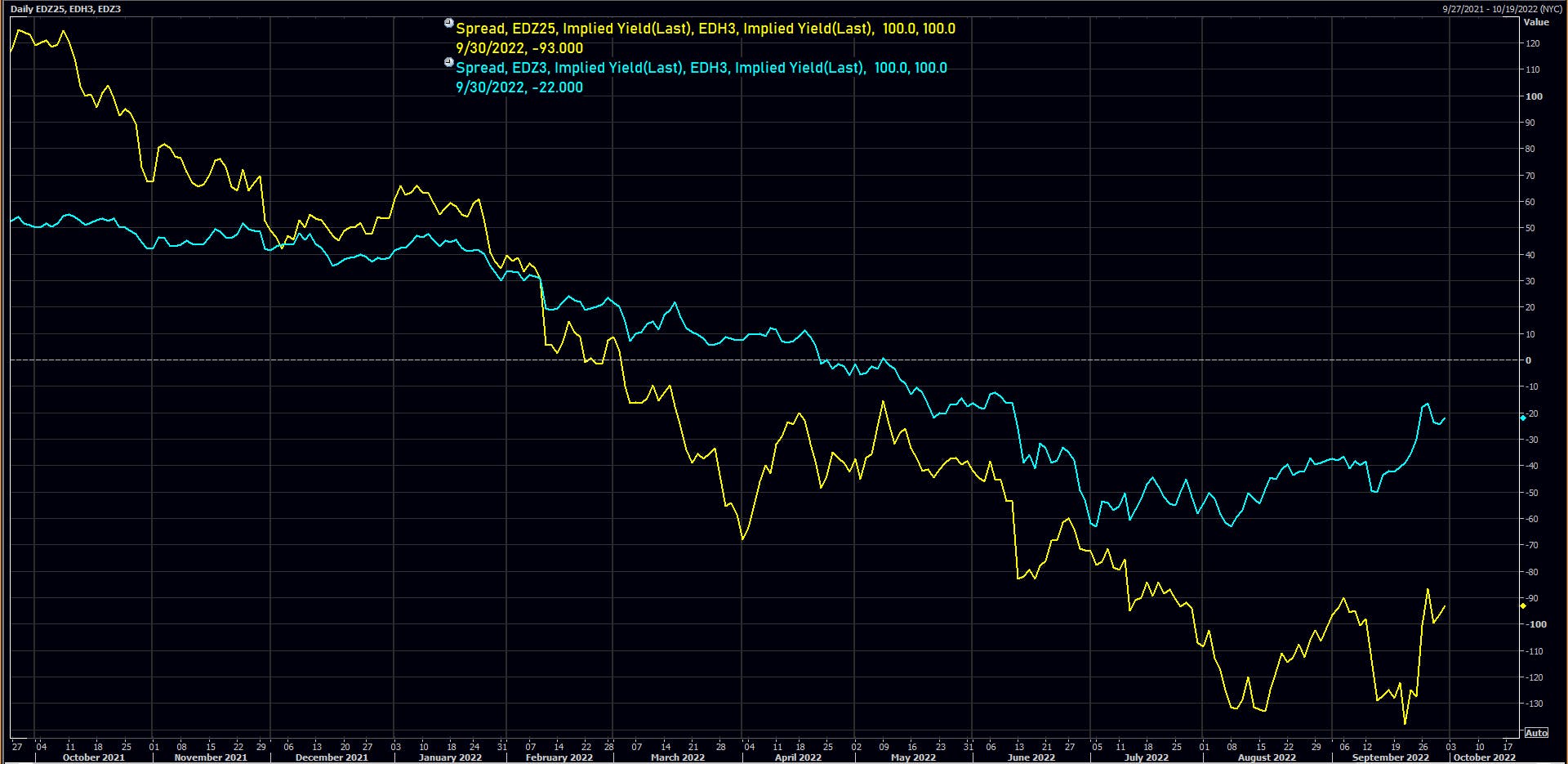 Wells Fargo economists were fairly dovish and have now marked their views higher: "Incoming data indicate a slowing yet resilient economy. Recent strength makes it less likely in our view that a recession will start by the beginning of next year and also means more monetary tightening will be necessary to slow growth sufficiently to quell elevated inflation. We still forecast a modest recession next year, but now are expecting it to begin a bit later."
Across the pond, the situation in Britain looks a lot like an emerging market confidence crisis and gives a disastrously amateurish impression of the new government. The BoE raised rates less than expected and announced quantitative tightening a day before the government presented a new expansionary / inflationary fiscal plan. Then after a few days of market chaos, they reversed QT into more QE when volatility proved too much for local rates investors.. The complete lack of foresight, followed by announcement of ad-hoc measures that do nothing to help underlying economic issues (very high inflation + low growth) is concerning in terms of leadership / judgement, but also shows how political the central bank has become.

1M SONIA OIS forward rates are now peaking around 5.75% (about 350bp above current SONIA), but it's hard to see the BoE hiking so much when they've stayed well behind the curve since the inflation breakout. Looking at the peak rates differential with the US (where markets are still pricing a fairly dovish outcome), it feels like markets will be disappointed, and Cable should fall again towards parity over the next few months.
WEEKLY US RATES SUMMARY
The treasury yield curve steepened, with the 1s10s spread widening 24.2 bp, now at -17.2 bp (YTD change: -130.4bp)
1Y: 3.9998% (down 10.0 bp)
2Y: 4.2705% (up 6.8 bp)
5Y: 4.0857% (up 10.9 bp)
7Y: 3.9776% (up 11.3 bp)
10Y: 3.8276% (up 14.2 bp)
30Y: 3.7793% (up 17.1 bp)
US treasury curve spreads: 3m2Y at 99.4bp (down -0.7bp this week), 2s5s at -18.5bp (up 4.0bp), 5s10s at -25.8bp (up 3.3bp), 10s30s at -4.8bp (up 2.8bp)
TIPS 1Y breakeven inflation at 1.70% (down -26.7bp); 2Y at 2.18% (down -29.2bp); 5Y at 2.15% (down -30.4bp); 10Y at 2.15% (down -23.3bp); 30Y at 2.08% (down -19.2bp)
US 5-Year TIPS Real Yield: +40.2 bp at 2.0250%; 10-Year TIPS Real Yield: +37.9 bp at 1.7030%; 30-Year TIPS Real Yield: +36.6 bp at 1.7540%
US ECONOMIC RELEASES OVER THE PAST WEEK

CFTC WEEKLY NET DURATION POSITIONING
US MACRO RELEASES IN THE WEEK AHEAD
The focus next week will be on the September employment report and ISM manufacturing data

FED SPEAKERS IN THE WEEK AHEAD
Another very busy week of speeches, starting with Atlanta Fed President Bostic on Monday at 9:05AM EST
Monday 3:10PM: New York Fed President Williams
Tuesday 9:00AM: Dallas Fed President Logan
Tuesday 9:00AM: New York Fed President Williams
Tuesday 9:15AM: Cleveland Fed President Mester
Tuesday 11:45AM: Fed Governor Jefferson
Tuesday 1:00PM: San Francisco Fed President Daly
Wednesday 4:00PM: Atlanta Fed President Bostic
Thursday 1:00PM: Chicago Fed President Evans
Thursday 1:00PM: Fed Governor Cook
Thursday 5:00PM: Fed Governor Waller
Thursday 6:30PM: Cleveland Fed President Mester
Friday 10:00AM: New York Fed President Williams
Friday 12:00PM: Atlanta Fed President Bostic
US FORWARD RATES
Fed Funds futures now price in 67.5bp of Fed hikes by the end of November 2022, 115.8bp (4.6 x 25bp hikes) by the end of December 2022, and 5.6 hikes by the end of February 2023
3-month Eurodollar futures (EDZ) spreads price in 17.0 bp of cuts between December 2022 and December 2023, down 5.5 bp today, and 57.0 bp of rate cuts in 2024 (equivalent to 2.3 x 25 bp cuts)
US INFLATION & REAL RATES TODAY
TIPS 1Y breakeven inflation at 1.70% (down -6.1bp); 2Y at 2.18% (down -5.1bp); 5Y at 2.15% (down -8.6bp); 10Y at 2.15% (down -5.0bp); 30Y at 2.08% (down -2.2bp)
6-month spot US CPI swap down -16.4 bp to 1.869%, with a flattening of the forward curve
US Real Rates: 5Y at 2.0250%, +16.3 bp today; 10Y at 1.7030%, +9.8 bp today; 30Y at 1.7540%, +8.9 bp today
RATES VOLATILITY & LIQUIDITY
USD swap rate implied volatility (USD 1 Month by 1 Year ATM Swaption) down -2.7 vols at 144.7 normals
3-Month LIBOR-OIS spread down -1.2 bp at 10.3 bp (18-months range: -11.3 to 39.3 bp)
KEY INTERNATIONAL RATES
Germany 5Y: 1.978% (down -10.0 bp); the German 1Y-10Y curve is 7.4 bp flatter at 43.9bp (YTD change: -43.2 bp)
Japan 5Y: 0.064% (down -1.4 bp); the Japanese 1Y-10Y curve is 0.9 bp flatter at 34.5bp (YTD change: -15.9 bp)
China 5Y: 2.523% (up 1.9 bp); the Chinese 1Y-10Y curve is 3.9 bp steeper at 92.9bp (YTD change: -50.1 bp)
Switzerland 5Y: 0.941% (down -6.5 bp); the Swiss 1Y-10Y curve is 7.3 bp flatter at -16.3bp (YTD change: -56.7 bp)
---