Rates
Sizable Moves In STIR Markets On Friday As Employment Report Blows Past Expectations, Puts >5% Peak Rate Back In Play
We're getting close to peak US rates, with just 45bp of additional hikes priced in forwards, and yet economic performance remains strong, putting in question whether financial conditions are restrictive enough
Published ET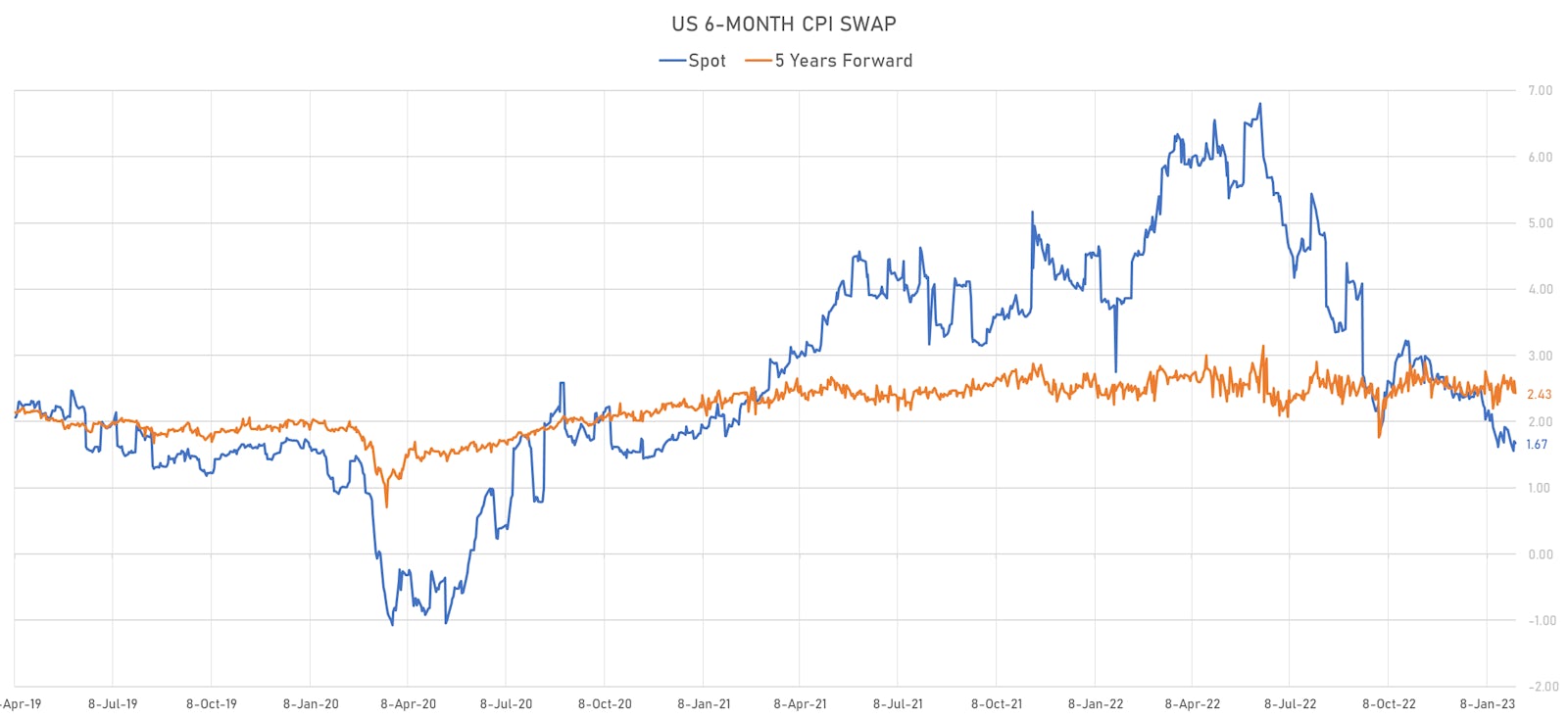 Disinflationary Narrative Seen In Spot 6-Month US CPI Swap | Sources: phipost.com, Refinitiv data
---
---
US RATES OUTLOOK
In his post-FOMC speech, Powell was as dovish as he could have been: no pushback against market pricing, no comment on the loosening FCIs, and he even mentioned the possibility of hiking at every other meeting after March (meaning pause in May and final hike in June)
But the blowout employment report on Friday caused major moves in STIR markets, and brought back a 5-handle on the peak Fed Funds rate
The weekly price action is perhaps best summarized by this chart, with forward rates falling after the FOMC and rising on Friday: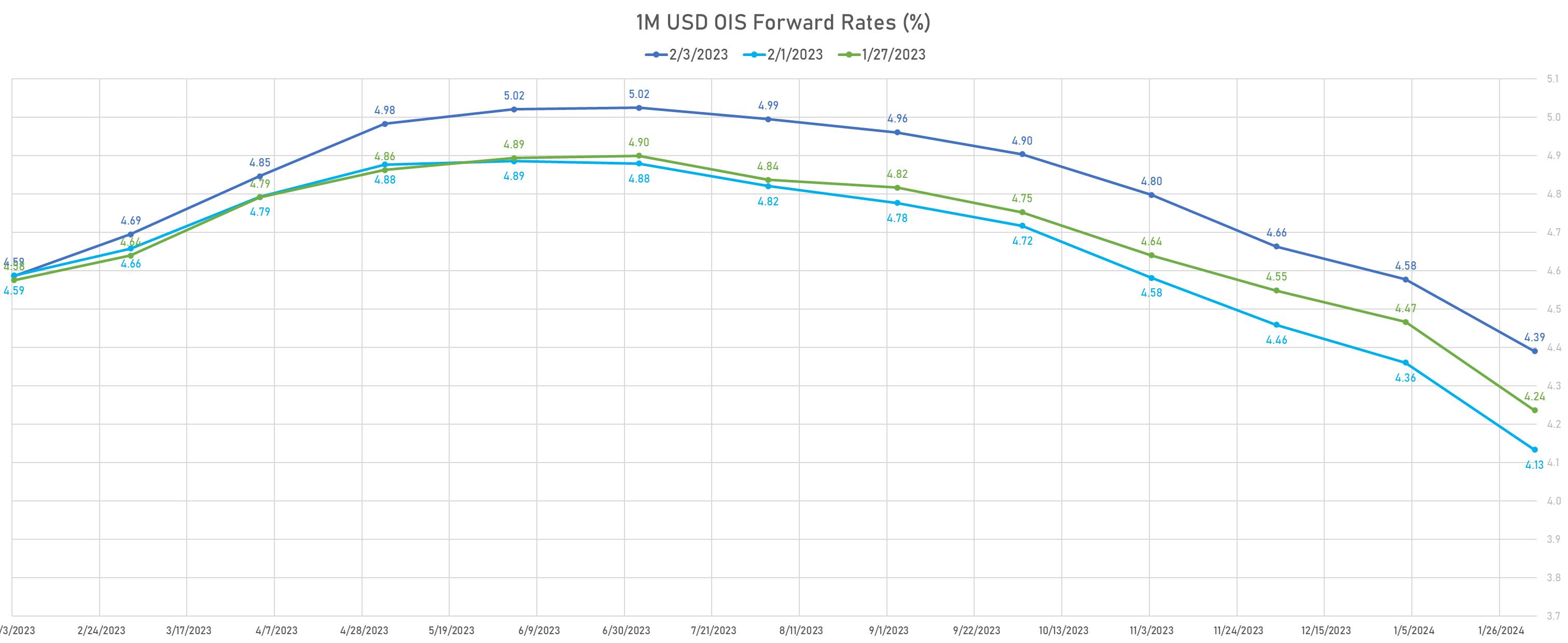 It will be interesting to watch Powell on Tuesday: he's unlikely to change his dovish tone completely, but might convey that he still sees risk management as an integral part of his remit (re: hedging of right-tail inflation risk).
The Fed seems to still believe that the lagged impact of its policy has yet to be felt in full, whereas risk markets are starting to price a possible economic reacceleration.
The macro tension between inflation and growth risks has been leaning towards the latter for the past months. The lower rates volatility and dollar weakness, have been driving risk appetite and a reach for yield, with short volatility / carry strategies having the most attractive profile on a risk-adjusted basis.
How long can this go on ? Unclear, but our guess is that as long as the Fed sounds so relaxed, markets will keep pushing in the same direction, a good time to think of hedging renewed tightening in financial conditions
Aneta Markowska (Jefferies' Chief Economist): "So, despite softer wage growth than we envisioned in January, data are still tracking broadly in line with our scenario. The base case continues to be margin compression in 1H, triggering more layoffs around mid-year and recession in 2H. In the meantime, it is possible that the Goldilocks narrative remains alive and kicking for several more months. But we doubt it will live past this summer."
Zach Pandl (Goldman Sachs' Global Head of Market Strats): "Although the recent inflation/wage news has been encouraging, FOMC will struggle to see how that can be sustained with a 3.4% unemployment rate and booming job growth. I would therefore expect Fed communication to turn more hawkish again, and think markets should prepare for another period of FCI tightening."
WEEKLY US RATES SUMMARY
The treasury yield curve flattened, with the 1s10s spread tightening -9.9 bp, now at -125.8 bp (YTD change: -42.5bp)
1Y: 4.7763% (up 11.1 bp)
2Y: 4.2855% (up 8.5 bp)
5Y: 3.6512% (up 4.0 bp)
7Y: 3.5879% (up 2.3 bp)
10Y: 3.5182% (up 1.2 bp)
30Y: 3.6144% (down 1.0 bp)
US treasury curve spreads: 3m2Y at -37.0bp (up 10.4bp this week), 2s5s at -63.4bp (down -3.9bp), 5s10s at -13.3bp (down -2.7bp), 10s30s at 9.6bp (down -2.4bp)
TIPS 1Y breakeven inflation at 2.07% (down -13.8bp); 2Y at 2.20% (down -1.4bp); 5Y at 2.23% (down -7.0bp); 10Y at 2.23% (down -8.9bp); 30Y at 2.19% (down -12.3bp)
US 5-Year TIPS Real Yield: +9.1 bp at 1.3850%; 10-Year TIPS Real Yield: +9.9 bp at 1.2930%; 30-Year TIPS Real Yield: +12.1 bp at 1.4660%
US DATA OVER THE PAST WEEK

US DATA IN THE WEEK AHEAD
Relative paucity of market-moving economic releases in the next few days after the avalanche of the past week
Focus will be on UMich sentiment and (more importantly) on the speeches of several FOMC voting members

FED SPEAKERS IN THE WEEK AHEAD
Tuesday 12:00PM: Chair Powell at the Economic Club of Washington.
Tuesday 2:00PM: Fed VC for Supervision Barr in Jackson, MI.
Wednesday 9:15AM: New York Fed President Williams with the WSJ
Wednesday 9:30AM: Fed Governor Cook in Washington DC.
Wednesday 10:00AM: Fed Vice Chair for Supervision Marr and Atlanta Fed President Bostic in Tougaloo, MS.
Wednesday 12:30PM: Minneapolis Fed President Kashkari at the Boston Economic Club
Wednesday 1:45PM: Fed Governor Waller at Arkansas State University
Friday 12:30PM: Fed Governor Waller in La Jolla, CA.
Friday 4:00PM: Philadelphia Fed President Harker in La Jolla, CA.
US TREASURY ISSUANCE OF COUPON-BEARING SECURITIES THIS WEEK
Tuesday 1.00PM: $40bn in 3Y notes
Wednesday 1.00PM: $35bn in 10Y notes
Thursday 1.00PM: $21bn in 30Y bonds
US FORWARD RATES
Fed Funds futures now price in 24.0bp of Fed hikes by the end of March 2023, 40.8bp (1.6 x 25bp hikes) by the end of May 2023, and 1.8 hikes by the end of June 2023
Implied yields on 3-month SOFR futures top out at 5.01% for the September 2023 expiry and price in 213bp of rate cuts over the following easing cycle
US INFLATION & REAL RATES TODAY
TIPS 1Y breakeven inflation at 2.07% (down -2.1bp); 2Y at 2.20% (up 2.5bp); 5Y at 2.23% (up 0.1bp); 10Y at 2.23% (down -1.2bp); 30Y at 2.19% (down -1.7bp)
6-month spot US CPI swap down -2.9 bp to 1.672%, with a steepening of the forward curve
US Real Rates: 5Y at 1.3850%, +16.5 bp today; 10Y at 1.2930%, +12.9 bp today; 30Y at 1.4660%, +7.8 bp today
RATES VOLATILITY & LIQUIDITY TODAY
USD swap rate implied volatility (USD 1 Month by 1 Year ATM Swaption) up 1.5 vols at 75.0 normals
3-Month LIBOR-OIS spread up 0.6 bp at 9.8 bp (18-months range: -11.3 to 39.3 bp)
KEY INTERNATIONAL RATES TODAY
Germany 5Y: 2.221% (up 11.4 bp); the German 1Y-10Y curve is 10.0 bp steeper at -52.4bp (YTD change: +1.8 bp)
Japan 5Y: 0.162% (down -2.4 bp); the Japanese 1Y-10Y curve is 0.4 bp steeper at 55.8bp (YTD change: -40.5 bp)
China 5Y: 2.679% (down -1.9 bp); the Chinese 1Y-10Y curve is 1.8 bp steeper at 87.1bp (YTD change: -72.7 bp)
Switzerland 5Y: 1.069% (up 10.1 bp); the Swiss 1Y-10Y curve is 17.2 bp steeper at -17.9bp (YTD change: -6.5 bp)
GLOBAL 5-YEAR NOMINAL INTEREST RATES DIFFERENTIALS TODAY
US-GERMANY: +13.4 bp at 172.2 bp (Weekly change: +7.7 bp; YTD change: -1.4 bp)
US-JAPAN: +18.7 bp at 431.2 bp (Weekly change: +7.5 bp; YTD change: -8.1 bp)
US-CHINA: +20.1 bp at 203.2 bp (Weekly change: +9.5 bp; YTD change: -15.1 bp)
GLOBAL 10-YEAR REAL INTEREST RATES DIFFERENTIALS TODAY
US-GERMANY: +5.0 bp at 133.1 bp (Weekly change: +20.4bp; YTD change: +4.3bp)
US-JAPAN: +12.9 bp at 149.3 bp (Weekly change: +6.3bp; YTD change: -54.6bp)
GERMANY-JAPAN: +7.9 bp at 16.2 bp (Weekly change: -14.1bp; YTD change: -58.9bp)
---