Rates
US Inflation Expectations Rose Further This Week, With 1Y TIPS Breakeven Now Up 200bp Since Early January
The front end of the curve continues to lead the action, as the market stays focused on very short-term event risk: Powell's appearance before the Senate this week and the latest employment report coming on Friday
Published ET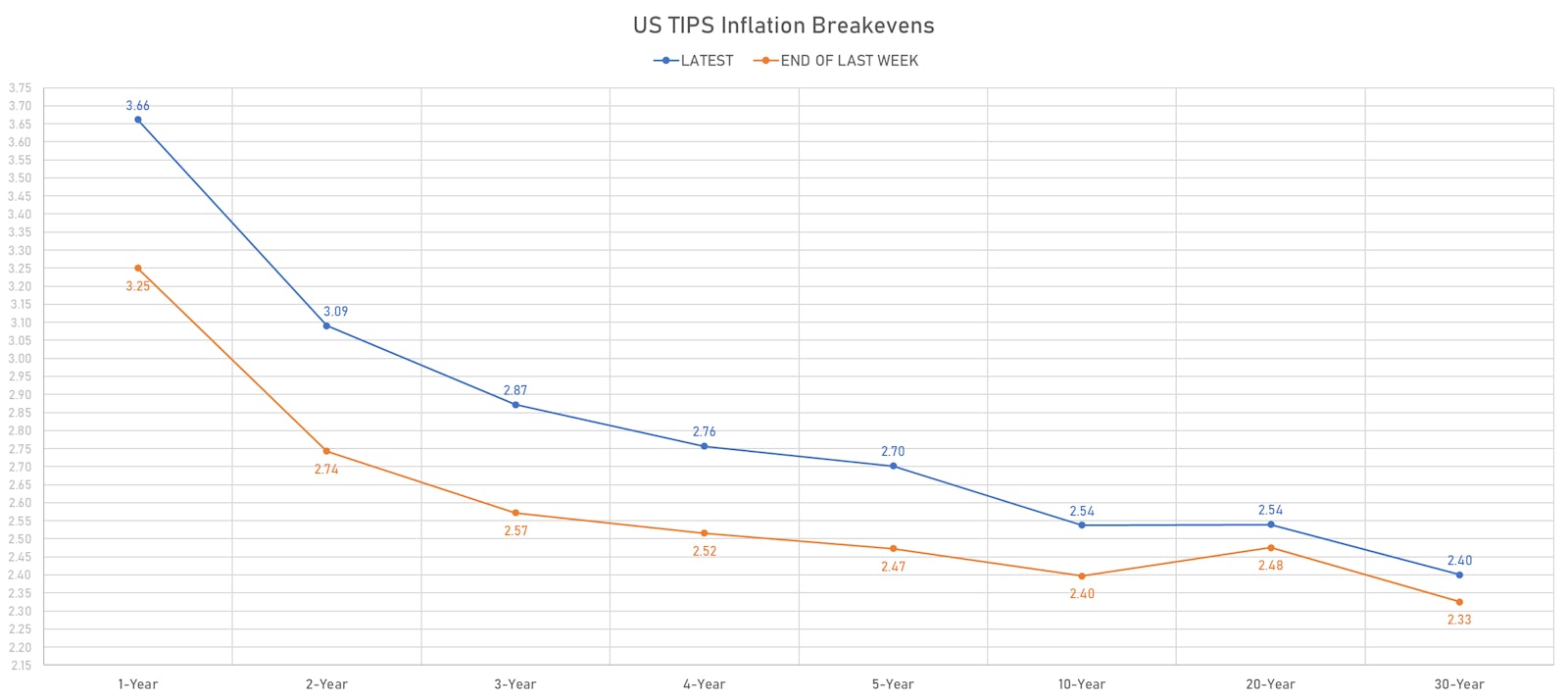 US TIPS Inflation Breakevens | Sources: phipost.com, Refinitiv data
---
---
US RATES OUTLOOK
Judging by the 200bp increase in the 1Y TIPS inflation breakeven over the past 6 weeks, it's fair to say there is no convincing move downward in inflation expectations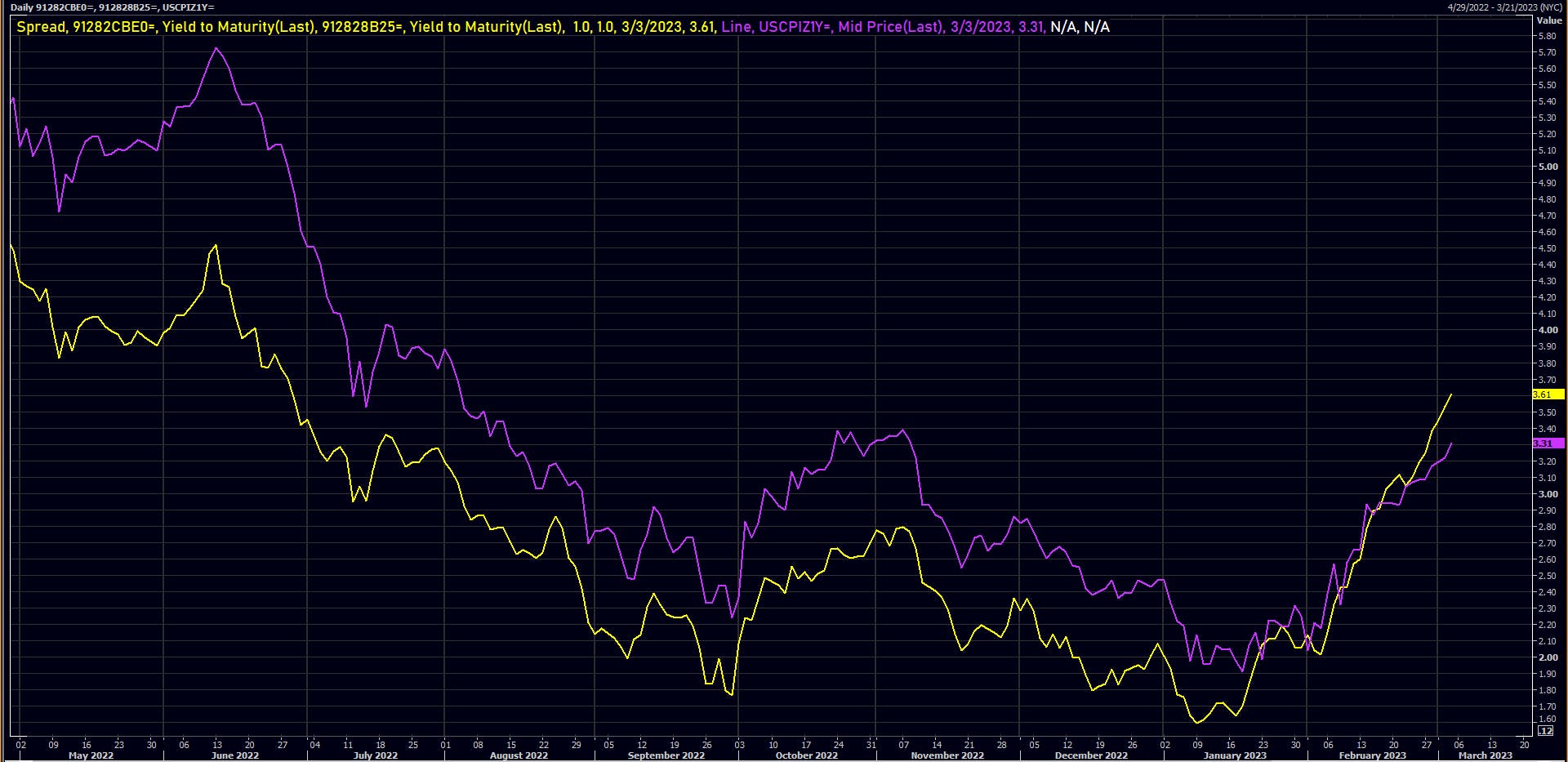 With the next FOMC still over 2 weeks away, and with essential data (jobs report, CPI) yet to be released, markets are still focused on a possible reacceleration of growth and debating whether the Fed could go back to 50bp increments.
In our view, market pricing (about 20% probability of a 50bp hike in March) is sensible as the impetus is just not there: the Fed currently still sees a terminal rate with a 5 handle.
On the other hand, if the updated dot plot shows a peak rate towards 6% or even 7%, then sure 50bp increments make sense to get there. But that's a big if considering where we are now.
The neutral rate has been staying around 3.30%, with the forward inversion matching the rise in front-end yields, meaning that the market still sees a return of secular stagnation as the most likely outcome (rather than a higher inflation regime)
Aneta Markowska (Jefferies) points out that unit labor costs tend to set a floor under inflation and presents two possible outcomes:
"Where do we go from here? There are two possible endings to the story of sticky ULCs:
1. Firms continue to pass through labor cost increases, which preserves margins and keeps the labor market intact. But, inflation remains very elevated which forces the Fed to hike rates substantially further than our 5.1% terminal rate assumption.
2. Consumers start pushing back against higher prices, and firms fail to pass through all of their cost increases. Margins contract, which eventually triggers cost cuts and layoffs, bringing the cycle to an end.
Needless to say, neither is a happy ending."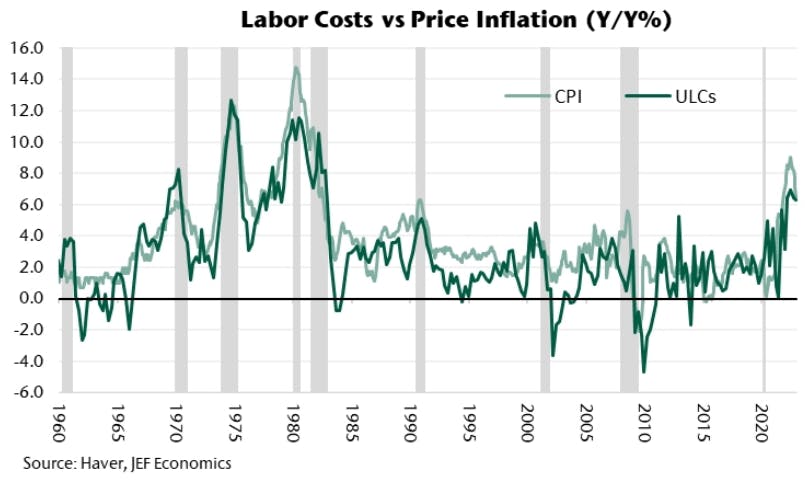 WEEKLY US RATES SUMMARY
The treasury yield curve steepened, with the 1s10s spread widening 2.8 bp, now at -106.4 bp (YTD change: -23.1bp)
1Y: 5.0211% (down 1.7 bp)
2Y: 4.8596% (up 4.7 bp)
5Y: 4.2475% (up 3.7 bp)
7Y: 4.1416% (up 3.0 bp)
10Y: 3.9566% (up 1.0 bp)
30Y: 3.8762% (down 5.3 bp)
US treasury curve spreads: 3m2Y at -1.4bp (down -0.2bp this week), 2s5s at -61.2bp (down -1.0bp), 5s10s at -29.1bp (down -2.1bp), 10s30s at -8.0bp (down -6.0bp)
TIPS 1Y breakeven inflation at 3.66% (up 41.1bp); 2Y at 3.09% (up 34.8bp); 5Y at 2.70% (up 22.9bp); 10Y at 2.54% (up 14.0bp); 30Y at 2.40% (up 7.6bp)
US 5-Year TIPS Real Yield: -18.0 bp at 1.5510%; 10-Year TIPS Real Yield: -12.9 bp at 1.4490%; 30-Year TIPS Real Yield: -12.9 bp at 1.4820%
US ECONOMIC RELEASES OVER THE PAST WEEK

US ECONOMIC DATA IN THE WEEK AHEAD
Serious event risks this week, with Powell answering questions to the senate, and the release of the latest employment report on Friday

US TREASURY COUPON-BEARING AUCTIONS IN THE WEEK AHEAD
The auctions this week will include $59.1bn in new cash and $30.9bn of refis
Tuesday 1:00PM: $40bn in 3Y notes
Wednesday 1:00PM: $32bn in 10Y notes
Thursday 1:00PM: $18bn in 30Y bonds
FED SPEAKERS IN THE WEEK AHEAD
Tuesday 10:00AM: Chair Powell testifies before the Senate Banking Committee
Wednesday 10:00AM: Chair Powell testifies before the House Financial Services Committee
Thursday 10:00AM: Fed Vice Chair for Supervision Barr
US FORWARD RATES
Fed Funds futures now price in 30.3bp of Fed hikes by the end of March 2023, 56.5bp (2.3 x 25bp hikes) by the end of May 2023, and 3.0 hikes by the end of June 2023
Implied yields on 3-month SOFR futures top out at 5.44% for the December 2023 expiry and price in 205bp of rate cuts over the following easing cycle
US INFLATION & REAL RATES TODAY
TIPS 1Y breakeven inflation at 3.66% (up 7.5bp); 2Y at 3.09% (up 9.4bp); 5Y at 2.70% (up 6.3bp); 10Y at 2.54% (up 3.2bp); 30Y at 2.40% (up 0.7bp)
6-month spot US CPI swap up 8.7 bp to 2.782%, with a steepening of the forward curve
US Real Rates: 5Y at 1.5510%, -12.3 bp today; 10Y at 1.4490%, -13.3 bp today; 30Y at 1.4820%, -12.9 bp today
RATES VOLATILITY & LIQUIDITY TODAY
USD swap rate implied volatility (USD 1 Month by 1 Year ATM Swaption) down -3.3 vols at 91.8 normals
3-Month LIBOR-OIS spread down -1.2 bp at 1.6 bp (18-months range: -11.3 to 39.3 bp)
KEY INTERNATIONAL RATES TODAY
Germany 5Y: 2.811% (down -0.5 bp); the German 1Y-10Y curve is 5.7 bp flatter at -58.6bp (YTD change: +1.8 bp)
Japan 5Y: 0.195% (down -0.5 bp); the Japanese 1Y-10Y curve is 1.0 bp steeper at 58.3bp (YTD change: -40.5 bp)
China 5Y: 2.744% (down -0.6 bp); the Chinese 1Y-10Y curve is 0.6 bp steeper at 61.6bp (YTD change: -73.0 bp)
Switzerland 5Y: 1.449% (down -2.9 bp); the Swiss 1Y-10Y curve is 10.4 bp flatter at -14.7bp (YTD change: -6.4 bp)
GLOBAL 5-YEAR NOMINAL INTEREST RATES DIFFERENTIALS TODAY
US-GERMANY: -3.0 bp at 170.0 bp (Weekly change: -11.1 bp; YTD change: -3.6 bp)
US-JAPAN: -4.0 bp at 492.1 bp (Weekly change: +5.1 bp; YTD change: +52.8 bp)
US-CHINA: -3.4 bp at 242.6 bp (Weekly change: +6.7 bp; YTD change: +24.3 bp)
GLOBAL 10-YEAR REAL INTEREST RATES DIFFERENTIALS TODAY
US-GERMANY: -4.5 bp at 142.6 bp (Weekly change: -10.1bp; YTD change: +13.8bp)
US-JAPAN: -9.6 bp at 163.4 bp (Weekly change: -11.8bp; YTD change: -40.5bp)
GERMANY-JAPAN: -5.1 bp at 20.8 bp (Weekly change: -1.7bp; YTD change: -54.3bp)
NOTABLE MOVES IN SOVEREIGN CDS BID SPREADS THIS WEEK
Egypt (rated B+): up 16.9 % to 1,112 bp (1Y range: 352-1,453bp)
Colombia (rated BB+): down 6.3 % to 269 bp (1Y range: 171-394bp)
South Africa (rated BB-): down 6.7 % to 245 bp (1Y range: 192-377bp)
Philippines (rated BBB): down 8.4 % to 83 bp (1Y range: 75-153bp)
Mexico (rated BBB-): down 8.5 % to 106 bp (1Y range: 93-205bp)
Romania (rated BBB-): down 9.2 % to 223 bp (1Y range: 120-396bp)
China (rated A+): down 9.7 % to 64 bp (1Y range: 47-132bp)
Indonesia (rated BBB): down 10.4 % to 84 bp (1Y range: 76-166bp)
Malaysia (rated BBB+): down 10.5 % to 62 bp (1Y range: 57-122bp)
Saudi Arabia (rated A): down 12.0 % to 56 bp (1Y range: 46-75bp)
---