Rates
US Interest Rates Fall At The Front End Of The Curve After Latest FOMC As Hiking Cycle Close To The End
During his FOMC Q&A session Powell expressed how difficult it is to quantify the impact of the recent regional banking crisis, which has led to widely different market interpretations: some traders think the Fed is done, while others see two more hikes
Published ET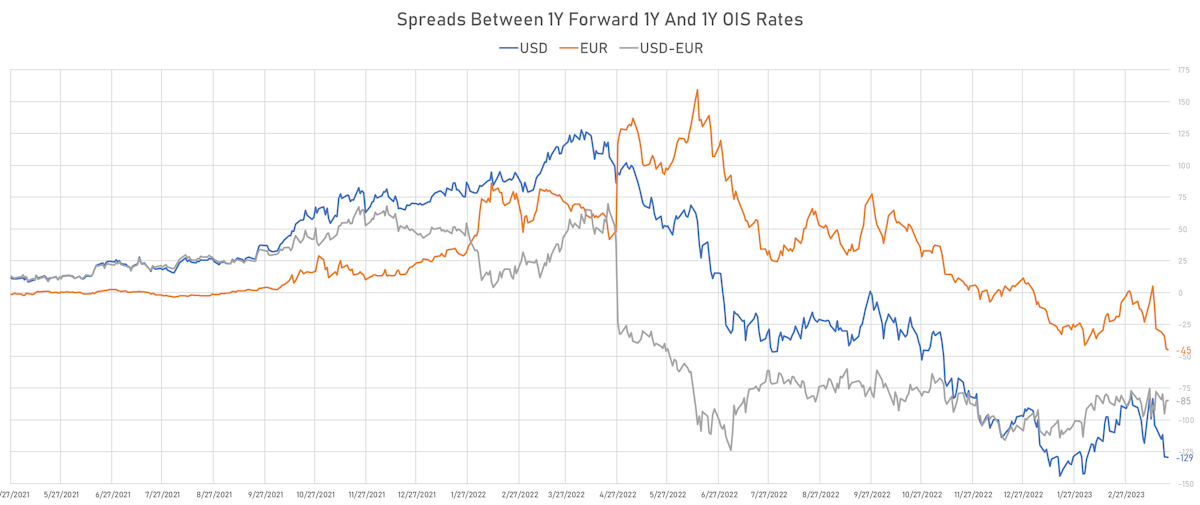 Spreads between 1Y Forward 1Y OIS and 1Y OIS Rates in USD and Euro | Sources: phipost.com, Refinitiv data
---
---
US RATES OUTLOOK
In our opinion, the Fed did well at the latest FOMC: they managed to reassure markets that things are under control, with another business-as-usual 25bp hike, forward guidance largely unchanged, and a press release wording that gave maximal flexibility for future meetings
Taking financial stability aside, the Fed's job of fighting inflation is made easier by the current crisis, although the magnitude of the impact is unknown at this point (perhaps a 2 to 5% hit to lending in the US).
In his post-FOMC presser, Powell repeated several times how uncertain the outlook is:
- "it's possible that the effects of recent turmoil could turn out to be quite modest or drive material further tightening of financial conditions. We simply don't know."
- "It's really just a question of not knowing at this point. There is a large body of literature on the direction of effects. This time we don't know the magnitude which is rule-of-thumb guesswork. That argues for being alert when thinking about future rate hikes."
- "the extent of these effects is uncertain. The Committee remains highly attentive to inflation risks."
To summarize, the Fed sees optionality as key and their forward guidance should therefore be held very lightly
The market saw that as dovish for short rates, with now just 10bp of hikes in May followed by cuts from June onward (86bp of cuts priced through the end of the year)
In this context, it's hard to have a strong conviction about the front end of the curve. It will really depend on which scenario plays out in 2H23: if you think about it as the weighted average of a strong inflation / no-cut scenario and a hard landing scenario (with maybe 200bp of cuts), 86bp of cuts doesn't look unreasonable.

WEEKLY US RATES SUMMARY
1Y: 4.2686% (up 4.2 bp)
2Y: 3.7646% (down 7.8 bp)
5Y: 3.4050% (down 10.1 bp)
7Y: 3.3990% (down 10.3 bp)
10Y: 3.3706% (down 6.5 bp)
30Y: 3.6417% (up 1.9 bp)
US treasury curve spreads: 3m2Y at -90.4bp (down -27.7bp this week), 2s5s at -36.0bp (down -2.1bp), 5s10s at -3.4bp (up 3.7bp), 10s30s at 27.1bp (up 7.5bp)
US 5Y TIPS inflation breakeven at 2.28% up 10.2bp; 10Y breakeven at 2.21% up 12.4bp; 30Y breakeven at 2.19% up 11.9bp
US 5-Year TIPS Real Yield: -20.5 bp at 1.2160%; 10-Year TIPS Real Yield: -17.4 bp at 1.1750%; 30-Year TIPS Real Yield: -9.8 bp at 1.4540%
US ECONOMIC DATA OVER THE PAST WEEK

US RATES WEEKLY CFTC POSITIONING UPDATE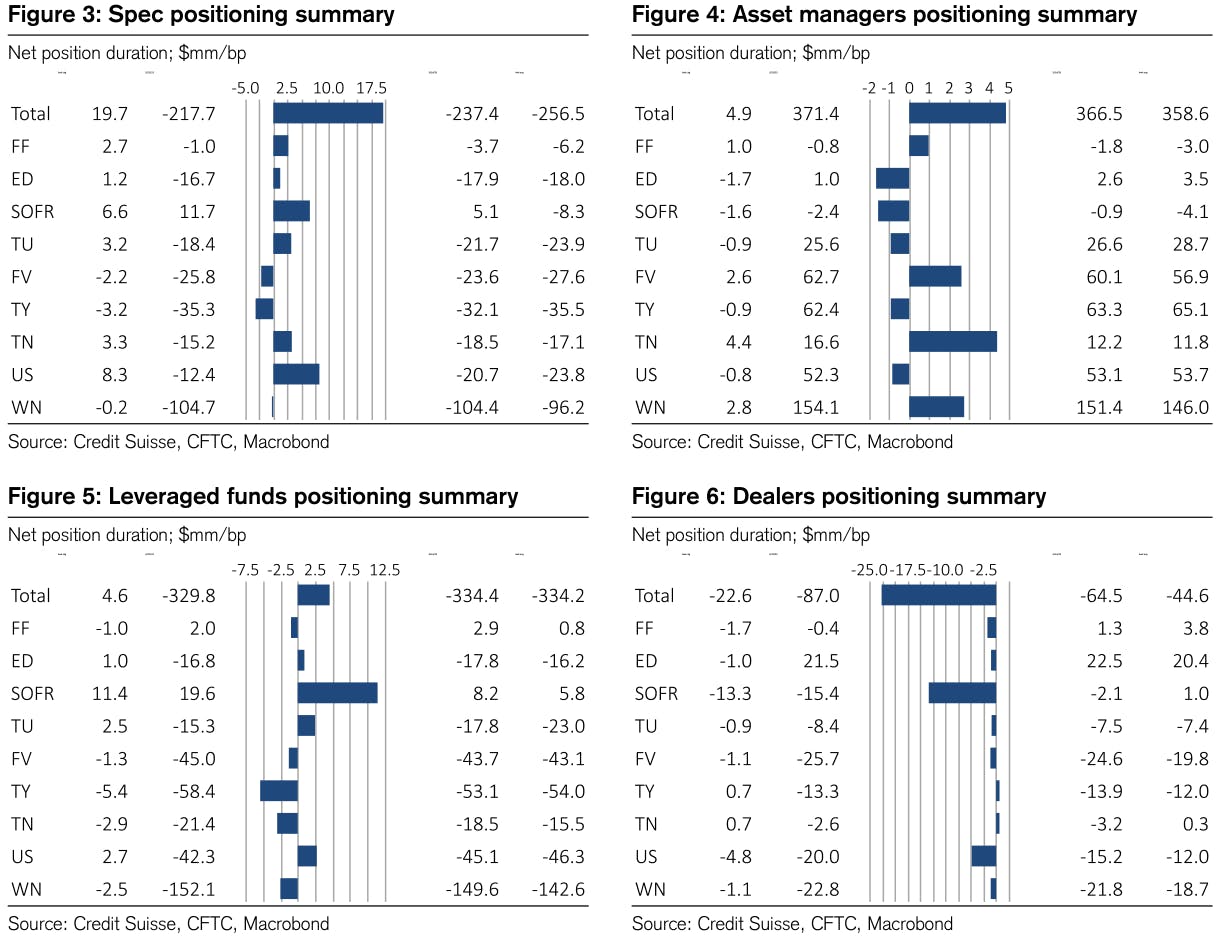 US MACRO RELEASES IN THE WEEK AHEAD
Most relevant to the market will be the Conference Board Consumer Confidence, revisions to Q4 GDP, Personal Income/Spending, PCE Deflator for Feb, MNI Chicago PMIs, and UMich Sentiment

US TREASURY COUPON-BEARING AUCTIONS IN THE WEEK AHEAD
Monday 1:00PM : $42bn in 2Y notes
Tuesday 1:00PM : $43bn in 5Y notes
Wednesday 11:30AM: $22bn in 2Y FRNs
Wednesday 1:00PM : $35 bln 7Y notes
FED SPEAKERS IN THE WEEK AHEAD
Monday 5:00PM: Fed Governor Jefferson
Tuesday 10:00AM: Fed Vice Chair for Supervision Barr
Wednesday 10:00AM: Fed Vice Chair for Supervision Barr
Thursday 12:45PM: Richmond Fed President Barkin
Thursday 12:45PM: Boston Fed President Collins
Friday 3:00PM: New York Fed President Williams
Friday 4:00PM: Fed Governor Waller
Friday 5:45PM: Fed Governor Cook
US FORWARD RATES
Fed Funds futures now price in 10.2bp of Fed hikes by the end of May 2023, -5.5bp (-0.2 x 25bp hikes) by the end of June 2023, and -1.3 hikes by the end of July 2023
Implied yields on 3-month SOFR futures top out at 4.82% for the June 2023 expiry and price in 197bp of rate cuts over the following easing cycle
US INFLATION & REAL RATES ON FRIDAY
TIPS 1Y breakeven inflation at 2.89% (down -16.1bp); 2Y at 2.34% (down -10.9bp); 5Y at 2.19% (down -6.4bp); 10Y at 2.22% (down -5.0bp); 30Y at 2.19% (down -3.4bp)
6-month spot US CPI swap down -3.9 bp to 2.143%, with a steepening of the forward curve
US Real Rates: 5Y at 1.2160%, +4.4 bp today; 10Y at 1.1750%, +0.4 bp today; 30Y at 1.4540%, -0.3 bp today
RATES VOLATILITY & LIQUIDITY ON FRIDAY
Implied and realized volatilities remain extremely elevated across the complex, and liquidity still challenging
USD swap rate implied volatility (USD 1 Month by 1 Year ATM Swaption) up 36.6 vols at 279.4 normals
3-Month LIBOR-OIS spread down -0.9 bp at 25.3 bp (18-months range: -11.3 to 39.3 bp)
KEY INTERNATIONAL RATES ON FRIDAY
Germany 5Y: 2.106% (down -8.6 bp); the German 1Y-10Y curve is 12.1 bp steeper at -61.6bp (YTD change: -60.0 bp)
Japan 5Y: 0.057% (down -1.4 bp); the Japanese 1Y-10Y curve is 1.6 bp flatter at 38.5bp (YTD change: -1.1 bp)
China 5Y: 2.705% (up 1.8 bp); the Chinese 1Y-10Y curve is 2.3 bp flatter at 61.1bp (YTD change: -12.5 bp)
Switzerland 5Y: 1.112% (down -3.5 bp); the Swiss 1Y-10Y curve is 1.7 bp flatter at -22.8bp (YTD change: -62.6 bp)
GLOBAL 5-YEAR NOMINAL INTEREST RATES DIFFERENTIALS ON FRIDAY
US-GERMANY: -0.1 bp at 138.1 bp (Weekly change: -22.8 bp; YTD change: -35.5 bp)
US-JAPAN: -7.6 bp at 386.2 bp (Weekly change: -37.4 bp; YTD change: -53.1 bp)
US-CHINA: -7.3 bp at 137.7 bp (Weekly change: -9.2 bp; YTD change: -80.6 bp)
GLOBAL 10-YEAR REAL INTEREST RATES DIFFERENTIALS ON FRIDAY
US-GERMANY: +0.6 bp at 134.1 bp (Weekly change: -12.0bp; YTD change: +5.3bp)
US-JAPAN: +0.9 bp at 154.2 bp (Weekly change: -19.7bp; YTD change: -49.7bp)
GERMANY-JAPAN: +0.3 bp at 20.1 bp (Weekly change: -15.7bp; YTD change: -55.0bp)
---