Rates
Reversal Of Short-Term Financial Stability Concerns Brought Front End Selloff, Bear Flattening Across US Rates
Most of the move this week can be traced to higher inflation breakevens, which simply reflects unease around the end of the hiking cycle while inflationary pressures are still very sticky
Published ET
US Treasuries 3M / 10Y spread (bp) | Source: Refinitiv
---
---
US RATES OUTLOOK
The market expects the May FOMC to bring the last hike, with 14bp currently priced in
Expectations of rate cuts start immediately after, with -3bp priced for the June FOMC and over -60bp through year end (from the peak)
Liquidity at the front end of the rates complex remains challenged, though top-of-the-book spreads are slowly returning to more normal levels
US data this week was mixed and the selloff at the front end was not met down the forward curve, leading to a deeper inversion
Essentially still the same parameters as last month, with financial stability issues taking a back seat again: in no particular order, markets are concerned about the long / variable lag in the impact of monetary policy, sticky inflation, the growth impact of increasingly tight lending standards
Jefferies's economists explain this well: "A good example of this sort of false dawn in the data was in this week's Consumer Confidence report from the Conference Board. Although the headline confidence measure improved in March, the gap between the present situation and expectations index widened to a level consistent with the beginning of every recession since 1980. Consumers see strong activity today, but they don't expect it to last. (..) Modeling the outlook for this rate based on our expected terminal fed funds rate of 5.125%, we expect small business borrowing rates to increase to 9.5% by mid-year as a baseline, optimistic scenario. Rates may climb higher, and it is hard to see why they would end up lower than our estimate. This increase in borrowing costs will coincide with a sharp slowdown in nominal revenue growth (the downside of slowing inflation & fading pricing power). We also suspect that labor costs will remain sticky, adding to margin pressures. Peak pain is still yet to come, and it may be worse than we originally thought."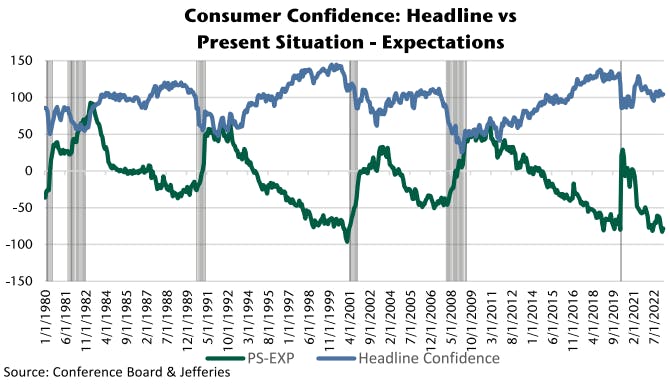 WEEKLY US RATES SUMMARY
The treasury yield curve inverted further, with the 1s10s spread down 24.8 bp this week, now at -114.6 bp (YTD change: -31.2bp)
1Y: 4.6181% (up 35.0 bp)
2Y: 4.0366% (up 27.2 bp)
5Y: 3.5828% (up 17.8 bp)
7Y: 3.5411% (up 14.2 bp)
10Y: 3.4724% (up 10.2 bp)
30Y: 3.6499% (up 0.8 bp)
US treasury curve spreads: 3m2Y at -74.8bp (up 15.6bp this week), 2s5s at -45.4bp (down -8.9bp), 5s10s at -11.0bp (down -7.5bp), 10s30s at 17.8bp (down -8.5bp)
US 5Y TIPS inflation breakeven at 2.47% up 20.8bp; 10Y breakeven at 2.33% up 13.1bp; 30Y breakeven at 2.24% up 4.8bp
US 5-Year TIPS Real Yield: -2.1 bp at 1.1950%; 10-Year TIPS Real Yield: -2.0 bp at 1.1550%; 30-Year TIPS Real Yield: -3.5 bp at 1.4190%
US ECONOMIC DATA OVER THE PAST WEEK

US RATES WEEKLY CFTC POSITIONING UPDATE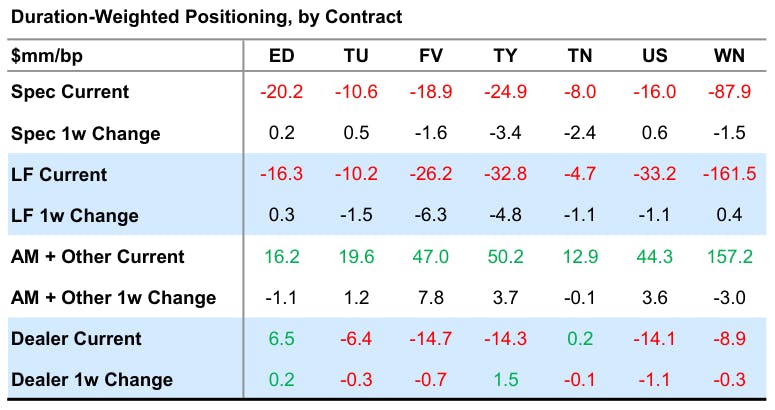 US MACRO RELEASES IN THE WEEK AHEAD
The focus this week will be on ISM surveys and the March employment report

Wells Fargo's macro team prepared a good table showing the market reactions to past employment reports:

FED SPEAKERS IN THE WEEK AHEAD
Monday 4:15PM: Fed Governor Cook
Tuesday 6:15PM: Cleveland Fed President Mester
Thursday 10:00AM: St. Louis Fed President Bullard
US FORWARD RATES
Fed Funds futures now price in 14.4bp of Fed hikes by the end of May 2023, followed by cuts from June 2023
Implied yields on 3-month SOFR futures top out at 4.93% for the August 2023 expiry and price in 200bp of rate cuts over the following easing cycle
US INFLATION & REAL RATES TODAY
TIPS 1Y breakeven inflation at 3.15% (up 7.1bp); 2Y at 2.60% (up 1.5bp); 5Y at 2.39% (up 0.1bp); 10Y at 2.34% (down -0.8bp); 30Y at 2.24% (down -2.3bp)
6-month spot US CPI swap up 4.9 bp to 2.825%, with a flattening of the forward curve
US Real Rates: 5Y at 1.1950%, -10.3 bp today; 10Y at 1.1550%, -6.7 bp today; 30Y at 1.4190%, -5.6 bp today
RATES VOLATILITY & LIQUIDITY TODAY
USD swap rate implied volatility (USD 1 Month by 1 Year ATM Swaption) down -6.9 vols at 187.6 normals
3-Month LIBOR-OIS spread up 0.3 bp at 25.5 bp (18-months range: -11.3 to 39.3 bp)
KEY INTERNATIONAL RATES TODAY
Germany 5Y: 2.302% (down -6.5 bp); the German 1Y-10Y curve is 7.5 bp flatter at -72.0bp (YTD change: -67.0 bp)
Japan 5Y: 0.095% (unchanged); the Japanese 1Y-10Y curve is 0.3 bp flatter at 45.4bp (YTD change: +4.1 bp)
China 5Y: 2.678% (down -1.2 bp); the Chinese 1Y-10Y curve is 2.6 bp steeper at 65.1bp (YTD change: -8.5 bp)
Switzerland 5Y: 1.268% (down -2.0 bp); the Swiss 1Y-10Y curve is 7.9 bp flatter at -28.6bp (YTD change: -67.8 bp)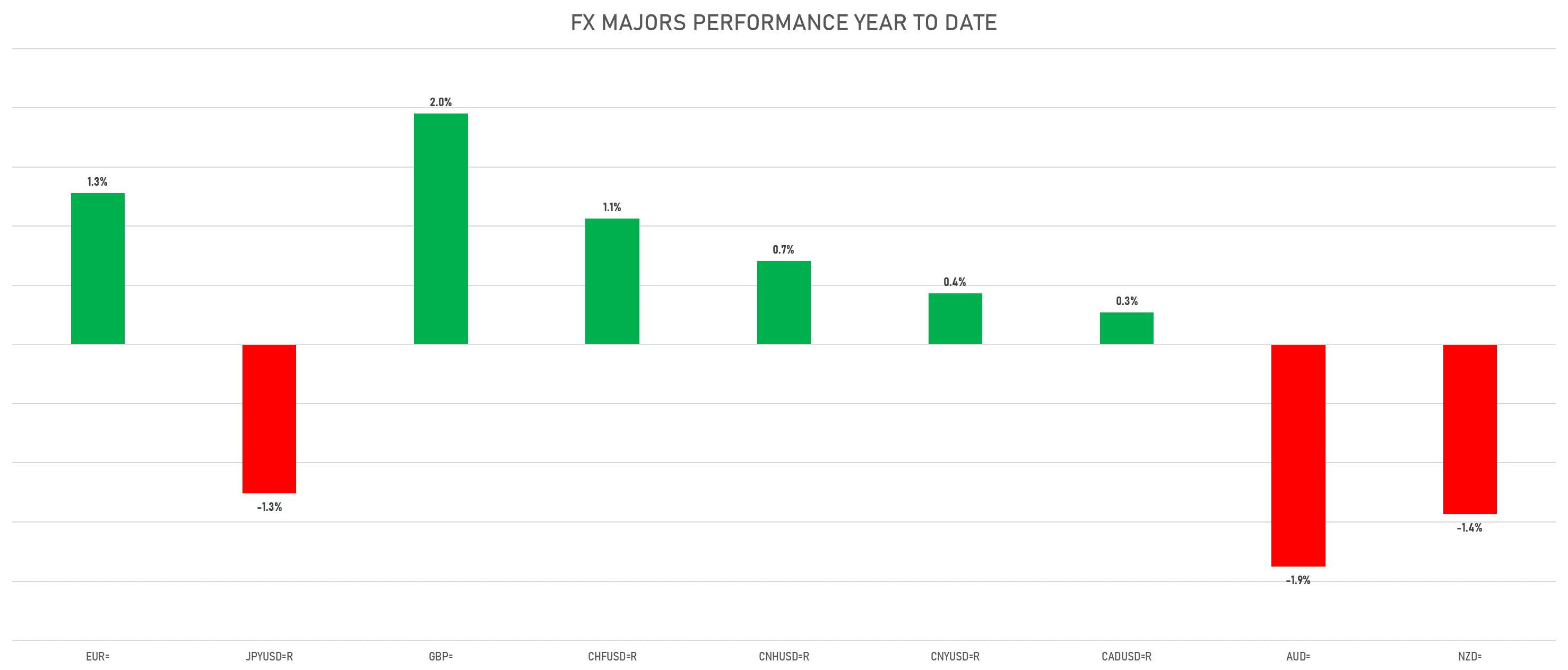 GLOBAL 5-YEAR NOMINAL INTEREST RATES DIFFERENTIALS TODAY
US-GERMANY: +4.1 bp at 144.0 bp (Weekly change: +5.9 bp; YTD change: -29.6 bp)
US-JAPAN: -3.7 bp at 414.9 bp (Weekly change: +28.7 bp; YTD change: -24.4 bp)
US-CHINA: -7.1 bp at 168.6 bp (Weekly change: +30.9 bp; YTD change: -49.7 bp)
GLOBAL 10-YEAR REAL INTEREST RATES DIFFERENTIALS TODAY
US-GERMANY: -0.8 bp at 126.8 bp (Weekly change: -7.3bp; YTD change: -2.0bp)
US-JAPAN: -7.8 bp at 144.9 bp (Weekly change: -9.3bp; YTD change: -59.0bp)
GERMANY-JAPAN: -7.0 bp at 18.1 bp (Weekly change: -2.0bp; YTD change: -57.0bp)
---