Rates
Front End Rates Volatility Remains High, With Decent Economic Data And Some More Drama From FRC
The Fed will undoubtedly lift its policy rate by 25bp to 5+1/8 this week, but we would be surprised if they explicitly called it the last hike of the current cycle
Published ET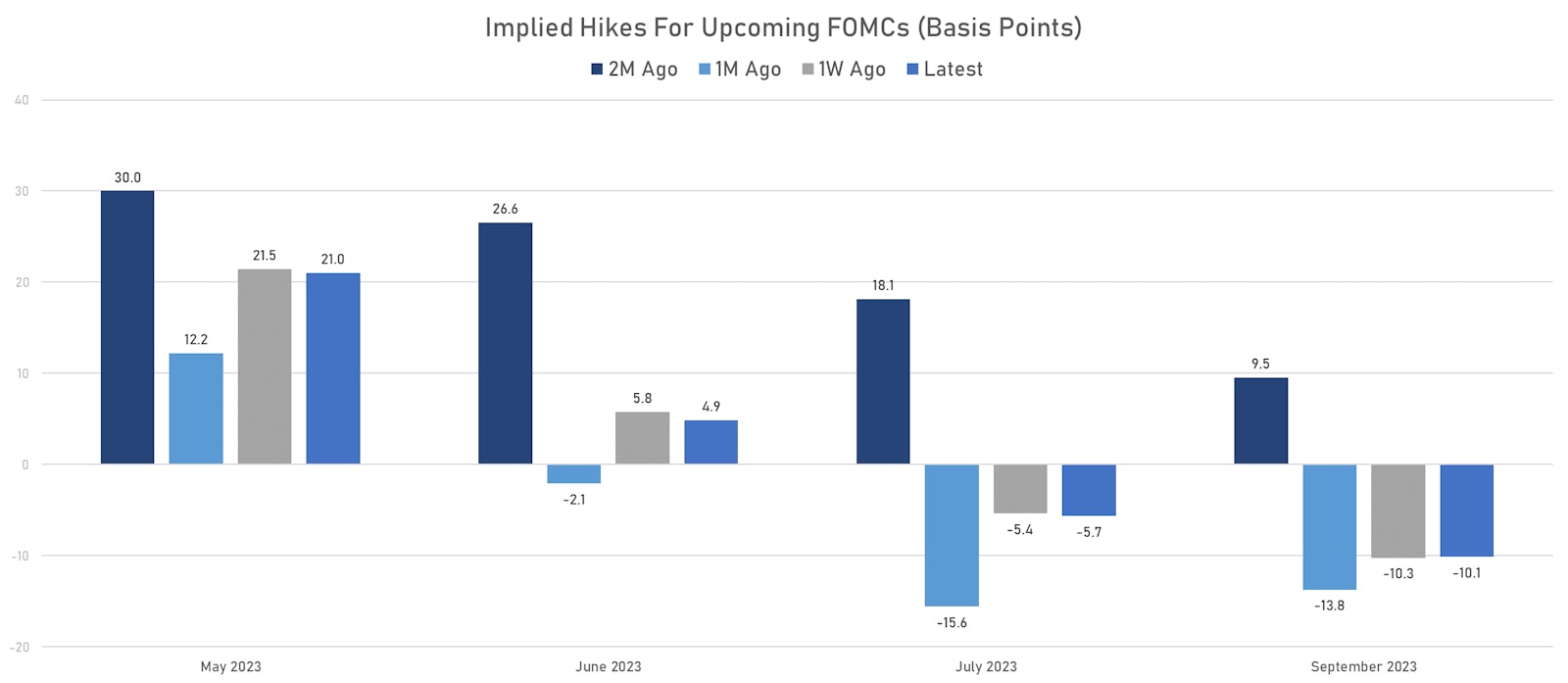 Policy Decisions Implied From Fed Funds Forward Rates | Sources: phipost.com, Refinitiv data
---
---
US RATES OUTLOOK: FOMC PREVIEW
With 21bp priced for the May FOMC, it would be an extraordinary surprise if the Fed didn't hike by 25bp on Wednesday
Looking past that, the consensus is clearly leaning towards the Fed indicating that they are done after the May hike, but we're not convinced: nobody would be impressed by such a premature ejaculation
We get it: econometric models indicate that inflation could continue to drop into the end of the year. But the Fed is data dependent, not model dependent. And the reality is that inflation is still at dizzying levels, with core potentially stabilizing at those levels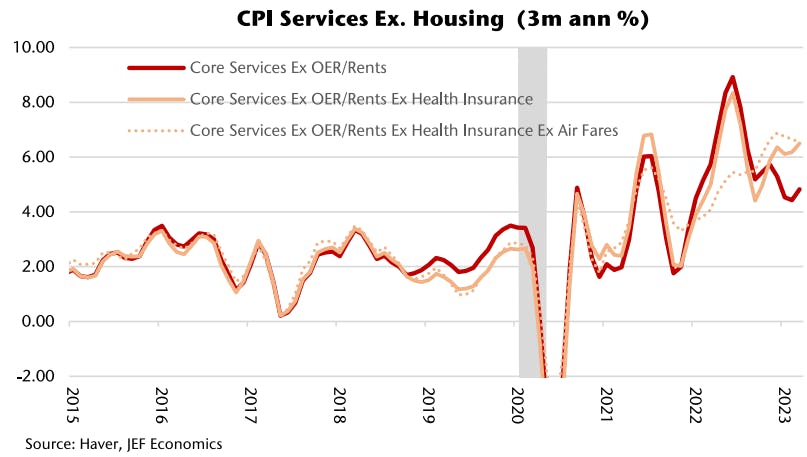 Obviously, the Fed doesn't even know we exist, but we would urge them to stay flexible, with minimal forward guidance: keep people guessing, keep financial conditions tight for longer.
Adding to that, we would point out that the current real Fed Funds rate isn't that punishing to begin with, as it's barely above the neutral real rate (considered to be around 0.5%), depending on what measure you choose for inflation.
In this context, the 5 basis points currently priced for the June FOMC seem low to us. We would pay the June FOMC at this level, as 20% chance of a June hike isn't enough to account for sticky measures of core inflation
Looking at things the other way: if the Fed were too communicate that the hiking cycle is done this week, the market would start pricing in more cuts this year. That would not be helpful in terms of policy flexibility and maintaining tighter financial conditions.
WEEKLY US RATES SUMMARY
The treasury yield curve flattened, with the 1s10s inverting another -14.6 bp, now at -134.2 bp (YTD change: -50.9bp)
1Y: 4.7745% (up 1.2 bp)
2Y: 4.0198% (down 15.9 bp)
5Y: 3.4966% (down 16.3 bp)
7Y: 3.4709% (down 14.2 bp)
10Y: 3.4324% (down 13.5 bp)
30Y: 3.6812% (down 8.9 bp)
US treasury curve spreads: 3m2Y at -109.3bp (down -16.3bp this week), 2s5s at -52.3bp (unchanged , 5s10s at -6.4bp (up 3.2bp), 10s30s at 24.9bp (up 4.7bp)
US 5Y TIPS inflation breakeven at 2.24% down 6.0bp; 10Y breakeven at 2.21% down 7.0bp; 30Y breakeven at 2.18% down 6.9bp
US 5-Year TIPS Real Yield: -8.9 bp at 1.2700%; 10-Year TIPS Real Yield: -5.7 bp at 1.2290%; 30-Year TIPS Real Yield: -1.6 bp at 1.5050%
US ECONOMIC DATA OVER THE PAST WEEK

US MACRO RELEASES IN THE WEEK AHEAD
The most important economic events next week will be the May FOMC meeting, the April employment report, the ISM manufacturing data, as well as JOLTs, factory orders, and durables + capital goods

US FORWARD RATES
Fed Funds futures now price in 21.0bp of Fed hikes by the end of May 2023, 25.9bp (1.0 x 25bp hikes) by the end of June 2023 (i.e. just 5bp priced for June so far), and cuts starting in July 2023
Implied yields on 3-month SOFR futures top out at 5.09% for the August 2023 expiry and price in 224bp of rate cuts over the following easing cycle
US INFLATION & REAL RATES TODAY
TIPS 1Y breakeven inflation at 2.10% (up 5.0bp); 2Y at 2.17% (down -2.5bp); 5Y at 2.25% (down -4.3bp); 10Y at 2.22% (down -5.7bp); 30Y at 2.18% (down -7.3bp)
6-month spot US CPI swap up 0.8 bp to 2.134%, with a steepening of the forward curve
US Real Rates: 5Y at 1.2700%, -5.2 bp today; 10Y at 1.2290%, -3.9 bp today; 30Y at 1.5050%, -0.1 bp today
RATES VOLATILITY & LIQUIDITY TODAY
USD swap rate implied volatility (USD 1 Month by 1 Year ATM Swaption) down -0.6 vols at 164.9 normals
3-Month LIBOR-OIS spread up 2.9 bp at 21.9 bp (18-months range: -11.3 to 39.3 bp)
KEY INTERNATIONAL RATES TODAY
Germany 5Y: 2.315% (down -13.6 bp); the German 1Y-10Y curve is 8.8 bp flatter at -79.7bp (YTD change: -77.3 bp)
Japan 5Y: 0.098% (down -4.0 bp); the Japanese 1Y-10Y curve is 6.7 bp flatter at 48.9bp (YTD change: +9.8 bp)
China 5Y: 2.625% (up 0.5 bp); the Chinese 1Y-10Y curve is 0.7 bp steeper at 67.0bp (YTD change: -6.6 bp)
Switzerland 5Y: 1.042% (down -3.7 bp); the Swiss 1Y-10Y curve is 6.0 bp flatter at -42.3bp (YTD change: -77.1 bp)
GLOBAL 5-YEAR NOMINAL INTEREST RATES DIFFERENTIALS TODAY
US-GERMANY: +11.6 bp at 133.9 bp (Weekly change: +5.4 bp; YTD change: -39.7 bp)
US-JAPAN: -3.2 bp at 408.1 bp (Weekly change: -14.5 bp; YTD change: -31.2 bp)
US-CHINA: -6.7 bp at 174.4 bp (Weekly change: -9.2 bp; YTD change: -43.9 bp)
GLOBAL 10-YEAR REAL INTEREST RATES DIFFERENTIALS TODAY
US-GERMANY: +8.4 bp at 127.9 bp (Weekly change: +4.7bp; YTD change: -0.9bp)
US-JAPAN: +1.9 bp at 167.9 bp (Weekly change: +10.8bp; YTD change: -36.0bp)
GERMANY-JAPAN: -6.5 bp at 40.0 bp (Weekly change: +6.1bp; YTD change: -35.1bp)
---