Rates
The Fed's Current Plan Is To Hike In July, Skip September, And Announce A Pause In November
The FOMC decision on Wednesday confused the market, with the hawkish messaging largely ignored to focus on the decision not to hike in June despite strong recent data
Published ET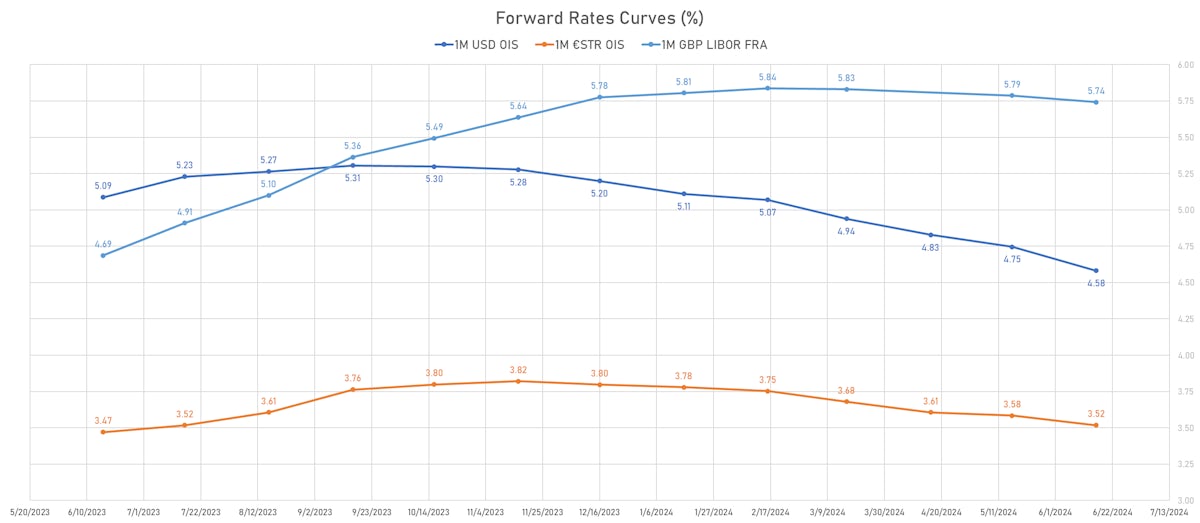 1M OIS Forward Rates Curves | Sources: phipost.com, Refinitiv data
---
---
US RATES OUTLOOK: FOMC WRAP-UP
The FOMC on Wednesday led to a typical committee decision: with significant disagreement about the policy path, they reached a compromise that made no sense to external observers (keep the FF rate unchanged but raise forward guidance).
If the median position really is that the policy rate should end up 50bp higher, why didn't they hike? Actions speak louder than words, and the market wasn't impressed with the revised dot plot: EUR/USD rose by close to 3 standard deviations over the following 24 hours.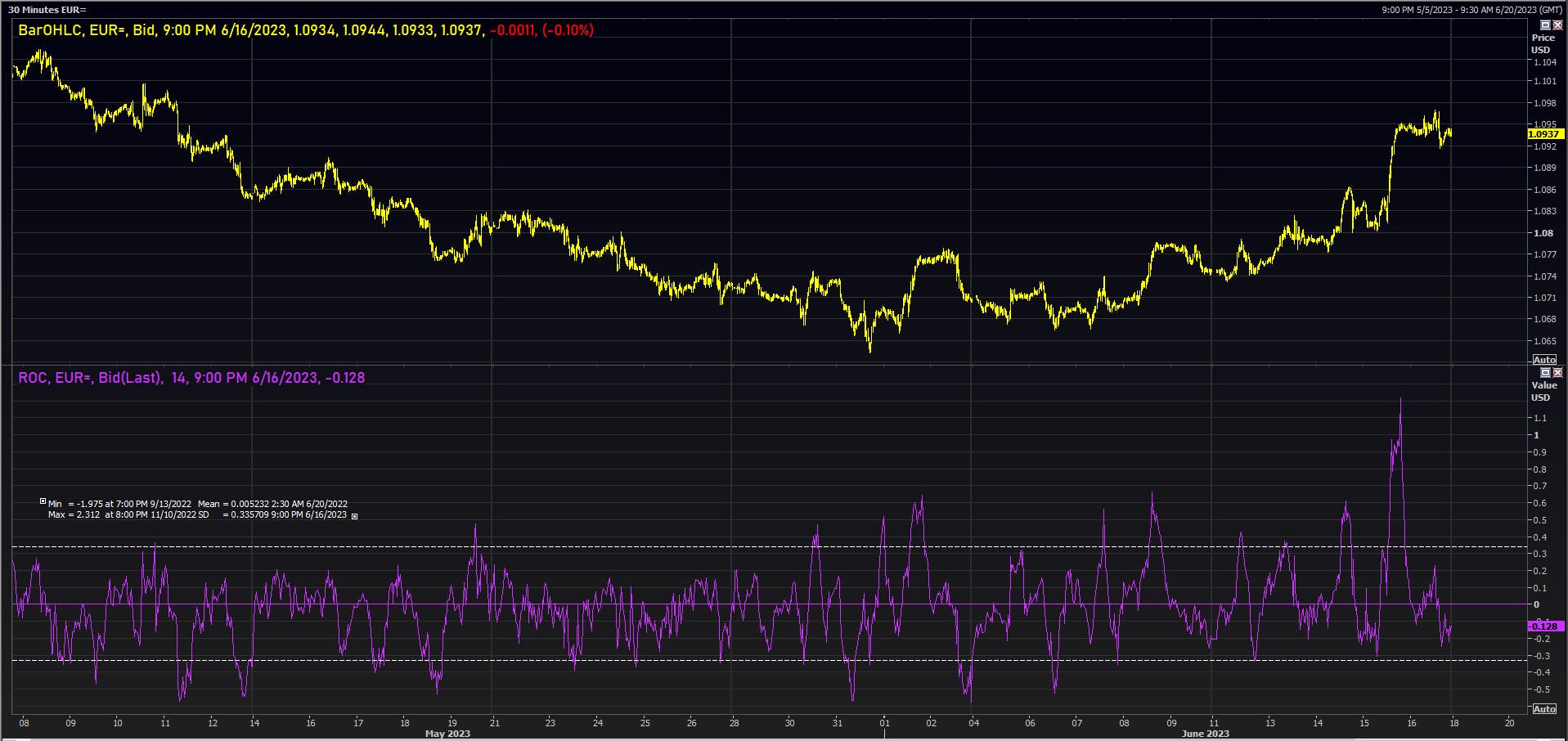 To be fair, the skip was never about indicating the end of the hiking cycle, but a further adjustment to the pace of hikes. If the Fed wants to hike by a 100bp a year, they could do 12.5p at every meeting (as the Fed did in the '80s and '90s), 25bp at every other meeting or just drop 50bp twice a year. With Powell worried about a policy lag leading to overtightening / a recession, 25bp / quarter is a middle of the road position
Now that the July hike is virtually locked in, Powell bought himself time: if the Fed's projections are correct (admittedly a big if), inflation should be much lower by the time they consider a second rate hike (in November after skipping September), making a pause in November the likely outcome.
Note that we aren't making any forecast: inflation could stay stubbornly high, we wouldn't be surprised to see the FF rate rise beyond 6%. It's just not currently the Fed's central scenario.
WEEKLY US RATES SUMMARY
The treasury yield curve steepened, with the 1s10s spread widening 0.5 bp, now at -145.6 bp (YTD change: -62.3bp)
1Y: 5.2214% (up 1.8 bp)
2Y: 4.7195% (up 12.5 bp)
5Y: 3.9855% (up 7.2 bp)
7Y: 3.8778% (up 4.2 bp)
10Y: 3.7653% (up 2.3 bp)
30Y: 3.8527% (down 2.9 bp)
US treasury curve spreads:  3m2Y at -51.7bp (up 15.5bp this week), 2s5s at -73.4bp (down -4.6bp), 5s10s at -22.0bp (down -4.6bp), 10s30s at 8.7bp (down -5.3bp)
US 5Y TIPS inflation breakeven at 2.20% up 4.2bp; 10Y breakeven at 2.24% up 3.1bp; 30Y breakeven at 2.24% down 0.7bp
US 5-Year TIPS Real Yield: +3.6 bp at 1.8320%; 10-Year TIPS Real Yield: -0.2 bp at 1.5510%; 30-Year TIPS Real Yield: -1.9 bp at 1.6270%
US ECONOMIC DATA OVER THE PAST WEEK

US MACRO RELEASES IN THE WEEK AHEAD

US TREASURY COUPON-BEARING AUCTIONS IN THE WEEK AHEAD
Wednesday 1.00PM: $12bn 20Y bond
Thursday 1:00PM: $19bn 5Y TIPS
FED SPEAKERS IN THE WEEK AHEAD
Tuesday 6:30AM: St. Louis Fed President Bullard
Tuesday 11:45AM: New York Fed President Williams
Wednesday 10:00AM: Fed Chair Powell will deliver his semi-annual testimony on monetary policy before the House Financial Services Committee
Wednesday 12:25PM: Chicago Fed President Goolsbee
Thursday 4:00AM: Fed Governor Waller
Thursday 1:00PM: Fed Governor Bowman
Thursday 10:00AM: Fed Chair Powell will deliver his semi-annual testimony on monetary policy before the Senate Banking Committee
Thursday 10:00AM: Cleveland Fed President Mester
Thursday 4:30PM: Richmond Fed President Barkin
Friday 5:15AM: St. Louis Fed President Bullard
Friday 1:40PM: Cleveland Fed President Mester
US FORWARD RATES
Fed Funds futures now price in 17.9bp of Fed hikes by the end of July 2023, 21.6bp (0.9 x 25bp hikes) by the end of September 2023
Implied yields on 3-month SOFR futures top out at 5.31% for the December 2023 expiry and price in 210bp of rate cuts over the following easing cycle
US INFLATION & REAL RATES TODAY
TIPS 1Y breakeven inflation at 1.84% (down -3.8bp); 2Y at 2.16% (down -4.2bp); 5Y at 2.21% (down -0.1bp); 10Y at 2.25% (up 0.2bp); 30Y at 2.24% (up 0.5bp)
6-month spot US CPI swap up 2.8 bp to 2.535%, with a flattening of the forward curve
US Real Rates: 5Y at 1.8320%, +7.7 bp today; 10Y at 1.5510%, +4.4 bp today; 30Y at 1.6270%, +0.7 bp today
RATES VOLATILITY & LIQUIDITY TODAY
USD swap rate implied volatility (USD 1 Month by 1 Year ATM Swaption) down -2.4 vols at 116.2 normals
3-Month LIBOR-OIS spread down -1.4 bp at 28.8 bp (18-months range: -11.3 to 39.3 bp)
KEY INTERNATIONAL RATES TODAY
Germany 5Y: 2.579% (down -3.1 bp); the German 1Y-10Y curve is 7.3 bp flatter at -105.3bp (YTD change: -100.4 bp)
Japan 5Y: 0.078% (down -0.9 bp); the Japanese 1Y-10Y curve is 2.1 bp flatter at 54.6bp (YTD change: +13.6 bp)
China 5Y: 2.445% (up 1.5 bp); the Chinese 1Y-10Y curve is 0.6 bp flatter at 82.9bp (YTD change: +9.3 bp)
Switzerland 5Y: 1.109% (down -0.7 bp); the Swiss 1Y-10Y curve is 3.4 bp flatter at -93.1bp (YTD change: -99.4 bp)
GLOBAL 5-YEAR NOMINAL INTEREST RATES DIFFERENTIALS TODAY
US-GERMANY: +7.4 bp at 159.7 bp (Weekly change: -4.9 bp; YTD change: -13.9 bp)
US-JAPAN: +10.3 bp at 482.2 bp (Weekly change: +15.6 bp; YTD change: +42.9 bp)
US-CHINA: +3.8 bp at 259.6 bp (Weekly change: +9.2 bp; YTD change: +41.3 bp)
GLOBAL 10-YEAR REAL INTEREST RATES DIFFERENTIALS TODAY
US-GERMANY: +9.3 bp at 143.5 bp (Weekly change: -3.7bp; YTD change: +14.7bp)
US-JAPAN: +3.5 bp at 226.3 bp (Weekly change: -15.8bp; YTD change: +22.4bp)
GERMANY-JAPAN: -5.8 bp at 82.8 bp (Weekly change: -12.1bp; YTD change: +7.7bp)
---