Rates
US Yield Curve Twist Flattens As The Fed Seems To Maintain A Hawkish Bias At Jackson Hole
Although Powell strategically skirted around the neutral rate question, the policy focus in the US is to prevent the risk of a possible reacceleration of inflation, as the macro picture is still much healthier than in Europe or China
Published ET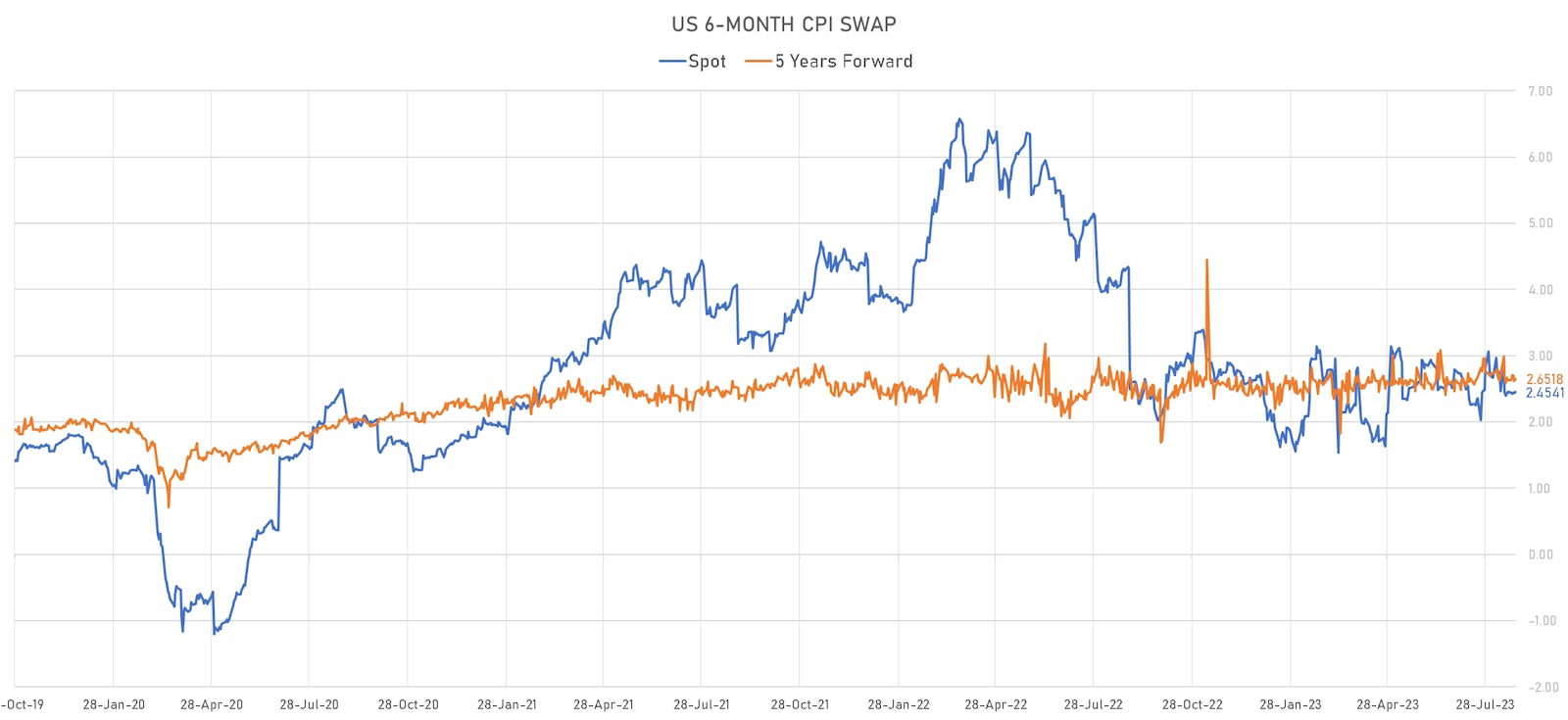 US 6-month CPI swap spot vs 5y forward | Sources: phipost.com, Refinitiv data
---
---
US RATES OUTLOOK
The US Treasury curve has shifted higher, as the market has come to realize that no recession is coming this year. Having said that , the curve has flattened this week with more rate cuts priced in the future easing cycle.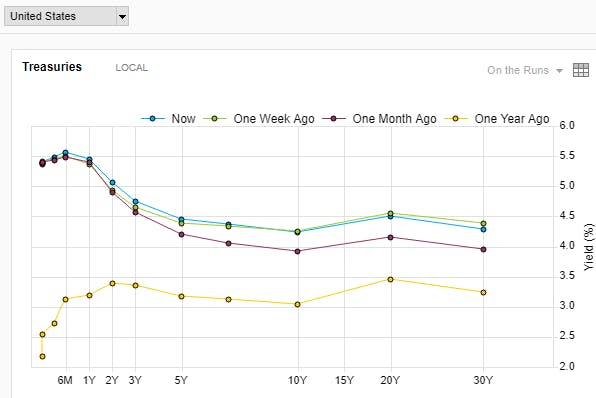 Unless incoming data firms up unexpectedly quickly over the next weeks, effective Fed funds should stay around 5 and 3/8 for the next couple of months, as Powell seemed to confirm a skip at the September FOMC ("proceed carefully").
If you think the real neutral rate r* is higher than the Fed's 0.5% estimate, say maybe 1.5%, adding 2.5% inflation gets you to a nominal neutral rate of 4.0%. The current 2Y forward 2Y SOFR OIS is around 3.70%, meaning that the market is much closer to that estimate than the Fed's position (2% inflation + 0.5% r* = 2.5%).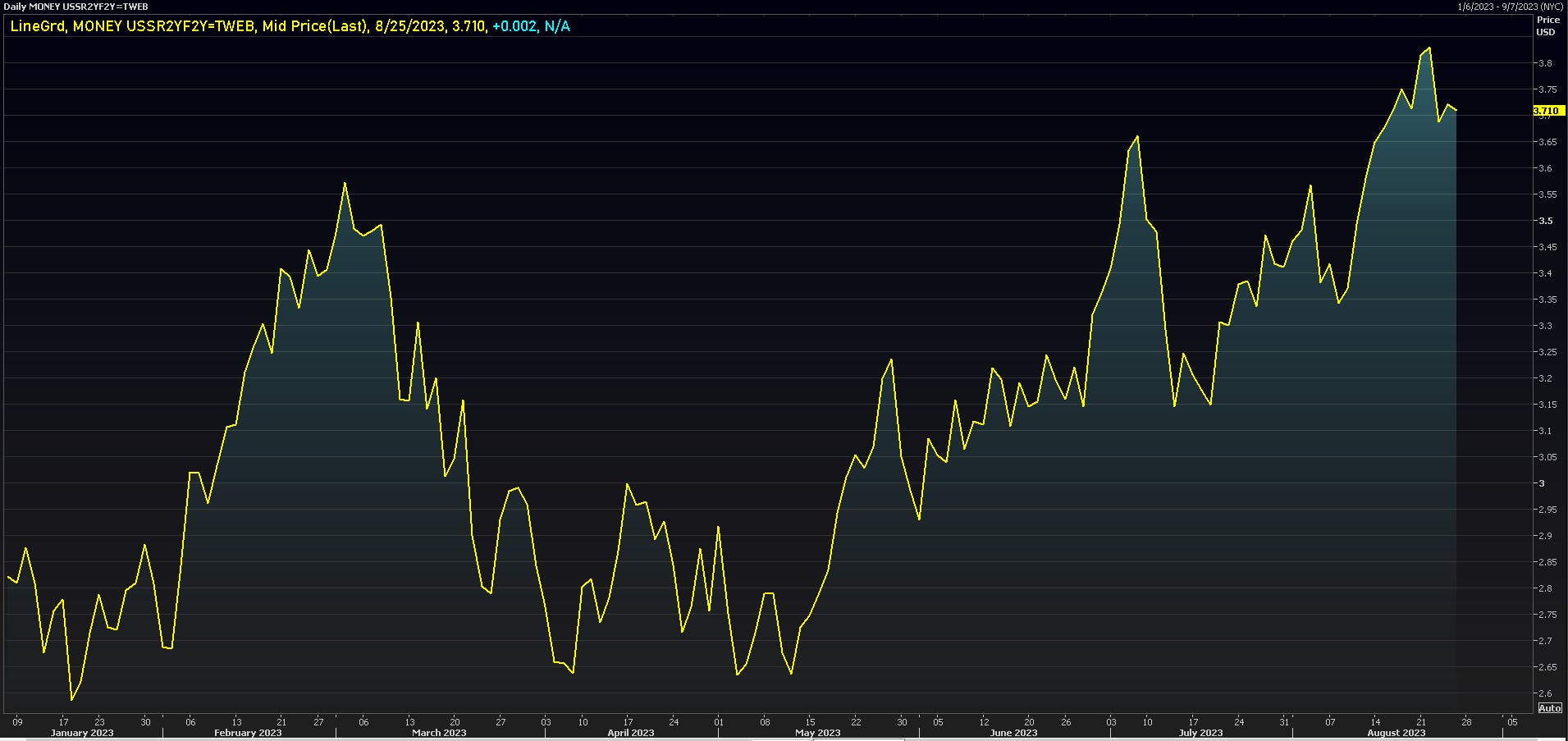 USD 2yf2y SOFR OIS | Source: Refinitiv
WEEKLY US RATES SUMMARY
The treasury yield curve flattened, with the 1s10s spread tightening -11.4 bp, now at -121.4 bp (YTD change: -38.0bp)
1Y: 5.4443% (up 9.5 bp)
2Y: 5.0768% (up 13.5 bp)
5Y: 4.4347% (up 5.2 bp)
7Y: 4.3571% (up 1.6 bp)
10Y: 4.2305% (down 1.9 bp)
30Y: 4.2789% (down 9.5 bp)
US treasury curve spreads:  3m2Y at -41.0bp (up 9.0bp this week), 2s5s at -64.2bp (down -8.0bp), 5s10s at -20.4bp (down -7.3bp), 10s30s at 4.8bp (down -7.1bp)
US 5Y TIPS inflation breakeven at 2.27% up 2.6bp; 10Y breakeven at 2.33% up 1.7bp; 30Y breakeven at 2.32% up 1.9bp
US 5-Year TIPS Real Yield: +2.9 bp at 2.2170%; 10-Year TIPS Real Yield: -3.2 bp at 1.9130%; 30-Year TIPS Real Yield: -11.2 bp at 1.9740%
US ECONOMIC DATA OVER THE PAST WEEK

US MACRO RELEASES IN THE WEEK AHEAD

US TREASURY COUPON-BEARING AUCTIONS IN THE WEEK AHEAD
Monday 8/28 @ 1PM: $45bn in 2Y notes
Monday 8/28 @ 1PM: $46bn in 5Y notes
Tuesday 8/29 @ 1PM: $36bn in 7Y Notes
FED SPEAKERS IN THE WEEK AHEAD
Thursday 8/31: Federal Reserve Bank of Atlanta's Raphael Bostic
Thursday 8/31: Federal Reserve Bank of Boston's Susan Collins
Friday 9/1: Federal Reserve Bank of Atlanta's Raphael Bostic
Friday 9/1: Federal Reserve Bank of Cleveland's Loretta Mester
US FORWARD RATES 
Fed Funds futures now price in 4.9bp of Fed hikes by the end of September 2023, 15.7bp (63% chance of another 25bp hike) by the end of November 2023, and 0.6 hike by the end of December 2023
Implied yields on 3-month SOFR futures top out at 5.49% for the February 2024 expiry and price in 177bp of rate cuts over the following easing cycle
US INFLATION & REAL RATES TODAY
TIPS  1Y breakeven inflation at 2.17% (up 2.4bp); 2Y at 2.35% (up 2.8bp); 5Y at 2.36% (down -0.2bp); 10Y at 2.33% (down -1.1bp); 30Y at 2.32% (down -0.9bp)
6-month spot US CPI swap up 1.6 bp to 2.454%, with a flattening of the forward curve
US Real Rates: 5Y at 2.2170%, +2.2 bp today; 10Y at 1.9130%, +0.1 bp today; 30Y at 1.9740%, -1.5 bp today
RATES VOLATILITY & LIQUIDITY TODAY
USD swap rate implied volatility (USD 1 Month by 1 Year ATM Swaption) down -4.4 vols at 77.2 normals (down 9.3 normals from a week ago)
Market liquidity is not great this time of year, but money markets are not showing signs of stress
KEY INTERNATIONAL RATES TODAY
Germany 5Y: 2.584% (up 5.8 bp); the German 1Y-10Y curve is 1.4 bp steeper at -99.6bp (YTD change: -97.6 bp)
Japan 5Y: 0.237% (up 0.9 bp); the Japanese 1Y-10Y curve is 0.7 bp steeper at 74.0bp (YTD change: +32.5 bp)
China 5Y: 2.386% (up 2.4 bp); the Chinese 1Y-10Y curve is 0.5 bp steeper at 68.3bp (YTD change: -5.3 bp)
Switzerland 5Y: 1.091% (up 3.8 bp); the Swiss 1Y-10Y curve is unchanged at -85.0bp (YTD change: -95.3 bp)
GLOBAL 5-YEAR NOMINAL INTEREST RATES DIFFERENTIALS TODAY
US-GERMANY: +0.3 bp at 205.2 bp (Weekly change: +16.8 bp; YTD change: +31.6 bp)
US-JAPAN: +4.2 bp at 505.3 bp (Weekly change: +14.8 bp; YTD change: +66.0 bp)
US-CHINA: +3.6 bp at 298.9 bp (Weekly change: +11.4 bp; YTD change: +80.6 bp)
GLOBAL 10-YEAR REAL INTEREST RATES DIFFERENTIALS TODAY
US-GERMANY: -3.5 bp at 172.2 bp (Weekly change: -3.4bp; YTD change: +43.4bp)
US-JAPAN: +1.6 bp at 244.1 bp (Weekly change: -0.7bp; YTD change: +40.2bp)
GERMANY-JAPAN: +5.1 bp at 71.9 bp (Weekly change: +2.7bp; YTD change: -3.2bp)
---