Rates
Continued Duration Selloff In The US This Week: 2y3y Up 22bp, 5y5y Up 28bp, 5s10s Spread Turned Positive
The CPI data this week will be critical for the Fed to determine its next step, with the November FOMC likely to the be the last live meeting of the year, considering that a delayed shutdown could overshadow the December meeting
Published ET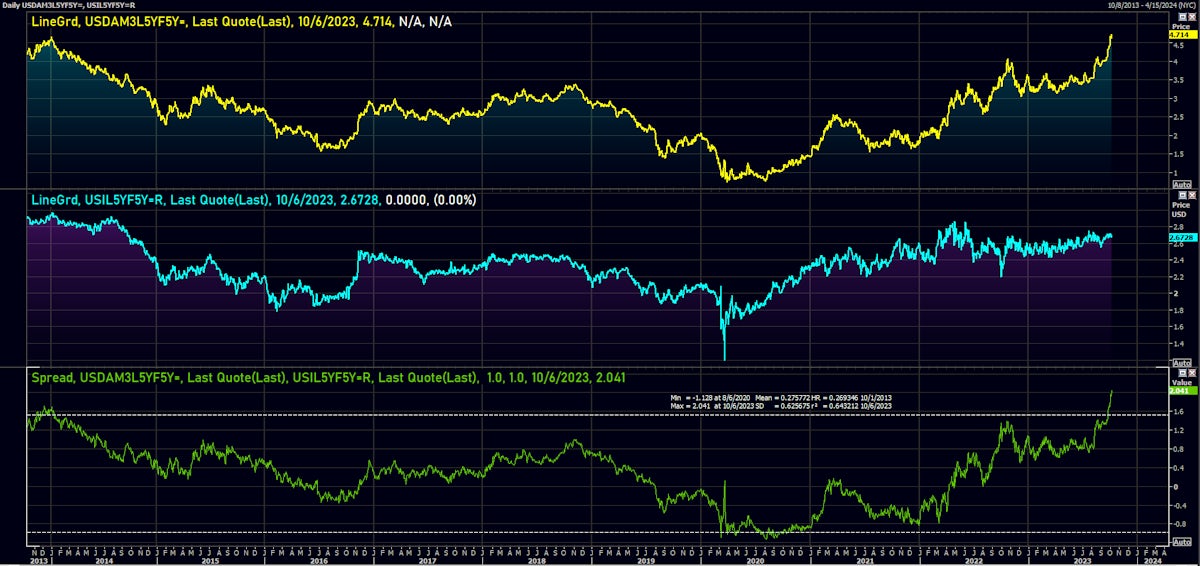 USD 5-year forward 5-year Swap Rate and 5-year forward 5-year inflation swap | Source: Refinitiv
---
---
US RATES OUTLOOK
Money markets currently price in about 50% chance of another hike (12bp) before the Fed stops and holds
While the peak FF rate hasn't moved much lately, the subsequent easing over the following years has been priced down a lot (about 3 x 25bp cuts priced out of the forward curve).
After the strong payroll report on Friday, the CPI this week will be a key data point for the Fed to decide what to do next, knowing that if they don't hike at the November FOMC, a government shutdown prior to the December FOMC would complicate things.
The rise in long-term nominal rates continued over the past week, driven by real rates, which is a bit odd: it's hard to understand how the market can be so confident in the long-term anchoring of inflation.
Historically, real rates rise with productivity growth, and that doesn't clearly fit with current demographic trends, a strategic push for deglobalization, or a growing share of government spending to GDP.
The stability of forward inflation pricing is particularly puzzling when it's getting less clear that the current hiking campaign has been effective in slowing the economy: if investors are convinced of the need for real rates to adjust higher forward, why are they also convinced that the Fed funds rate will peak at 5.5%? If you subtract a trailing 12M measure of core CPI from the Fed Funds rate, it's barely positive at the moment. Is that aggressive enough? Are we really sure we won't need to go to 7%?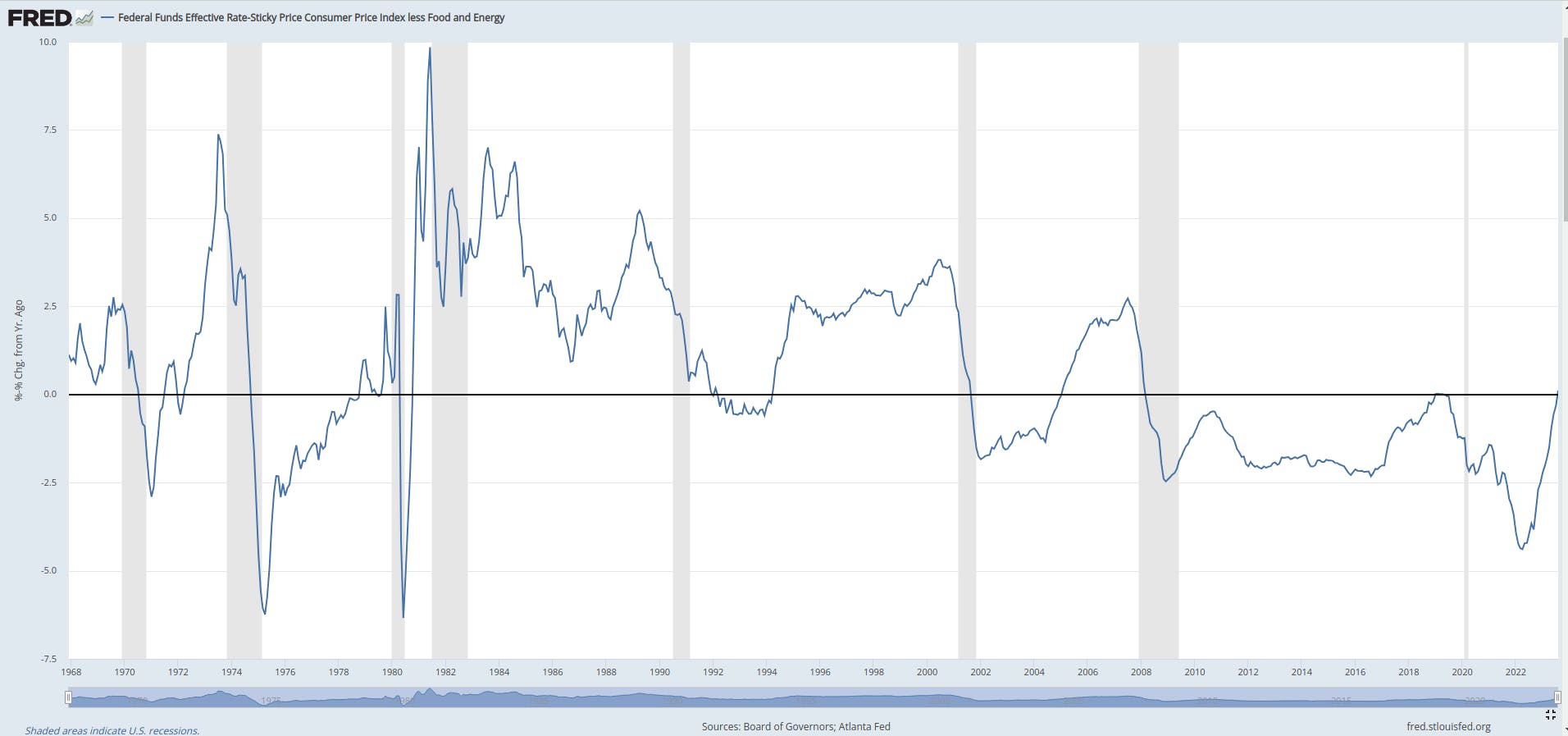 It just feels like a piece is missing: it's easy to see inflation settle around 3% long term with a higher neutral Fed Funds rate, and it's also easy to think of the Fed hiking higher than anticipated in order for inflation to return to 2% by the end of 2025. But it's harder to see the current forward curve pricing realized. The next step could be a deanchoring of 5y5y inflation.
WEEKLY US RATES SUMMARY
The treasury yield curve steepened, with the 1s10s spread widening 25.0 bp, now at -63.3 bp (YTD change: +20.0bp)
1Y: 5.4260% (down 3.6 bp)
2Y: 5.0802% (up 2.9 bp)
5Y: 4.7504% (up 13.6 bp)
7Y: 4.7992% (up 17.9 bp)
10Y: 4.7925% (up 21.4 bp)
30Y: 4.9587% (up 25.1 bp)
US treasury curve spreads:  3m2Y at -43.4bp (down -0.4bp this week), 2s5s at -33.0bp (up 10.9bp), 5s10s at 4.2bp (up 8.3bp), 10s30s at 16.6bp (up 3.6bp)
US 5Y TIPS inflation breakeven at 2.18% down 6.8bp; 10Y breakeven at 2.32% down 1.6bp; 30Y breakeven at 2.42% up 2.2bp
US 5-Year TIPS Real Yield: +19.8 bp at 2.6090%; 10-Year TIPS Real Yield: +23.4 bp at 2.4790%; 30-Year TIPS Real Yield: +23.0 bp at 2.5590%
US ECONOMIC DATA OVER THE PAST WEEK

US MACRO RELEASES IN THE WEEK AHEAD

US TREASURY COUPON-BEARING AUCTIONS IN THE WEEK AHEAD
Tuesday: $46bn in 3-year notes
Wednesday: $35bn in 10-year notes
Thursday: $20bn in 30-year bonds
FED SPEAKERS IN THE WEEK AHEAD     
Monday 8:00 PM: Fed Vice Chair Barr
Monday 9:00 AM: Dallas Fed President Logan
Monday 12:50 PM: Fed Governor Jefferson
Tuesday 9:30 AM: Atlanta Fed President Bostic
Tuesday 1:00 PM: Fed Governor Waller
Tuesday 3:00 PM: Minneapolis Fed President Kashkari
Tuesday 8:00 PM: San Francisco Fed President Daly
Wednesday 4:15 AM: Fed Governor Bowman
Wednesday 10:15 AM: Fed Governor Waller
Wednesday 12:15 PM: Atlanta Fed President Bostic
Wednesday 4:30 PM: Boston Fed President Collins
Thursday 1:00 PM: Atlanta Fed President Bostic
Thursday 4:00 PM: Boston Fed President Collins
Friday 12:00 PM: Philadelphia Fed President Harker
US FORWARD RATES    
Fed Funds futures now price in 7.6bp of Fed hikes by the end of November 2023, 11.9bp (0.5 x 25bp hikes) by the end of December 2023, and 0.4 hikes by the end of January 2024              
Implied yields on 3-month SOFR futures top out at 5.47% for the March 2024 expiry and price in 135bp of rate cuts over the following easing cycle
US INFLATION & REAL RATES TODAY
TIPS  1Y breakeven inflation at 2.01% (down -9.7bp); 2Y at 2.14% (up 0.1bp); 5Y at 2.28% (up 1.1bp); 10Y at 2.32% (up 1.3bp); 30Y at 2.42% (up 1.1bp)
6-month spot US CPI swap down -1.0 bp to 2.486%, with a flattening of the forward curve 
US Real Rates: 5Y at 2.6090%, +5.1 bp today; 10Y at 2.4790%, +6.0 bp today; 30Y at 2.5590%, +5.7 bp today
RATES VOLATILITY & LIQUIDITY TODAY
USD swap rate implied volatility (USD 1 Month by 1 Year ATM Swaption) down -4.8 vols at 85.2 normals (up 10.4 normals from a week ago)
KEY INTERNATIONAL RATES TODAY
Germany 5Y: 2.773% (down -1.3 bp); the German 1Y-10Y curve is 0.6 bp steeper at -75.6bp (YTD change: -74.7 bp)
Japan 5Y: 0.332% (down -0.1 bp); the Japanese 1Y-10Y curve is 0.7 bp flatter at 84.7bp (YTD change: +42.9 bp)
China 5Y: 2.530% (down -2.5 bp); the Chinese 1Y-10Y curve is 3.8 bp steeper at 52.0bp (YTD change: -18.5 bp)
Switzerland 5Y: 1.150% (down -2.5 bp); the Swiss 1Y-10Y curve is 3.1 bp steeper at -54.5bp (YTD change: -62.2 bp)
GLOBAL 5-YEAR NOMINAL INTEREST RATES DIFFERENTIALS TODAY
US-GERMANY: +5.3 bp at 195.6 bp (Weekly change: +10.5 bp; YTD change: +22.0 bp)
US-JAPAN: +7.2 bp at 503.5 bp (Weekly change: +2.8 bp; YTD change: +64.2 bp)
US-CHINA: +5.7 bp at 292.1 bp (Weekly change: +2.9 bp; YTD change: +71.3 bp)
GLOBAL 10-YEAR REAL INTEREST RATES DIFFERENTIALS TODAY
US-GERMANY: +3.5 bp at 186.5 bp (Weekly change: +8.6bp; YTD change: +57.7bp)
US-JAPAN: +6.5 bp at 293.6 bp (Weekly change: +20.6bp; YTD change: +89.7bp)
GERMANY-JAPAN: +3.0 bp at 107.1 bp (Weekly change: +12.0bp; YTD change: +32.0bp)
---