Macro
The US Trying to Shake Up Saudi Leadership With The Release Of Intelligence Report
Antony Blinken using the euphemism of a "recalibration" for what seems like a more important policy shift
Published ET

Source: Fitch Solutions
---
---
On 2 Nov. 2020, IHS Global Insight published an excellent article titled "US administration under Biden would increase coup and unrest risks in Saudi Arabia", with this being their conclusions at the time: "The main risk to Saudi Arabian stability will come from the perception that the US is seeking alternatives to MBS for the Saudi crown encouraging potential dissent and coups by the royal family and the military. It is likely that senior US officials and Congressional figures will repeatedly criticize Saudi Arabian general and Crown Prince Mohammad bin Salman specifically."
Fast forward a few months, and here we are with the full realization of this prescient analysis:
the US is putting pressure on MBS with the publication of an intelligence report on the death of Khashoggi
the US is considering cancelling arms sales to Saudi Arabia
Biden told MBS that Saudi Arabia has to improve their human rights record as a precondition to dealing with the US
The release of the report came only a few hours after the US bombed several locations in Eastern Syria, and days after Iranian foreign minister mentioned his readiness "without preconditions to sit down and talk with Arab neighbors". Three powerful and conflicting signals coming together.
For the time being, markets have not priced additional risk in terms of the sovereign credit of Saudi Arabia (as the 5-year CDS spread below indicates).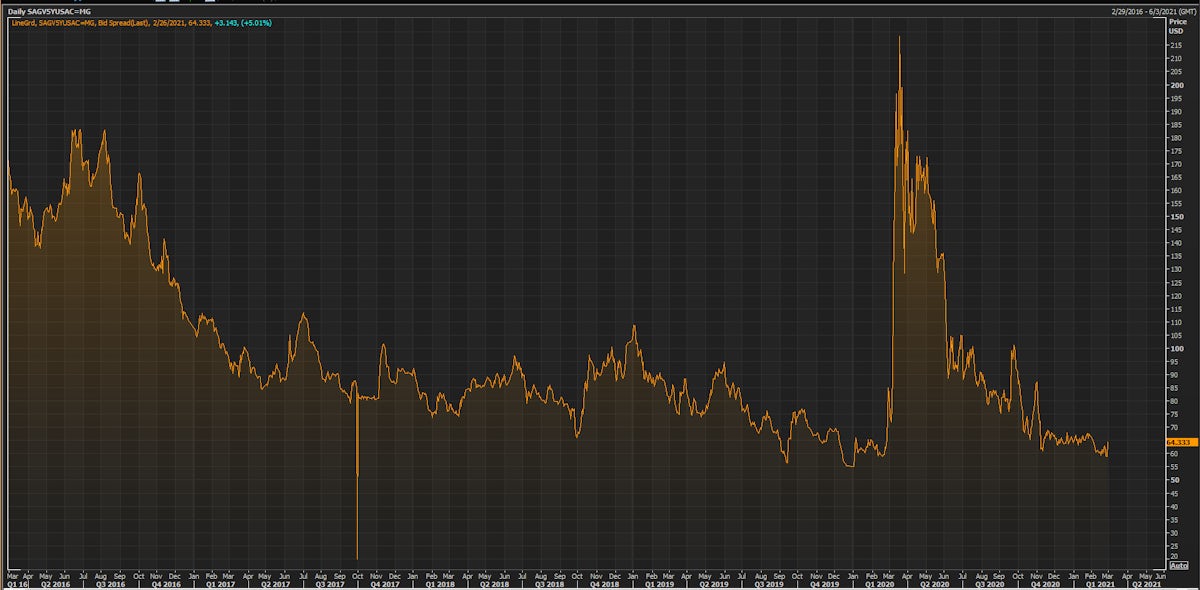 What does it all mean? Not much for now, but watch out for real signs of escalation, with wider possible sanctions from the US, Saudi purchases of Russian weaponry, or even talk of de-dollarization from the Saudi side.
---